Tribal nation's purchase of shuttered Strip motel site approved
Updated March 23, 2023 - 5:40 pm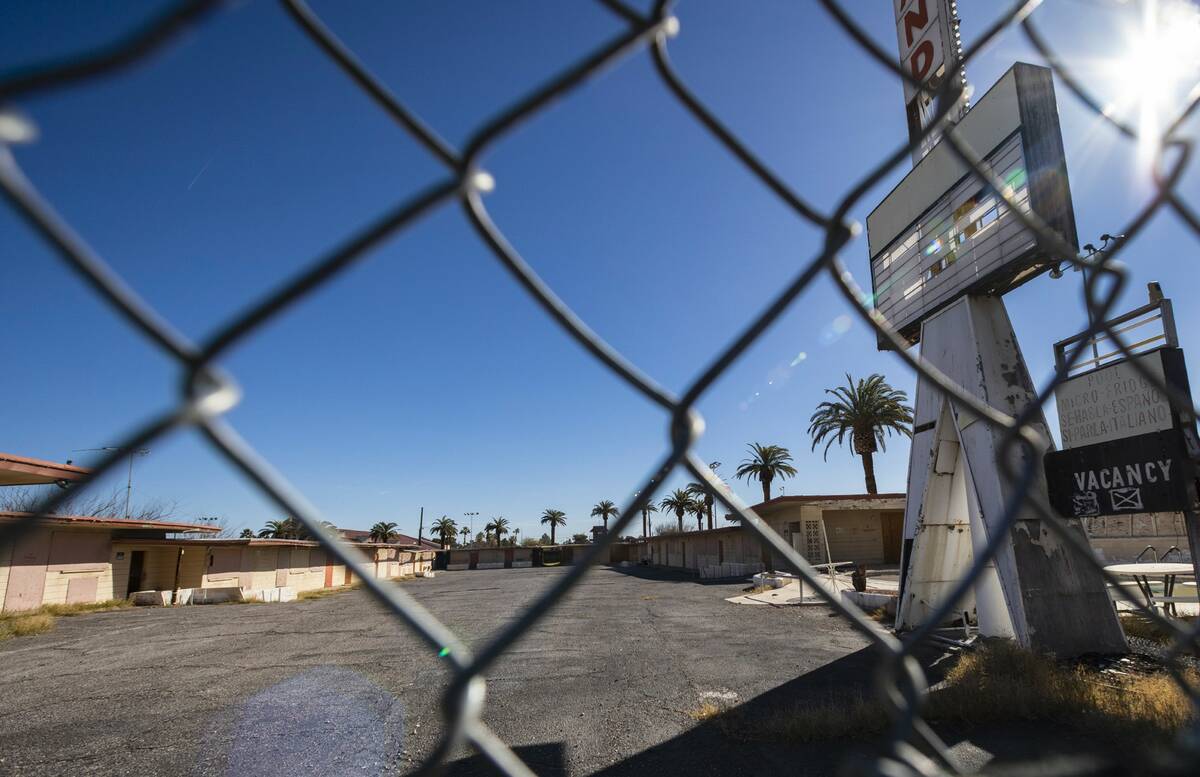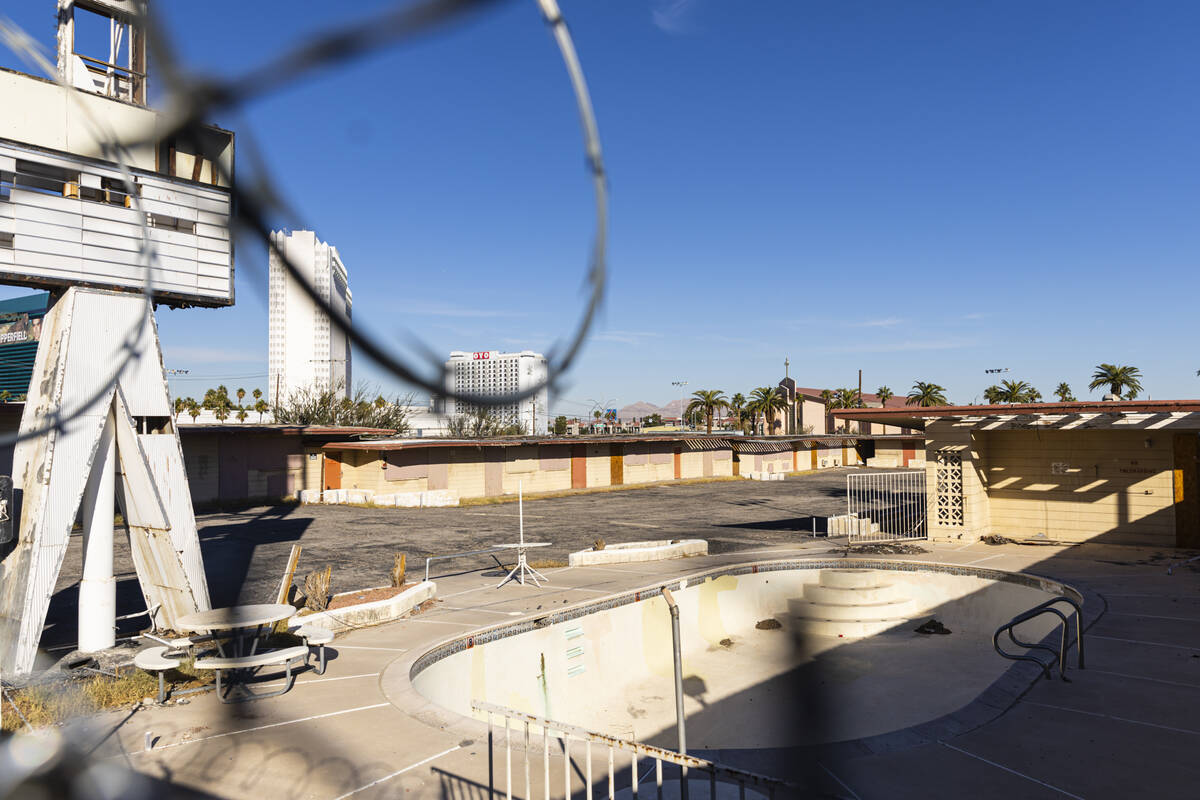 A long-shuttered motel site on the Strip is getting a new owner.
District Judge Gloria Sturman on Thursday approved the sale of the boarded-up former White Sands Motel property, across from the Luxor, to a North Dakota tribal nation for $10.25 million.
The buyer, the Three Affiliated Tribes of the Fort Berthold Indian Reservation, already owns nearly 22 acres along the south edge of Las Vegas' famed resort corridor, and the latest purchase lets it fill a real estate doughnut hole of sorts.
The narrow, 1.1-acre parcel is surrounded on three sides by the former Route 91 Harvest festival site, most of which was purchased last year by the tribal group also known as Mandan, Hidatsa and Arikara Nation.
Once it completes the newest purchase, MHA Nation will have spent a total of roughly $115 million for real estate along Las Vegas Boulevard.
MHA Nation Chairman Mark Fox, who attended Thursday's court hearing, told the Review-Journal in a statement released by his office that the sales process isn't complete yet, so it's "premature to make comments at this time."
Looking for buyers
The White Sands was built in 1959 and was advertised as a beautiful place offering TV, coffee and air conditioning. It closed around 2008 and has been in rough shape for years, with a history of vandalism, vagrants and feral cats.
The property, 3889 Las Vegas Blvd. South, is owned by the estate of former White Sands owner Spartaco Colleli, who died in 1992, records show.
It was up for grabs over the years at sliding prices but didn't sell. The property was on the market in spring 2022 for $12 million, down from $18 million in 2021 and $25 million in 2016.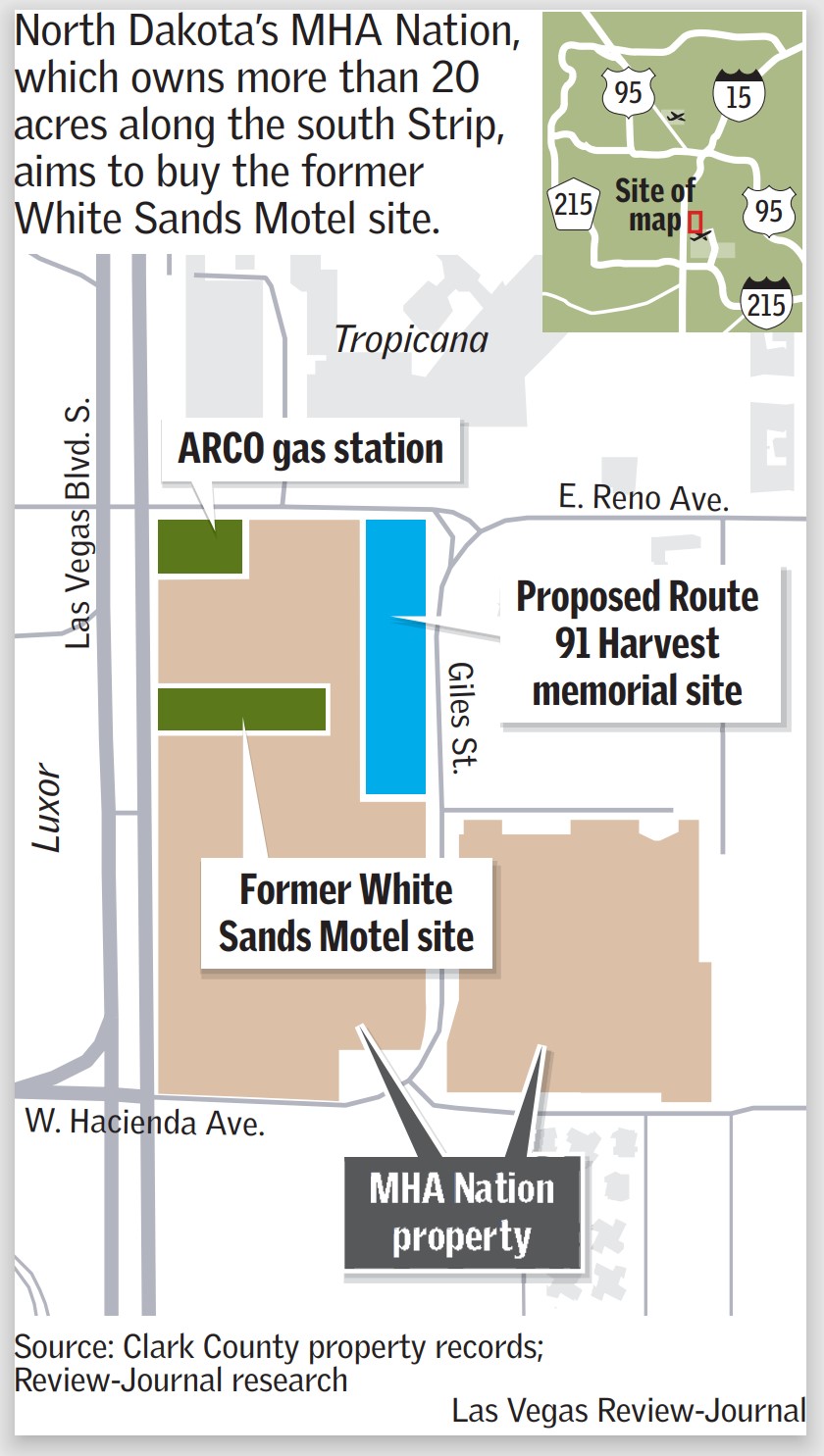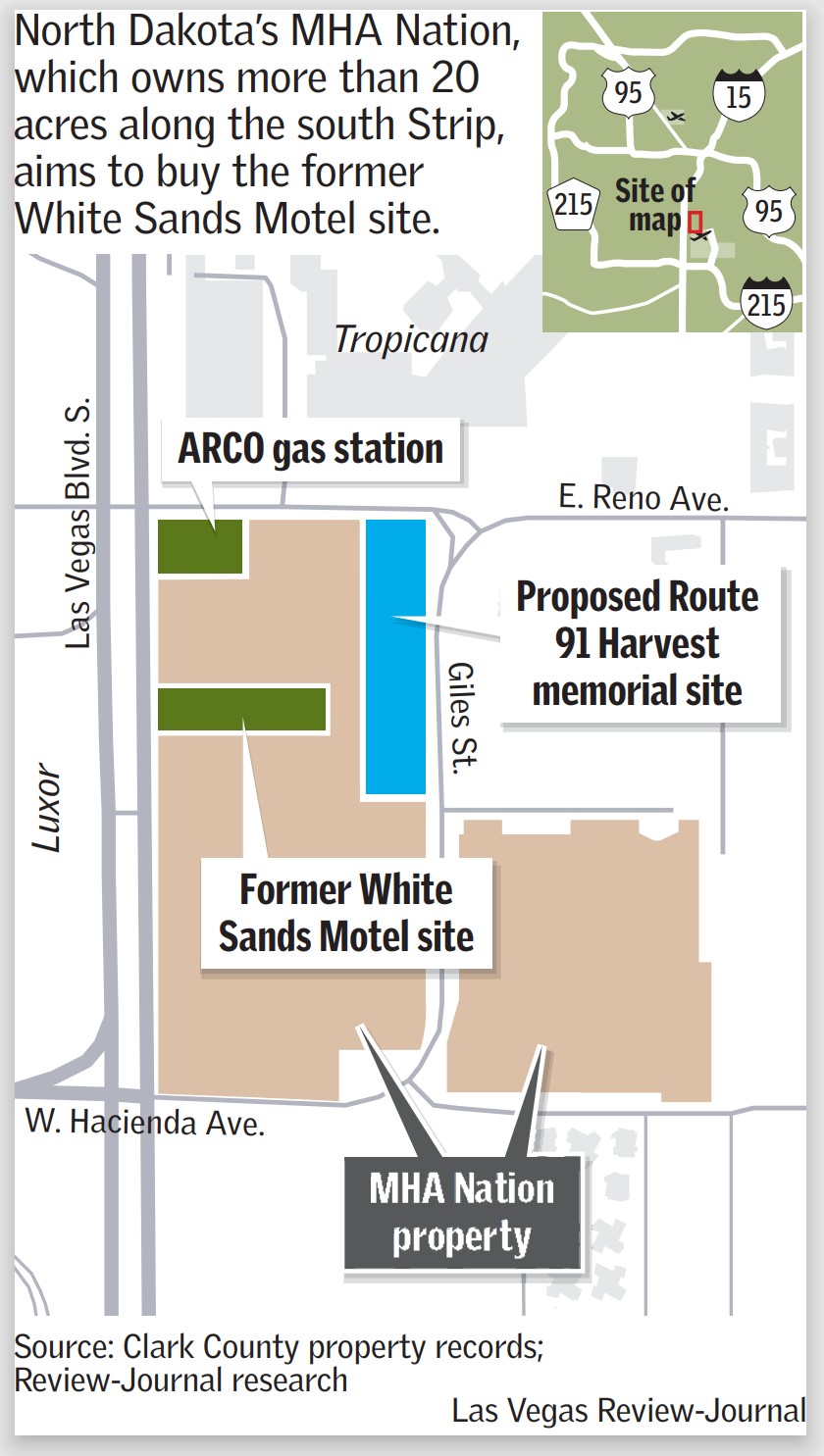 Bryan Lowe, attorney for a beneficiary of Colleli's estate, said at Thursday's court hearing that the property was appraised multiple times in recent years, with three valuations above $17 million.
"The value is there. … It's just finding the right buyer," Lowe said.
Judge Sturman, however, noted the tribal nation was "here with their money in hand" and noted that previous attempts to sell the property had fallen through.
She later asked why they would "blow up a cash sale" on the chance that someone "might have some interest" in the property.
Attorney Daniel Kiefer, whose law firm partner Kennedy "Kenny" Lee is special administrator of Colleli's estate, said appraisals can "project what the market might bear."
But, he added, "we actually know what the market's going to bear because they're sitting in this room."
Assembling Las Vegas land
MHA Nation, owner of the 4 Bears casino in North Dakota, started buying land in Las Vegas in summer 2020, when it purchased an 8.7-acre lot immediately east of the former Route 91 site for $12 million through a bankruptcy case.
At the time, Fox said he had been eyeing activity in Las Vegas for years. His group had no concrete plans for the site, though he described the purchase as "an investment for us, plain and simple."
MHA Nation then acquired most of the 15-acre former Route 91 site for about $92.8 million from casino giant MGM Resorts International in late December.
The property was the scene of the deadliest mass shooting in modern U.S. history, and MGM set aside two acres for a permanent memorial to the Oct. 1, 2017, tragedy.
MHA Nation previously said in a news release that its purchase from MGM "represents a substantial opportunity for investment and return," and revenue generated would help fund tribal projects and programs.
It also said it "whole-heartedly supports" the memorial site for the Las Vegas massacre.
The run-down former White Sands, meanwhile, sits behind mesh-covered fencing that's topped with barbed wire and razor wire. A faded "Motel Entrance" sign still stands along Las Vegas Boulevard.
It's the kind of property that many people likely don't notice — it can be easy to miss when driving by — and has appeared destined for demolition for years.
According to a "declaration of imminent danger" from Clark County in 2015, the structure was dangerous and had criminal activity, and feral cats and kittens "were noted in all units."
"Despite putting up chain link fences and boarding up all doors and windows on the property, it has been very difficult to keep vagrants, trespassers and the animal groups from gaining access to and destroying the property," according to a letter to the county that year.
Contact Eli Segall at esegall@reviewjournal.com or 702-383-0342. Follow @eli_segall on Twitter.