Wines with wit and wisdom from Hugo's Cellar sommelier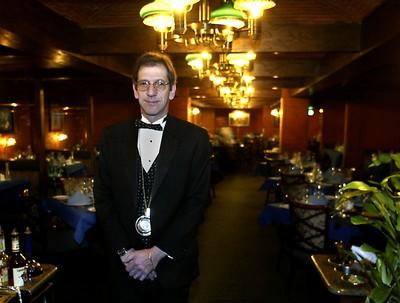 Jon Simmons considers himself old school Las Vegas.
Hugo's Cellar, the gourmet restaurant inside the downtown Four Queens where he has been the sommelier — a French term for wine steward — for more than two decades, has seen little change. Its surroundings, however, are remarkably different.
Fremont Street has been an enclosed pedestrian mall for more than 10 years. The Four Queens was sold three years ago to local businessman Terry Caudill, who has recently invested more than $20 million to upgrade the hotel-casino.
Simmons, who has worked at Hugo's since 1984, said he had one request of Caudill when the new owner took over; leave the landmark, 37-table restaurant alone.
"We maintain our status because we don't change," Simmons said.
The menu at Hugo's, which is open only for dinner, has had only minor revisions. Every meal is served with a salad tossed table side, accompaniments to the main course and a light dessert.
"People keep coming back to see us because we're a throw-back restaurant," Simmons said. "Everything comes with dinner. I can't think of another restaurant in town that isn't a la carte."
Simmons has also been a constant fixture at Hugo's.
Dressed in his dapper tuxedo, the British transplant is nothing like the traditional stuffy wine snob. He greets every dining party and helps select a wine to go with the meal, from a bottle to wine by the glass. Usually, Simmons will inject some English humor into the service.
Simmons recently obtained a new Tastevon, a silver saucer he wears on a chain around his neck that he uses to sample a small taste of each bottle of wine served, often times up to 80 bottles on a busy Saturday night. His Tastevon is a conversation piece with many guests.
"I just want to make sure the wine tastes like it's supposed to taste," Simmons said. "But I tell customers it's my bling-bling."
Simmons selects Hugo's vast wine list, which includes about 300 different wines, as well as another 100 "stash" wines that he keeps in reserve. Regular guests often ask Simmons to suggest a bottle of wine from the private stock.
"The fun thing for me is that I have many customers who don't even look at the wine list anymore," Simmons said. "They just ask me to pick something out. They know I'm familiar with their tastes and likes and I'm not going to try and up-sell them."
And if they don't like the wine?
"My policy here is if you don't like it, then I drink it. I always say 'I hate when that happens,'" Simmons said.
Question: How did you train to be a sommelier?
Answer: There is no quick way to learn about wines. These days if you want to be a sommelier you have to go through many certification classes, but I predated all that. All I do is read every publication about wines that I can lay my hands on and I taste constantly.
I started here as a waiter and we had a full-time sommelier. He saw I knew something about wine so he asked me how I would like to do this two days a week so he could have some time off.
Question: How has being a sommelier changed in Las Vegas?
Answer: When I started, there were only three full-time sommeliers in the city. It wasn't a flourishing profession. The three of us were the wine gods of Las Vegas. In those days the amounts of wine in the world was minuscule compared to what there is today. Now I think there are about 40 or 50 sommeliers in town and I think there are 14 or 15 master sommeliers in Las Vegas.
Question: How do you oversee the wine offerings at Hugo's?
Answer: When I started, we had about 40 wines on the list. Now we have some 400 wines, which is kind of small. There are some places in town that have about 1,000 different wines. I've kept the list small for the town's standards. It can be confusing enough when you sit down and look at a wine list.
Question: How do you help customers select a bottle of wine with dinner?
Answer: I'm very irreverent about wine. People can take it way too seriously. There is no right or wrong with wine. You either like something or you don't and that should be the end of the story. Admittedly, some wine pairings work better than others with some foods.
About 90 percent of the time, I drink red wine no matter what I'm eating. Having a great bottle of wine with a great dinner, how can you go wrong?
Question: Are some customers intimidated by choosing a wine?
Answer: Sometimes, but I try to make it fun and friendly. More and more people are learning about wine but a lot of people have never been exposed to good wine.
Question: What do you look for in stocking Hugo's wine list?
Answer: I have all the staples, but I'm always looking for interesting, smaller wine producers. A lot of distributors come to me and I'm very honest with them, I'll either like what they have or I won't. The competition now in town for wine is much higher because there are so many high-end restaurants.
Question: What is the average price for a bottle of wine at Hugo's?
Answer: When I started, the average price was about $20 or $30. Now, it's between $50 and $100, but we obviously have some bottles that are a little more expensive. Dom Perignon is still the No. 1 champagne because it impresses people. Our prices are much better and more reasonable than you will find on the Strip. Our most expensive bottle is 1982 Chateau Mouton Rothschild that sells for $1,500 a bottle.
Question: Where do Hugo's customers come from?
Answer: This restaurant has the most eclectic mix of customers in the whole city. I have regular customers from all over the world and a lot of locals.
We get the highest high rollers from Wynn Las Vegas and Bellagio and customers from up and down the Strip. The concierges recommend us. A lot of the servers from the Strip's high-end restaurants will eat here.
The (next door) Golden Nugget is also a big customer feeder to us. Mr. (Tilman) Fertitta (chairman of Golden Nugget owner Landry's) came in one night because he wanted to see what we were all about.
I'm now seeing a lot of second-generation customers, people who came in when they were children with their parents.
Question: What has kept you at Hugo's all these years?
Answer: The customers and the people I work with. Some of the staff has been here 10 or 20 years. It's also a very romantic place. The ladies get a rose when they come in, which is a nice touch.
Question: How did you learn about wine?
Answer: Coming from Europe, I grew up on French and Italian wines. My grandfather had a chain of wine stores in England and wine became a hobby. In Europe, you can taste wine at a very young age.
VITAL STATISTICS Name: Jon Simmons. Age: 50 Position: Sommelier, Hugo's Cellar in the Four Queens. Family: Wife, Ann. Education: University of Leeds (England), 1974-76 Work history: Worked as a certified public accountant in England before moving to the United States; ran the swimming pool concession at the Fontainbleau Hotel in Miami Beach prior to moving to Las Vegas; Hugo's Cellar at the Four Queens, waiter and sommelier since 1984. Hobbies: Golf, movies, scrabble and crossword puzzles. Favorite book: "Shibumi" by Trevanian. Hometown: Leeds, England. In Las Vegas since: 1983. Quotable: "My policy here is if you don't like it, then I drink it. I always say 'I hate when that happens.'" Hugo's Cellar is located inside the Four Queens at 202 Fremont Street. He can be reached at 702-385-4011.