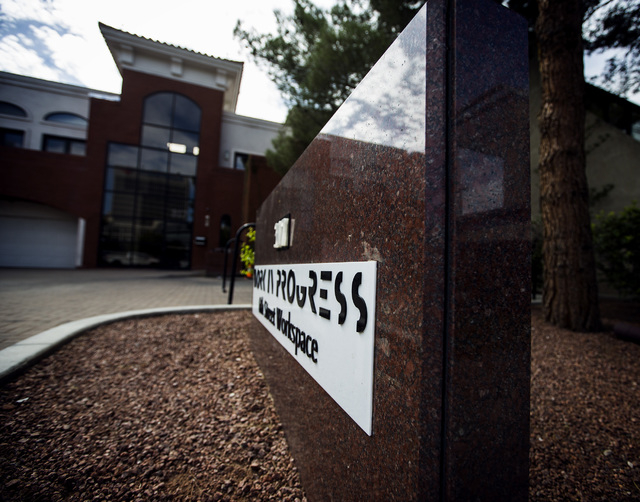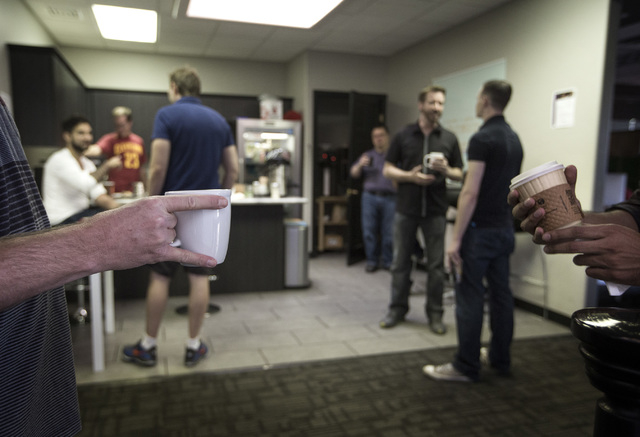 Tom Ellingson has found a home for his sports travel website business.
On the second floor of a former downtown Las Vegas law office, Ellingson and his team of nine other Fandeavor.com workers sit in front of computer screens at two tables. Fandeavor.com puts together one-stop-shopping sports event trips for customers who pay an average of $1,500 per trip and buy everything from long weekends for NFL games to two-week get-aways to attend the World Cup.
On this recent Wednesday morning, several dozen other startup company founders and workers are tapping laptop keys, sharing business notes or swapping work stories at the 8,300-square-foot co-working center.
Welcome to Work In Progress, a resource hub on South Sixth Street that allows start-ups without offices to set up shop at a fraction of the cost of renting real estate and paying for everything from Wi-Fi to utilities.
Ellingson, 34, of Anthem, said he pays about $1,600 a month at Work In Progress for space, a copy machine, parking, mentors, lockers and a kitchen — less than half the cost if he rented commercial space.
"I don't see a reason to leave," said Ellingson, noting that Fandeavor.com's revenue has hit $1 million annually and is up 10 times from the same time in 2013. "It's still a hidden gem. A lot of people who I do business with haven't heard about it, and when they visit, they're blown away."
■ ■ ■
Work In Progress began humbly with about 20 members in February 2013 and has grown to 161 paying members, along with another 50 people who use the start up services center at 317 S. Sixth St.
Downtown Project, Tony Hsieh's $350 million downtown re-development initiative, invested in Work in Progress to help the center get on its feet, said Josh Bowden, who co-founded the co-working business. Now, Work In Progress is a privately financed operation that runs on the revenues generated from membership payments, Bowden said.
Co-working centers are common in cities such as Los Angeles, San Francisco and Seattle. But like other West Coast trends such as craft beer and bicycling, co-working has migrated east to the desert.
Work In Progress offers a menu of services at various costs. Need a day pass? That's $25. Want to drop in twice a month? That's $49. "Key" members pay $199 a month for 24/7 access and six hours of meeting rooms a month. That also includes services such as kitchen access, video conferencing, lockers and free coffee and tea.
"Resident" members pay $299 for a dedicated desk, 24/7 access and all key member benefits. A "Travelers" deal for non-Las Vegas residents costs $349 for 15 days of access within six months or $649 a year for 30 days for a year.
Work In Progress also has a location at 701 Bridger Ave., but that site is closing at the end of September. Work In Progress might open a second site after the Bridger Avenue location is shuttered.
At first, Work In Progress focused mostly on tech-oriented companies, such as app developers. Now, it is recruiting a broader group of start-ups such as graphic designers, freelancers and lawyers.
One of the pluses in the co-working environment is that members share business advice, dole out tech tips and even hire one another for services.
Work In Progress gutted much of the building interior to create the co-working space, while offering five team rooms, three meeting rooms and two classrooms. Mentors also visit to lend business guidance.
"We have been here since day one. Traditional offices were way too expensive," said Rich Belsky, who founded the Rolltech app, which allows bowlers around the world to share real-time bowling scores.
He uses a team room, but also finds inspiration outside the room at Work In Progress. "There's all the creative juices that flow around here. It's basically a place with entrepreneurial power."
■ ■ ■
Ellingson's path to Work In Progress resonates with many downtown start-up artists. The former Zappos employee first worked on his start-up at The Beat coffee house on East Fremont Street before he moved his operation to a suite in The Ogden residential high-rise, space he shared with another start-up.
That other start-up was Rumgr, which created an app to buy and sell used goods. It's "a less creepy Craig's List," as founder Dylan Bathurst put it.
Bathurst, also a former Zappos worker, started his business by working in coffee shops around Henderson, before sharing the Ogden suite with Ellingson.
Now, like Ellingson's bunch, Bathurst's crew of five calls Work In Progress home.
Besides the cost savings, Work In Progress also offers a network of fellow techies to bounce ideas off, share business contacts with and draw introductions to investors, Bathurst said.
"I can walk over and ask one of my friends who has been through this before," Bathurst said. "It's a great cheap place to incubate our ideas before we invest in real estate."
■ ■ ■
Work In Progress isn't the only co-working game in town. Stitch Factory offers design-ready studio space, industrial sewing machines, events and mentors at its co-working hub for fashion industry members.
Rachel Herring does marketing at Stitch Factory, which opened in January 2013 at 300 N. Las Vegas Blvd. as a part of the Downtown Project small-business initiative.
About 15-20 members pay at tiered levels to gain access for the events, classes, brand consulting and network of contacts, she said.
"A lot of students graduate from design school and can't afford to rent the space and equipment," Herring said.
There's also the SYN Shop at 117 N. Fourth St., a hackerspace that invites future Steve Wozniaks and aspiring inventors to collaborate in co-working space.
Contact reporter Alan Snel at asnel@reviewjournal.com or 702-387-5273. Follow @BicycleManSnel on Twitter.