15 states join Nevada in push to proceed with Dozier execution
Updated August 6, 2018 - 6:08 pm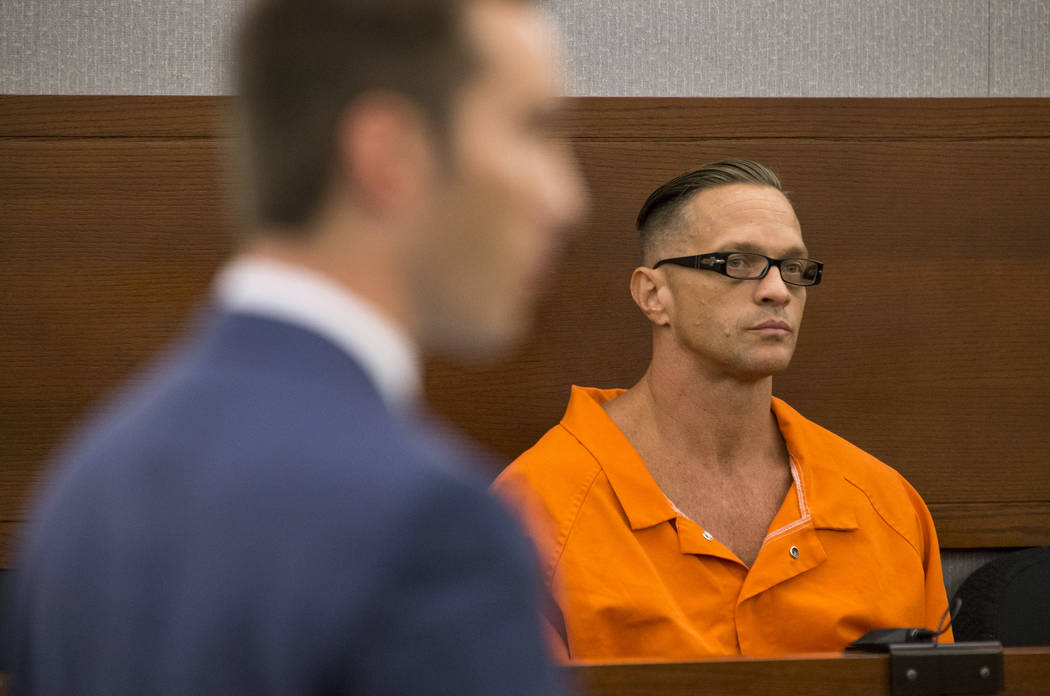 Attorneys general from 15 other states want Nevada's lethal injection of a condemned murderer to go forward.
Supporting opposition to a drug company's lawsuit, which halted the execution of two-time convicted murderer Scott Dozier last month, the states filed an amici curiae, or "friends of the court," brief Monday with the Nevada Supreme Court.
The 17-page filing references similar Arkansas litigation to stop execution drugs from being used there in 2017.
In Nevada, Alvogen Inc. has argued that it would suffer irreparable harm if its drug, the sedative midazolam, were used in a lethal injection. The case caused the postponement of Dozier's execution on July 11.
"These lawsuits are nothing more than a procedural end-run around state laws designed to protect the execution process," according to the new court brief, which called the Nevada and Arkansas suits the "latest front in the guerrilla warfare being waged by anti-death-penalty activists and criminal defense attorneys to stop lawful executions."
For nearly two years, Dozier has said he wants to waive his appeals and have his execution carried out, explaining that he would rather die than live on death row.
Dozier was sentenced to die in 2007 after first-degree murder and robbery convictions in the slaying of Jeremiah Miller. The victim's torso was found on April 25, 2002, in a suitcase that had been dumped in a trash bin at a Las Vegas apartment complex.
Two weeks ago, the Nevada prison system asked the state's high court to throw out a decision that stopped the lethal injection hours before Dozier was scheduled to die in Ely State Prison with a drug cocktail that also included the pain reliever fentanyl and a paralytic, cisatracurium, which had never before been used in capital punishment. It would have been the first execution in Nevada since 2006.
Within hours of District Judge Elizabeth Gonzalez's ruling last month, District Judge Jennifer Togliatti, who oversaw Dozier's trial, issued a stay of execution.
Dozier also had a prior murder conviction in the Arizona slaying of Jasen "Griffin" Greene and was sentenced to 22 years in prison in 2005, before he was brought to Nevada to face charges in Miller's death.
Alvogen's lawsuit accused the Corrections Department of surreptitiously obtaining its drug for use in the execution. Company lawyers, in Clark County District Court on Monday, declined to speak with reporters about the case.
Lawyers for the Nevada attorney general's office, representing the Corrections Department, have called the issue a matter of "nationwide public importance" that has never been considered in the state.
The other states — Arkansas, Alabama, Arizona, Florida, Georgia, Idaho, Indiana, Louisiana, Missouri, Nebraska, Oklahoma, South Carolina, Tennessee, Texas and Utah — questioned whether Alvogen, or any other drug maker, would suffer damages from public knowledge of its product's use in an execution.
"Of course, there is no reason to think a pharmaceutical supplier's reputation would suffer any harm from executions being carried out using drugs it supplied," their brief stated, "especially when it claimed to have supplied those drugs unwittingly and vociferously objected to their use."
The filing refers to Alvogen's suit as "abusive litigation" and argues that states have pushed to ensure that executions are performed without outside influence to stop them.
Drug companies in Arkansas and Nevada "do not even need to succeed on the merits in order to achieve the desired outcome and prevent an execution," the filing stated. "Instead, they merely have to result in an injunction preventing a state from carrying out an execution on the scheduled date. And that alone might delay an execution long enough that a state's drugs could expire."
Contact David Ferrara at dferrara@reviewjournal.com or 702-380-1039. Follow @randompoker on Twitter.