David Copperfield tells jury he didn't know of audience injuries
Updated May 3, 2018 - 7:14 pm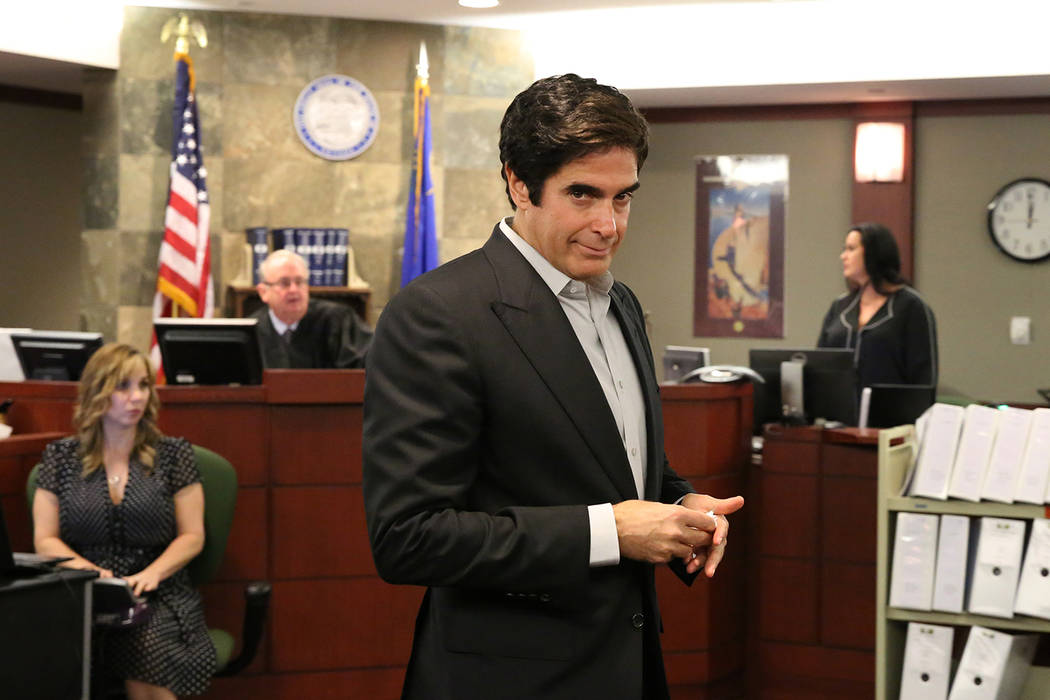 Magician David Copperfield could have himself cut in half and come out unscathed. But he told jurors Thursday during a trial over a slip and fall at one of his shows that injuries make him queasy.
A lawyer for British tourist Gavin Cox, who alleged that he suffered a traumatic brain injury while volunteering to participate in a November 2013 illusion, asked Copperfield if he recalled a woman who said she "shattered" her wrist several years prior.
"I'm very squeamish," Copperfield said. "If I saw that, I would remember it. I would be really affected by it."
Another woman testified that she had scraped her knee while participating in "Lucky 13," a trick in which a baker's dozen of audience members appears to vanish from a floating platform onstage at Copperfield's command. In reality, they're whisked away with the help of stagehands.
Copperfield has said he was unaware of the woman's knee injury and that he did not learn of Cox's injury until about a year later, when he sued.
During testimony last week, Copperfield said he was surprised when he learned that Cox was hurt. The magician swapped out the trick for another about a year after that.
"None of those injuries we talked about were the fault of myself or my crew," Copperfield said.
Cox, 58, suffered a dislocated shoulder after he slipped in a section of the resort that was under construction at the time, and his lawyers have called the vanishing act "an accident waiting to happen."
When Cox and his wife returned to Britain, he suffered from chronic pain, headaches and confusion, and a scan showed a lesion on his brain, his lawsuit contends.
Cox's lawyer, Benedict Morelli, pressed Copperfield on whether the plaintiff fell on his own.
"Is it your understanding that Mr. Cox is at fault for his own accident?" Morelli asked.
Copperfield replied: "Accidents happen. People fall down every day. I'm not going to blame somebody."
Contact David Ferrara at dferrara@reviewjournal.com or 702-380-1039. Follow @randompoker on Twitter.