Death penalty phase of Lee's liquor store murder begins
Updated February 6, 2020 - 6:48 pm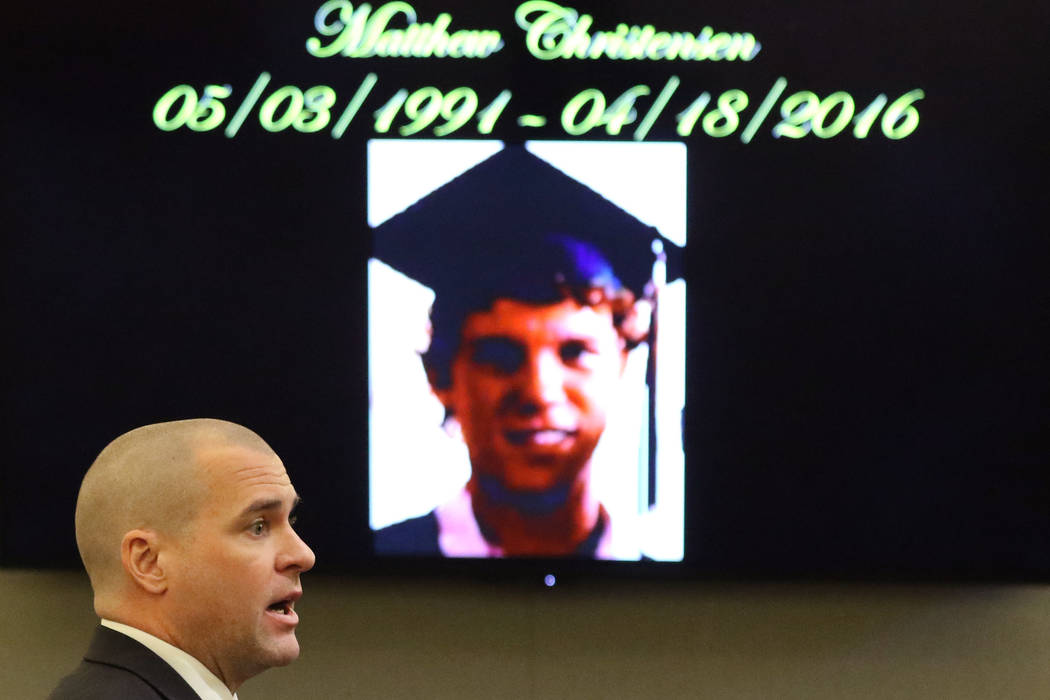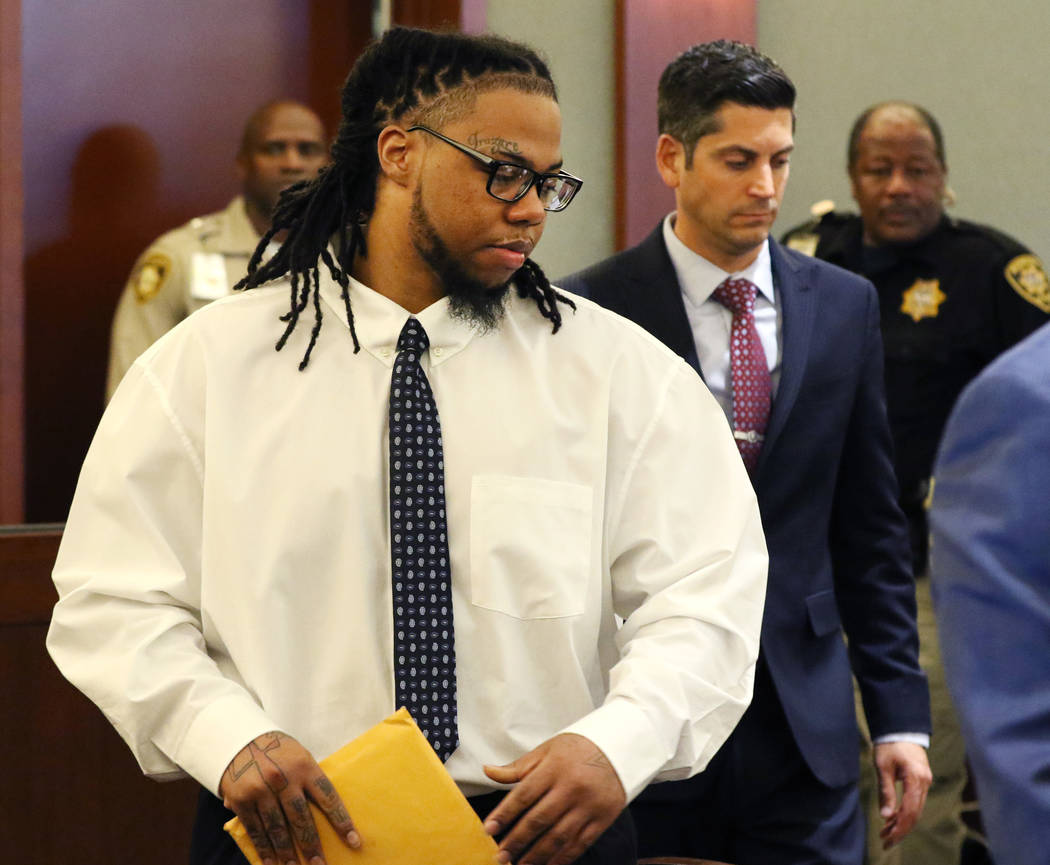 A day after he was convicted of killing a Las Vegas liquor store clerk during an armed robbery, Ray Charles Brown cried as his family and lawyers asked a jury to spare his life on Thursday.
"Now we're asking for mercy," defense attorney Richard Tanasi said. "We're asking for hope."
Along with first-degree murder, the 26-year-old was found guilty of robbery, kidnapping, burglary, assault and conspiracy charges in connection with the April 2016 slaying of Matthew Christensen inside the back room of a Lee's Discount Liquor.
Deliberations to begin Friday
Jurors who convicted Brown heard testimony Thursday to decide whether the man who fatally shot Christensen, 24, should receive the death penalty.The panel has three other options for a sentence on the murder: life in prison without the possibility of parole, 20 years to life in prison or 20 to 50 years behind bars. They are expected to start deliberating the sentence Friday.
At trial, Brown's lawyers had denied that he pulled the trigger and tried to direct jurors to another man who had been a suspect shortly after the shooting, which Chief Deputy District Attorney John Giordani called a "cowardly, heinous execution."
Defense attorneys painted a picture of a young Brown, who was bullied in school and grew up without his father, while his mother was sent to prison on a drug charge when he was about 5 years old. Brown, now a father of two, pulled his glasses down and wiped tears from his eyes as his older sister testified.
"He was pretty much like the man of our family," Shanika Powell said, telling jurors that she wanted to visit Brown in prison. "I love my brother. I understand that sometimes people make mistakes, and I understand that some mistakes are bigger than others … I don't really have too much family no more."
With a felony conviction, Brown's mother, Theresa Powell, could not visit him while he awaited trial in the Clark County Detention Center.
She said she had suffered a stroke and responded to most of his attorney's questions with short yes or no answers. She told jurors that she would continue to write him while he served his sentence. He lowered his head and cried, shaking, as she walked past and nodded.
Christensen's mother testified Thursday that Brown was arrested on her son's birthday, and that the conviction was delivered on her birthday.
"When we got the verdict,' Theresa Christensen said, "a weight was lifted off our shoulders."
She told jurors that she felt empathy for Brown's family, but not for him.
She wept as she thought of the last time they spoke on the phone: "What I wouldn't give to hear my son's voice say, 'Guess what, guess what, guess what I did today?'"
Reggie Christensen spoke of losing his younger brother, an uncle to his two children.
"I didn't realize what my brother meant to me," he said. "This event has changed my entire family. He's just a large piece of that dynamic that's missing."
Two already sentenced
Last week, jurors watched the surveillance video of the April 2016 robbery and killing and heard a 911 call from Christensen's then-pregnant co-worker.
Prosecutors said Brown fired multiple shots that struck Christensen, a part-time employee, who had directed his killer away from his co-workers and to the back of the southwest valley store.
Another armed robber, Lee Dominic Sykes, 24, pleaded guilty to first-degree murder with a deadly weapon, and was sentenced to between 25 and 65 years in prison.
His older brother, Lee Murray Sykes, 26, who pleaded guilty to second-degree murder and robbery charges, was sentenced to 15 to 40 years behind bars.
Contact David Ferrara at dferrara@reviewjournal.com or 702-380-1039. Follow @randompoker on Twitter.