DOC lays out protocol for Nevada's first execution in 12 years
Updated July 3, 2018 - 4:30 pm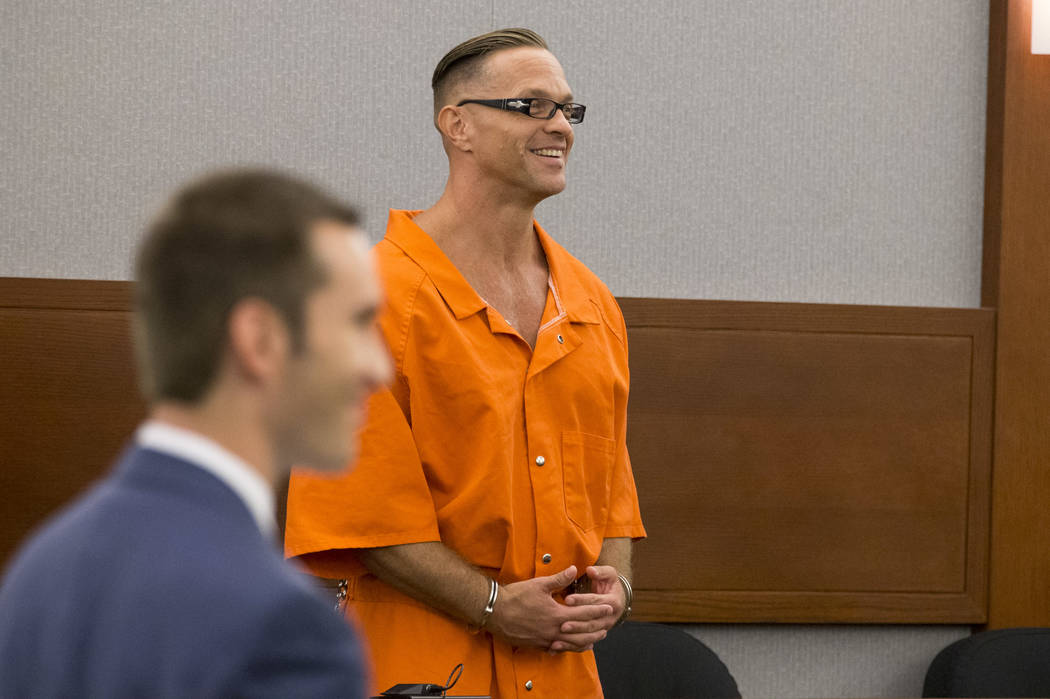 With a week and a day until Nevada's first execution in a dozen years, the Department of Corrections disclosed its lethal injection procedures on Tuesday, revealing for the first time the planned use of a drug banned in Arizona and decried by civil rights groups across the country.
Scott Dozier, the condemned prisoner, is scheduled to die July 11.
In a one-page press release, prison officials revealed the three drugs to be used in his execution: Midazolam, a sedative, Fentanyl, a painkiller, and Cisatracurium, a paralytic.
Hours earlier, in an emergency petition filed in Carson City, the ACLU of Nevada asked for the prison system to produce public records about the execution procedure.
Dozier waived his appeals nearly two years ago and has maintained his death wish ever since.
The ACLU wants more information than what was disclosed in the protocol released Tuesday afternoon, legal director Amy Rose said.
"There are so many questions left outstanding that releasing a heavily redacted version of the protocol that they should have released several weeks ago," Rose said. "If anything, it just raises more questions and more concerns."
At Ely State Prison, where Dozier's execution is set to take place, Monday marked the retirement of warden Timothy Filson after 28 years with the prison system. Corrections spokeswoman Brooke Santina said another Nevada warden, Isidro Baca, would oversee the killing.
Reached by phone, Filson said he had no concerns about the state's first execution since 2006. Should Dozier's wish be carried out, he will be the first inmate to put to death in an $860,000 chamber built in 2016.
"I have full confidence that the execution will go well," said Filson, who started as warden in Ely in 2015 and worked his last day on Friday. "The protocol is good and Mr. Dozier, when I left last week, was still very cooperative and wanted to go forward. I'm 100 percent convinced that he wants to go through with this. He's of sound mind, rational and knows what he's doing."
Las Vegas Review-Journal requests through corrections officials to speak with Dozier have been denied, and he has not responded to messages sent through a prison email system.
Filson called the timing of his retirement and Dozier's scheduled execution coincidental.
"It was just a good time to get going," said Filson, who has witnessed two previous executions. He started working for the prison system on July 2, 1990.
Last month, the state's Supreme Court ruled that in a November order District Judge Jennifer Togliatti should not have denied the planned use of the paralytic drug to execute Dozier.
Togliatti then signed a new execution warrant.
An attorney for the Department of Corrections has said that the state's supply of diazepam, an anxiety medication and one of the three drugs in the lethal injection cocktail concocted last year, expired. According to the latest protocol, midazolam replaced diazepam.
Several drug manufacturers have refused to sell midazolam for use in executions.
In late 2016, a few months after Dozier wrote the judge to tell her he wanted his execution carried out, officials in Arizona agreed to stop using midazolam in lethal injections. Using the drug in 2014, an execution took two hours. Reports of an Ohio execution that used the drug the same year described the condemned man as gasping for air and clenching his fists.
Rose said she was "incredibly concerned and disturbed by the fact that NDOC has decided to substitute midazolamn."
A Clark County jury convicted Dozier in September 2007 of killing 22-year-old Jeremiah Miller at the now-closed La Concha motel. In 2005, Dozier was convicted in Arizona of second-degree murder in another case.
Before a November execution was put on hold, Dozier had requested figs or dates be included in his last meal, according Filson. Neither the former warden nor Santina would reveal what is on the menu next week.
Asked whether he would remain in Ely on July 11, Filson, who owns a home in Las Vegas, responded: "I'm not sure. I might have the news on. Other than that, it's a sentence from the court, and it's the obligation of and duty of the Department of Corrections to fulfill that sentence. And this one is what we call the ultimate sentence. I have full confidence in the management at Ely and the Department of Corrections that it will be carried out in a humane and efficient manner under direction from the court."
Contact David Ferrara at dferrara@reviewjournal.com or 702-380-1039. Follow @randompoker on Twitter.