Ex-Bishop Gorman basketball standout sentenced for fatal crash
Updated July 27, 2023 - 7:04 pm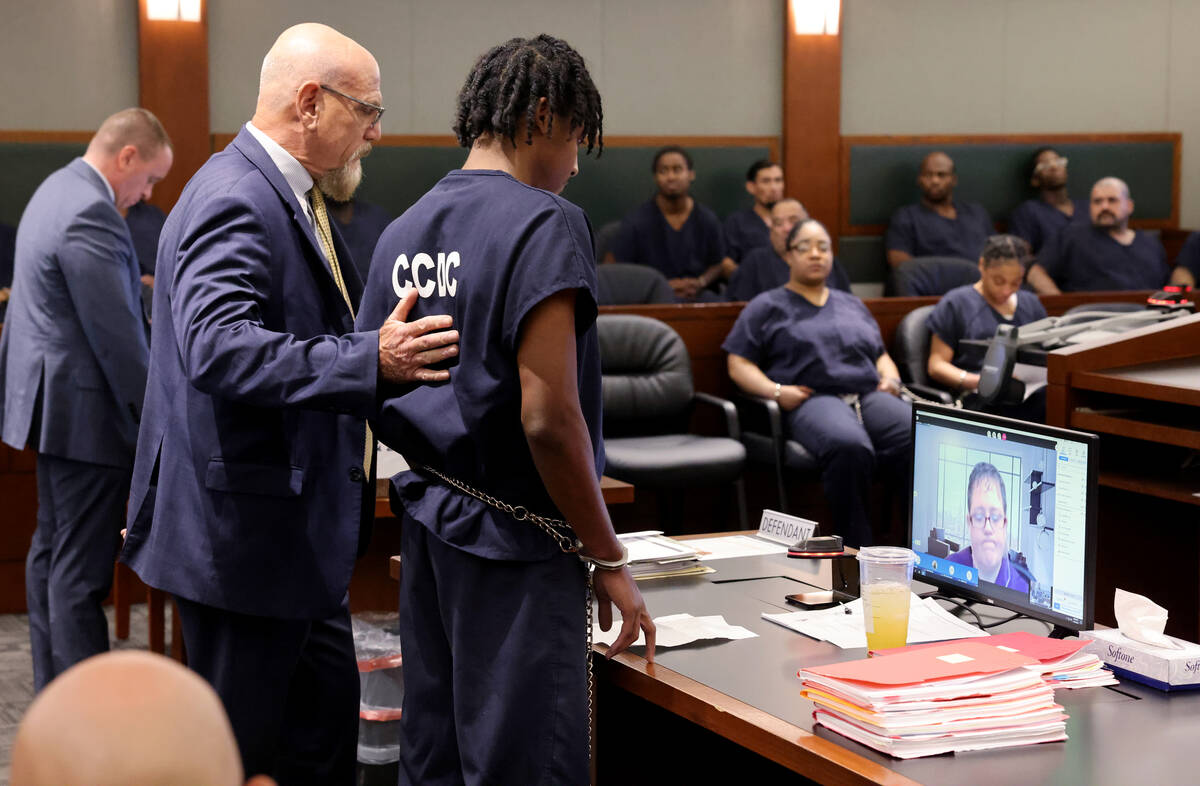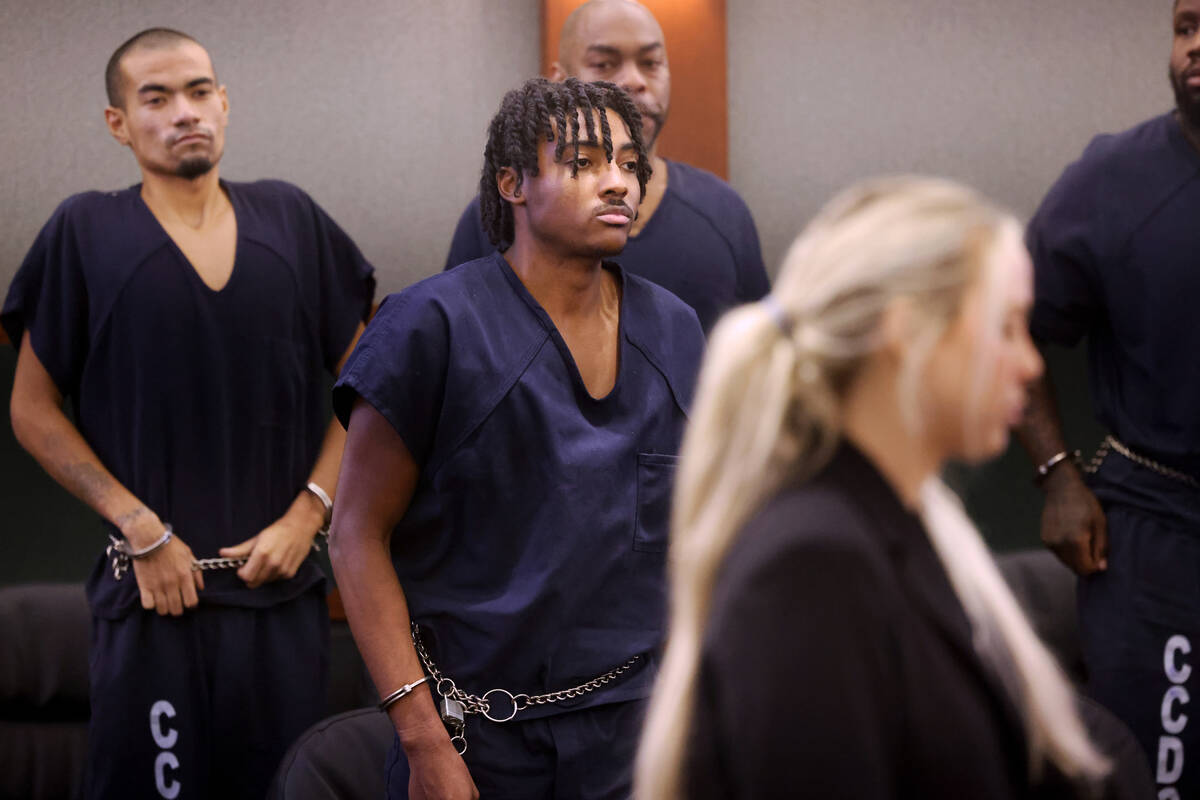 Former Bishop Gorman basketball standout Zaon Collins was sentenced to probation on Thursday for a fatal 2020 crash.
Collins, 21, pleaded guilty in June to a felony charge of reckless driving resulting in death or substantial bodily harm, and a misdemeanor count of vehicular manslaughter for the crash, which killed 52-year-old Eric Echevarria.
The plea deal he reached with prosecutors included a three-month sentence in the Clark County Detention Center for the manslaughter charge, which he started serving shortly after he pleaded guilty.
District Judge Tara Clark Newberry sentenced him to three years of probation for the felony charge, which Collins will begin serving after he is released from jail.
Collins' defense attorney, Frank Kocka, told the judge that Collins wants to use his time on probation to speak to other young adults about safe driving.
The judge said she hopes Collins "will take this opportunity and grow from it and make amends."
"You cannot bring anyone back to be whole, but you can prevent other things from happening, and I'm going to give you that opportunity on probation to do exactly what you said you're going to do," Clark Newberry said.
She ordered Collins to complete 100 hours of community service while on probation and be subject to alcohol monitoring and mental health treatment. He was also ordered to pay a $3,500 fine.
Collins initially faced a DUI charge and was accused of being under the influence of marijuana at the time of the crash, which happened Dec. 30, 2020, at Fort Apache and Blue Diamond roads.
During the sentencing hearing on Thursday, Chief Deputy District Attorney Eric Bauman said that complications in the case, including the state's changed marijuana law and a failed indictment, led to the plea deal.
Prosecutors believed it was risky to move forward with the case because of the prior issues, Bauman said after Thursday's hearing.
"Ultimately I don't think anyone's happy with the way this case was resolved," he said.
Echevarria's family was not present in the courtroom on Thursday.
Clark County District Attorney Steve Wolfson did not respond to request for comment.
'Took a lot of things for granted'
Before the judge announced the sentence on Thursday, Collins apologized to Echevarria's family and said he "hurt many people" because of the crash.
"I realized I took a lot of things for granted, and I also realized how fast a life can change due to a careless mistake," he said.
Collins had played point guard at Bishop Gorman and had signed a letter of intent to play basketball at UNLV, which was rescinded after the crash. He was accused of driving nearly 90 mph in a 35 mph zone before slamming his Dodge Challenger into Echevarria's car.
In an interview with the Review-Journal shortly after Echevarria's death, his sister described him as a caring man who was friendly with everyone. He grew up in the Bronx, was an Army and National Guard veteran and worked as a custodian at a local elementary school. He is survived by his wife, a teenage son, four adult stepchildren, six grandchildren, his sister and an older brother.
The years since the fatal car crash have been full of court delays, as Collins' former defense attorneys argued that the DUI charge he faced was based on an unconstitutional state law regarding driving while under the use of marijuana.
Authorities have said that Collins had 3 nanograms of THC per milliliter of blood in his system at the time of the crash, but defense attorneys have argued that the level of THC was so low that Collins could have consumed the marijuana days prior. The legal limit for drivers in Nevada at the time of the crash was 2 nanograms per milliliter, which defense attorneys have argued is an arbitrary amount.
A new state law enacted in July 2021 removed a prohibition on specific amounts of marijuana in a driver's blood in misdemeanor cases. Bauman said Thursday that prosecutors had concerns over how the law change would affect Collins' case.
The Clark County coroner's office continued to pursue the DUI and reckless driving charge against Collins after a grand jury refused to return an indictment on the DUI count in March 2021.
"We were attempting to proceed through the Justice Court through a preliminary hearing on that charge; however it was up in the air as to whether the Supreme Court would ultimately allow that to proceed," Bauman told the judge Thursday.
In November, the Supreme Court denied a petition to dismiss the DUI charge, indicating that Collins could appeal a finding of probable cause or possible conviction.
Contact Katelyn Newberg at knewberg@reviewjournal.com or 702-383-0240. Follow @k_newberg on Twitter.