Judge grants injunction barring search of reporter's devices
Updated October 11, 2022 - 2:29 pm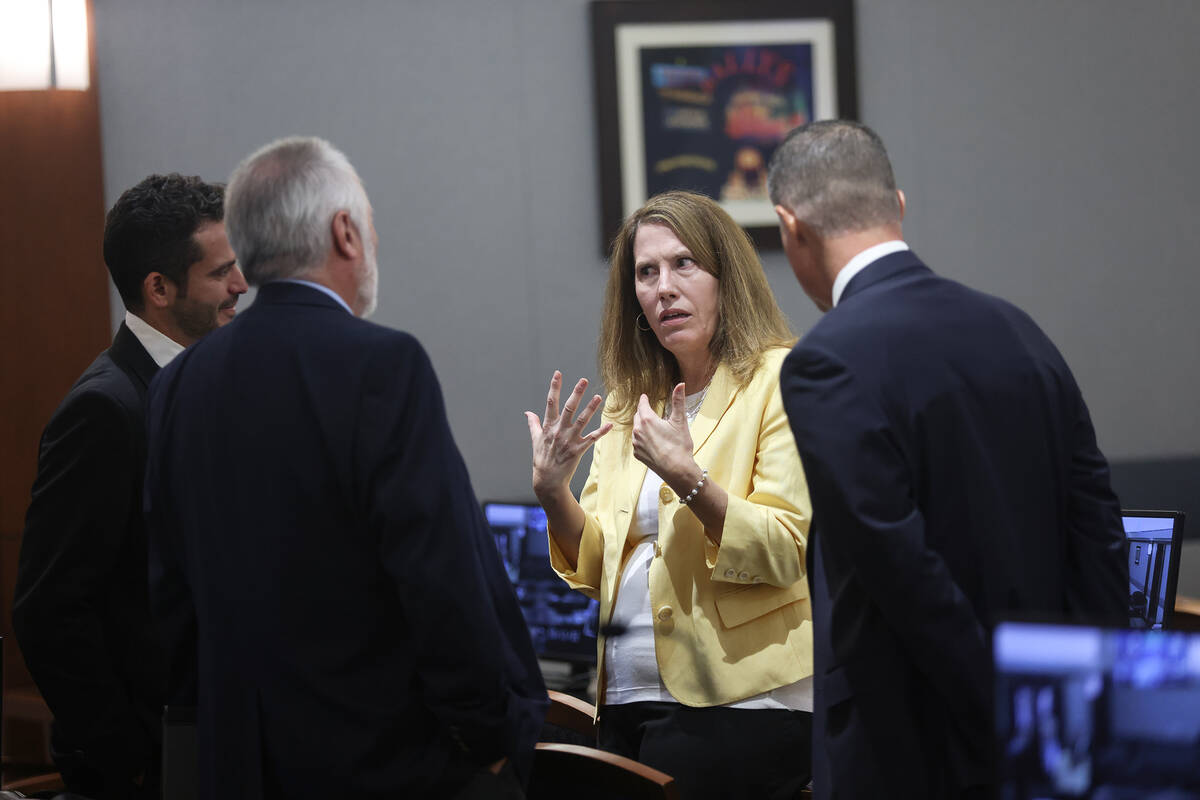 A judge granted a preliminary injunction on Tuesday that bars officials from searching the seized personal devices of slain investigative reporter Jeff German.
District Judge Susan Johnson said she wants both sides to work on language for the injunction that specifies what devices Las Vegas police seized from German.
German, 69, was found dead of stab wounds outside his Las Vegas home, where police seized the devices. Former Clark County Public Administrator Robert Telles, who was the subject of German's reporting, is accused of fatally stabbing the journalist on Sept. 2.
Last week, District Judge Nadia Krall granted a temporary restraining order that prevented police, prosecutors and public defenders from searching personal electronic devices that Las Vegas Review-Journal editors believe German used for work, including a cellphone, hard drive and multiple computers.
During Tuesday's hearing, Johnson said she believed the temporary restraining order was too broad, and she asked the Metropolitan Police Department to clarify the exact devices seized from German's home.
"This is a preliminary injunction — I'm envisioning that we're all going to be dealing with this quite a bit," Johnson said. "We all want to get it right."
The seizure of German's devices has brought on a historic challenge to Nevada's shield law. Review-Journal Executive Editor Glenn Cook has said the newspaper requested the restraining order to protect the identities of German's confidential sources and the information they provided him throughout his decadeslong career in Las Vegas.
'Could have devastating consequences'
The Review-Journal filed a request for the temporary restraining order last week, after officials asserted that they could begin searching German's devices. The newspaper also filed a motion offering to relinquish some of its rights to keep the information secret, so long as the court and other parties agree to have a third party help review the devices to determine what information should be passed on to attorneys and the devices are returned to the Review-Journal following the review process.
Johnson said Tuesday that she was inclined to establish a special team made up of "trusted Metro higher-ups" to search through German's devices, under the supervision of a judge from the Reno area, to prevent information being leaked from German's notes or list of sources.
The Review-Journal has opposed anyone from Metro, the district attorney's office or the public defender's office searching through German's information, which could reveal confidential sources from articles German wrote about those agencies.
"Allowing Metro officers to review materials that include confidential sources within the department could have devastating consequences for those confidential sources, for the Review-Journal and for freedom of the press," said Ben Lipman, the newspaper's chief legal officer. "But, we remain hopeful the other parties and the court will agree to an acceptable compromise so the Review-Journal is not forced to stand by its absolute privilege."
Edward Kane, one of Telles' public defenders, said Tuesday that he would like to search through the devices for information on any alternate suspects who may have communicated with German.
'Never happened before'
David Chesnoff — one of the attorneys representing the Review-Journal — said Telles, prosecutors and police "shouldn't be able to see Jeff German's entire life."
"That would be outrageous," the attorney added.
Johnson asked why investigators wanted access to all of German's sources, presumably on his phone and computers, and asked if the information that is released could be limited.
"By the way, probably everybody in this room is probably on his phone as far as a contact, right?" Johnson said. "I may even be on there for all I know."
Attorneys representing the newspaper have argued that Metro's seizure of German's devices violated Nevada's shield law and the federal Privacy Protection Act. Meanwhile, Metro attorneys have asserted in court documents that Telles' constitutional rights "take precedence over any reporter's rights."
Metro's attorney, Matthew Christian, argued that investigators need access to German's devices in order to ensure that all the evidence, including evidence that could benefit the defendant, is uncovered for the criminal proceedings.
"He's a victim who happens to be a reporter who worked for the RJ," Christian said. "The theory of the case, as everybody knows, is that his reporting is what led to his death. So the material on that phone is very uniquely material to the case."
Throughout the hearing, the judge and attorneys commented that there is not a case they could find that establishes a definitive precedent.
"This has never happened before," Christian said. "We all recognize that this is a unique scenario, where the reporter is the victim."
A status hearing in the case is scheduled for Oct. 19.
Contact Katelyn Newberg at knewberg@reviewjournal.com or 702-383-0240. Follow @k_newberg on Twitter.