Las Vegas judge recalls testifying in O.J. Simpson's murder trial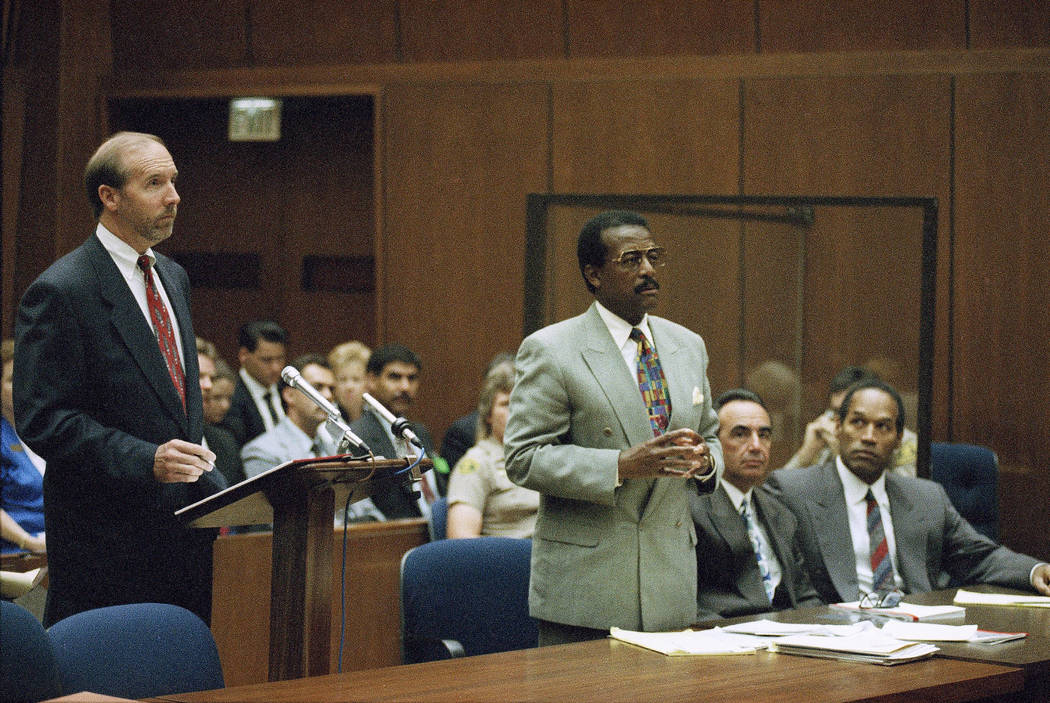 Kathleen Delaney clearly remembers the morning of June 20, 1995, when she received word that records from The Mirage had been subpoenaed in O.J. Simpson's murder trial.
She was a 30-year-old assistant general counsel for the Strip hotel-casino, and she was surprised that prosecutors wanted information from her company for what has been hailed as the "trial of the century."
"No one knew until that day: There was a Las Vegas connection," Delaney told the Las Vegas Review-Journal on Friday, a day after the Nevada Parole Commission decided that Simpson could be released from prison in the fall.
More than 22 years have passed since Delaney, now a Clark County District Court judge, received the notice, but she recites details of the story as if it happened 22 hours ago.
A Mirage paralegal gathered the records requested — reservation and check-in/check-out documentation for Simpson's then-girlfriend Paula Barbieri and singer Michael Bolton — and Delaney's boss quickly called a conference inside the hotel's executive offices.
She tucked about five pages in a folder, which she stuffed in an over-the-shoulder leather satchel, and flew to Los Angeles that afternoon.
The next morning, Delaney waited in the prosecutor's office surrounded by court exhibits and photos, which were turned to face the walls.
"I just kind of sat there quietly and observed what was around me," she said. "But I didn't touch anything, as much as I wanted to."
But Delaney, barely five years out of law school, spotted a pile of letters and couldn't help but glance at the one on top.
"It was a letter from a dentist in Ohio, sharing his thoughts about the examination of a witness the week prior," she recalled.
Surprise testimony
Delaney did not expect to testify until she met with prosecutor Marcia Clark.
"Oh, no, nothing is being stipulated in this trial," Delaney recalled a chain-smoking Clark telling her. "You're going to have to testify."
Practically everyone in the country near a television would be watching.
"I don't think there's any criminal case that ever occurred that matches what the O.J. Simpson case was to our collective cultural history," Delaney, who presided over the murder trials of Las Vegas performer Jason "Blu" Griffith and Strip killer Ammar Harris, said this week. "I don't think anything can match that."
She approached the witness stand, glanced up and saw prosecutors Clark and Christopher Darden, defense attorney Johnnie Cochran and Simpson. "This is the most surreal moment I've ever had," she said. When the courtroom clerk asked her to spell her name, she paused after the first E, taking in her surroundings. "(Judge) Lance Ito was right there. I could have hit him on the shoulder."
Her testimony took less than 30 minutes. Prosecutors wanted to show that Simpson might have been enraged that Barbieri was at the hotel with Bolton before he allegedly attacked Nicole Brown Simpson and Ron Goldman. But the "dream team" defense pointed out, through Delaney, that Bolton hosted a celebrity softball event that week, and Barbieri participated.
"I answered the questions and got out," she said. "But it was really bizarre."
In her court
Fast forward to almost exactly 17 years after she testified in Los Angeles Superior Court, when Simpson's lawyers filed an appeal of his robbery conviction in Las Vegas. They also wanted Clark County prosecutors off the case, because District Attorney Steve Wolfson was married to Jackie Glass, the former District Court judge who sent Simpson to prison.
"Oh, God, who's gotten stuck with that?" Delaney asked her clerk, who replied, "You."
Delaney thought: "How is it possible that there is one person in the universe that has a connection to both criminal trials this man has been involved in, and it is me?"
Reporters and camera crews didn't show up for hearings in the roughly two months Delaney had the case, because the celebrity defendant didn't appear in her courtroom. She decided that the prosecutors could remain before the case was shifted to another judge's calendar.
Delaney watched as Simpson's face appeared on television and computer screens again this week. Like many across the United States, her mind flashed back to that California courtroom in 1995.
"I will never forget being a young attorney and being asked to provide testimony in that trial, with that cast of characters," she said. "To have some moment in time to be connected to that was fun and strange."
Contact David Ferrara at dferrara@reviewjournal.com or 702-380-1039. Follow @randompoker on Twitter.
Testimony from Delaney
On the witness stand in O.J. Simpson's 1995 murder trial, Kathleen Delaney, now a judge in Las Vegas, testified about records from the Mirage Hotel Casino. Simpson's then-girlfriend Paula Barbieri stayed at the casino property at the same time as singer Michael Bolton.
Simpson's famous attorney, Johnnie Cochran, cross examined Delaney, according to trial transcripts.
Cochran: With regard to the records we've just seen, are you aware that on that particular weekend, Michael Bolton was hosting a celebrity softball game in Las Vegas on Sunday, June 12th?
Delaney: I'm not aware of that in particular. I remember the event taking place at some point in time.
Cochran: All right. And you knew it was on that particular date, on or about June 12th?
Delaney: I'm not aware of what date it was.