O.J. Simpson granted parole
Updated July 20, 2017 - 9:38 pm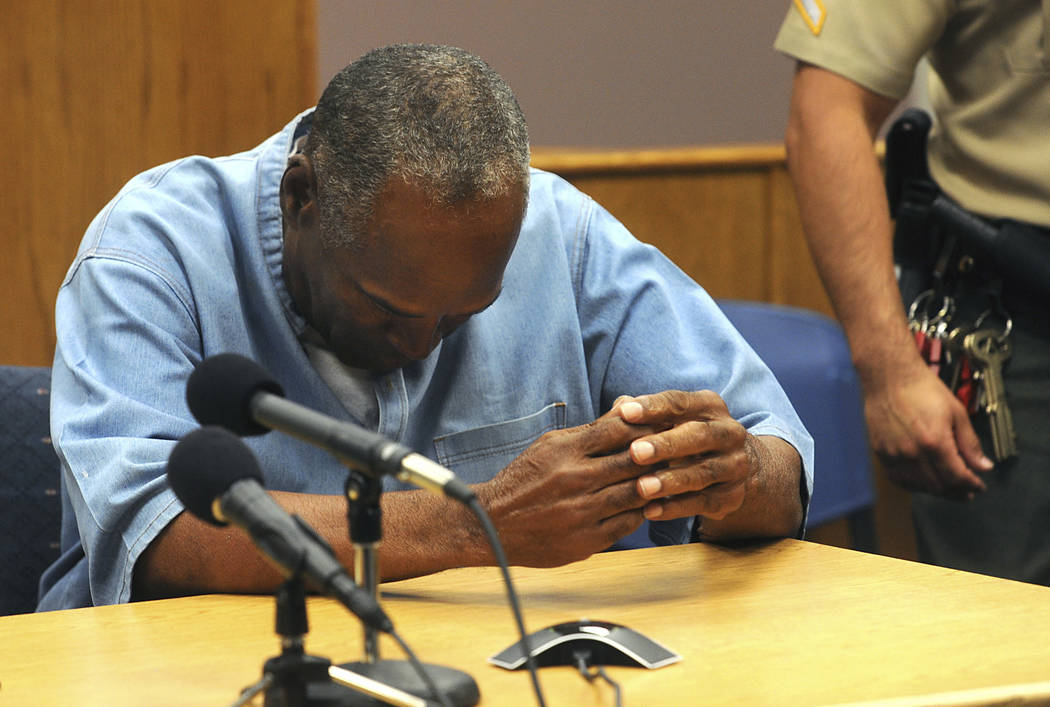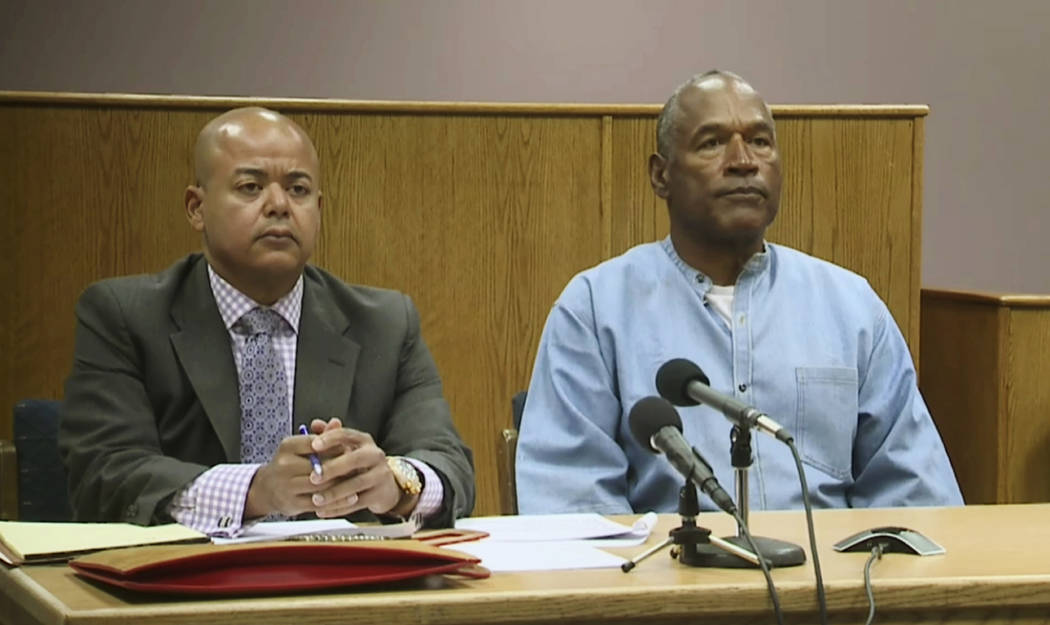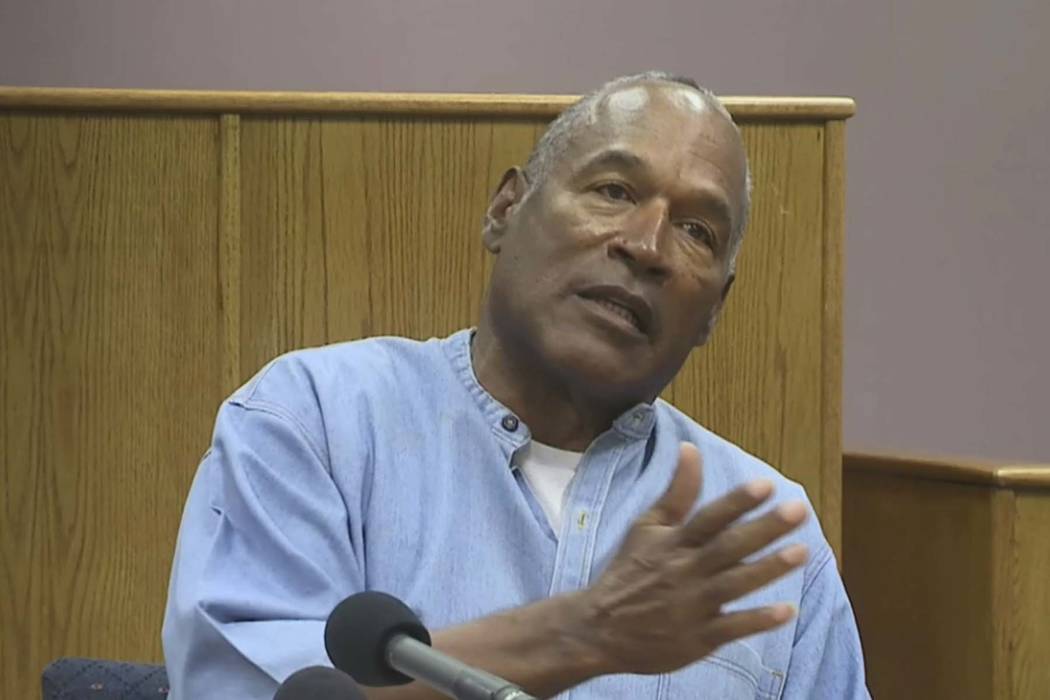 CARSON CITY — The Juice is just a few months away from walking out of a Nevada prison after serving almost nine years for a 2007 robbery in Las Vegas.
The Nevada Parole Commission on Thursday voted 4-0 to parole O.J. Simpson, 70, as soon as Oct. 1.
Simpson's reaction to the vote was emotional as relief and joy filled his face.
"Thank you, thank you, thank you," Simpson said quietly as he buried his head on his chest with relief. As he rose from his seat to return to his prison cell, he exhaled deeply.
Then, as he was led down a hall, Simpson raised his hands over his head in a victory gesture and said: "Oh, God, oh!"
He told the board he will have no problem following the parole conditions, as any violation could result in his being re-incarcerated. Simpson said he has been in the public eye since he was 19 and is used to the spotlight.
"I am not a guy who lived a criminal life," he said. "I'm a pretty straight shooter."
If all goes as planned, Simpson will serve out his parole in Florida with family and friends. Florida must accept Simpson for supervision before he can leave Nevada.
"It was really his parole hearing to lose," Clark County District Attorney Steve Wolfson said. "And although I thought he could have been more contrite, a little more humble, I felt the parole board did the right thing."
Wolfson's wife, former District Judge Jackie Glass, sentenced Simpson. Through a woman who answered the phone at her office, she declined to comment on the hearing. Glass is participating in a documentary scheduled to appear on the A&E cable television station in September and would not speak to other media before the show airs.
During the hearing, Simpson apologized to Nevada for the error in judgment that led him to a Palace Station hotel room in 2007 to take back memorabilia that he said was stolen from him. Simpson said he was trying to get personal items and family photos, not signed footballs or other merchandise.
The hearing drew massive attention in the media and on the internet. News outlets from around the country attended the hearing. Many broadcast the nearly two-hour proceedings. Social media traffic was flooded with comments about the hearing, Simpson and previous allegations against him.
Perhaps the biggest commentary on social media came when Simpson said he had lived a "conflict-free life," a statement that sparked plenty of references to the allegations that he murdered his ex-wife and her friend.
Before the deaths of Nicole Brown Simpson and Ronald Goldman, Simpson — known also by his nickname "The Juice" — was one of the best-known and most liked former athletes in America, regularly appearing in films and TV commercials.
If nothing changes during Simpson's remaining months in a Nevada prison, his release will end the latest chapter of a life that has been under a microscope for decades.
Low risk to reoffend
Simpson said he wished he had not left a wedding in Las Vegas to pursue the return of the items. The situation turned dangerous when a "security" officer hired by Simpson pointed a gun at one of two memorabilia dealers who allegedly had the items.
Although he said he did not know a weapon had been drawn during the incident, Simpson said he took full responsibility for a heist that brought about convictions on charges that included armed robbery, kidnapping and assault.
After about 30 minutes of deliberation, the board rendered its decision. Parole Commissioner Tony Corda cast the first vote for parole, telling Simpson he engaged in a serious crime and deserved to spend time in prison. But he also said Simpson was a low risk to reoffend and had community support and a stable release plan.
The other three commissioners followed suit, with Chairwoman Connie Bisbee telling Simpson to be sure not to violate any conditions of his parole or he could be returned to Nevada and sent back to prison.
The 4 members of the state Board of Parole granted #OJSimpson parole today — Do you agree with the decision? → https://t.co/LtvdUI426z

— Las Vegas RJ (@reviewjournal) July 20, 2017
Victim testifies for Simpson
Simpson's effort to win parole was helped significantly with the testimony of Bruce Fromong, 63, of North Las Vegas, a victim in the crime who called Simpson a friend of 27 years in testimony to the panel from Lovelock.
"He is not a threat," Fromong said. "He is a good man. He does a lot of good for other people."
Fromong said the nine- to 33-year sentence given to Simpson for the incident was "way too long."
"I feel it is time to give him a second chance," he said. "It is time for him to go home to his family and friends."
Simpson shed tears a few times during the hearing, which he attended via teleconference from Lovelock. The commissioners were in Carson City.
Also speaking for Simpson was his daughter, Arnelle Simpson, 48, of Fresno, California. She described her father as her best friend and her "rock." She acknowledged that Simpson did not make the right choice back in 2007 when he went to retrieve what he thought was personal property stolen from him.
"He could have handled the situation differently," she said.
As he left the hearing room, Simpson pointed to Fromong and said, "Thank you." Simpson also held his hand to his ear as a telephone and mouthed the words "call me."
The hearing had its lighter moments. When Simpson said he wanted to relocate to Florida if paroled, he added: "I could easily stay in Nevada, but I don't think you guys want me here."
Bisbee said there have been no issues with Simpson's behavior in prison. She also said the criminal and civil cases in California related to the murders of Brown Simpson and Goldman, in one of the most celebrated criminal trials in American history, would not factor into the parole board's decision.
Simpson was found not guilty by a Los Angeles jury in 1995 of the 1994 deaths. But a jury in a civil trial in 1997 ordered Simpson to pay $33.5 million in compensatory and punitive damages to the families of Brown Simpson and Goldman after finding him liable for the murders.
Reaction
In a phone interview with the Las Vegas Review-Journal, Gabe Grasso, one of Simpson's defense attorneys during the robbery trial, said Simpson may have difficulty staying out of trouble while on parole.
"It's not going to be easy for him," Grasso said. "He's surrounded by so many fans and people who are out to make a buck off him that one way or another he finds himself in some sort of predicament. He's going to have to be very careful when he's on parole."
Former Clark County District Attorney David Roger, who prosecuted the robbery case along with Christopher Owens, said: "I just hope Florida accepts him as a parolee. I'd hate to see him running around Las Vegas. That said, I think he will probably make it on parole. However, it will not be easy for him. He's going to be under a microscope."
Contact Sean Whaley at swhaley@reviewjournal.com or 775-461-3820. Follow @seanw801 on Twitter. Contact David Ferrara at dferrara@reviewjournal.com or 702-380-1039. Follow @randompoker on Twitter.
The Associated Press contributed to this report.
RELATED
OJ Simpson's Nevada court dates — PHOTOS
OJ Simpson goes before Nevada parole board Thursday
OJ Simpson's fall from sports hero, star — PHOTOS
OJ Simpson parole hearing will bring media circus to Nevada
Sports memorabilia dealers expect O.J. Simpson spike