OJ Simpson goes before Nevada parole board Thursday
Updated July 18, 2017 - 4:16 pm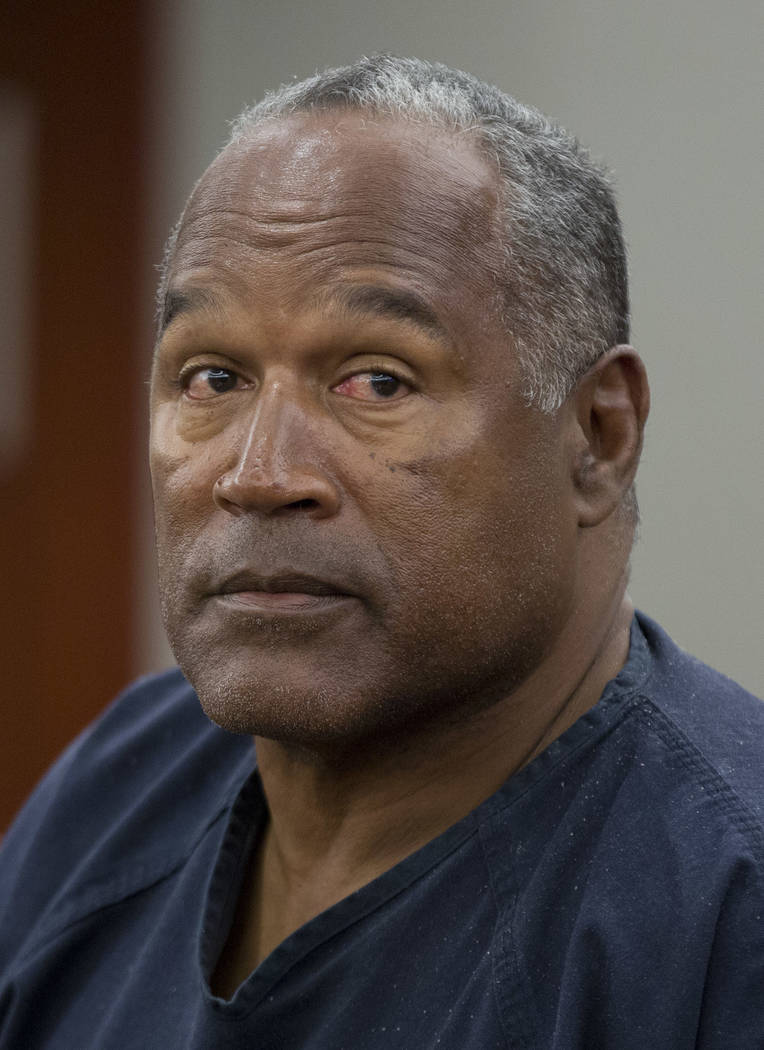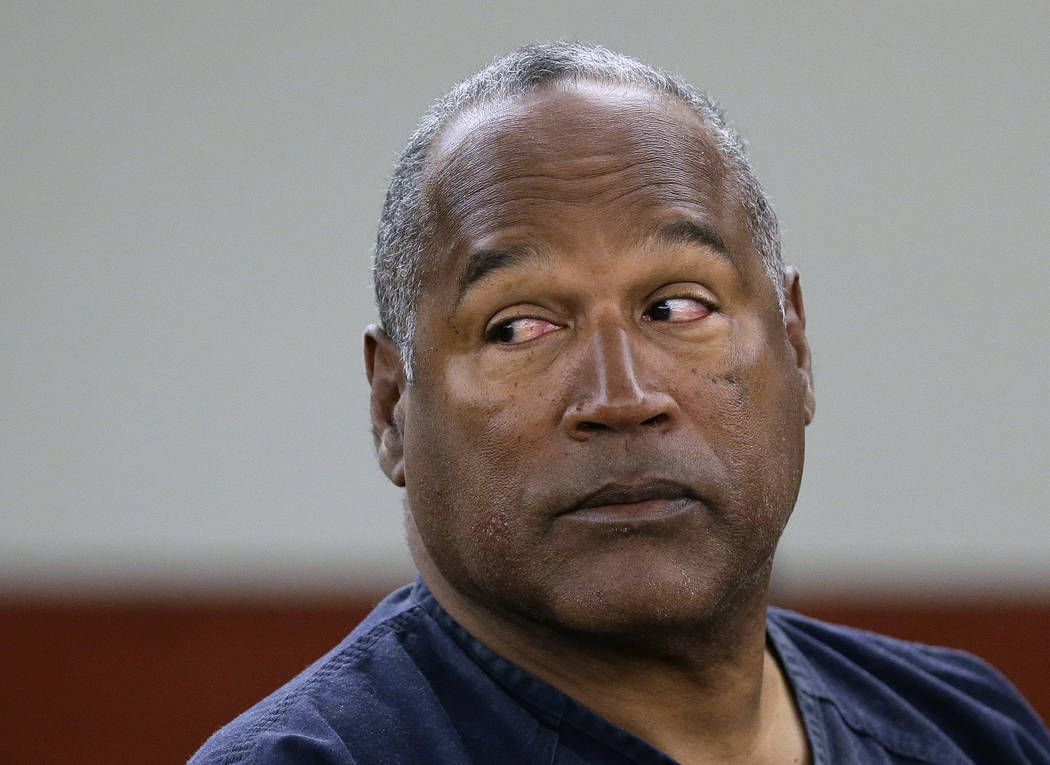 CARSON CITY — Former football star and actor O.J. Simpson could be one step closer to freedom after more than eight years in a Nevada prison.
Simpson, 70, could be released from Lovelock Correctional Center by Oct. 1 if the state Parole Board rules favorably on his release request following a Thursday hearing. Simpson will take part from Lovelock, a medium security facility where he is serving his sentence. The hearing will be teleconferenced to the board in Carson City.
Four members of the Parole Board will deliberate in private following the 10 a.m. testimony and then take a public vote. If the vote is unanimous in favor of parole, Simpson will be released this fall. Two other commissioners could participate if the vote is not unanimous.
Media interest in the hearing is overwhelming, unlike his first hearing in 2013 when Simpson was paroled from his first set of sentences for convictions related to the 2007 robbery of two memorabilia collectors at the Palace Station hotel-casino in Las Vegas.
Simpson is serving a nine- to 33-year sentence for the 12 convictions — including kidnapping and armed robbery — related to the incident.
Simpson said he was trying to recover memorabilia stolen from him. In his 2013 parole hearing, Simpson expressed remorse for the armed heist of memorabilia collectors Bruce Fromong and Alfred Beardsley.
Simpson was found not guilty by a Los Angeles jury in 1995 of the 1994 deaths of his ex-wife, Nicole Brown Simpson, and Ronald Goldman, in one of the most celebrated trials in American history. A jury in a civil trial in 1997 ordered Simpson to pay $25 million in punitive damages to the families of Simpson and Goldman after finding him liable for the murders.
Before those deaths, Simpson — known also by his nickname, "The Juice" — was one of the best known and liked former athletes in America, regularly appearing in films and TV commercials.
Second parole hearing
Simpson has been incarcerated at Lovelock, about 130 miles northeast of Carson City, since December 2008. He was paroled in July 2013 on two kidnapping and three other charges stemming from his 2007 robbery. He is now up for parole on a second set of sentences.
The sentences that are aggregated for purposes of the hearing include four concurrent sentences for use of a deadly weapon and two consecutive sentences for assault with a deadly weapon.
While the hearings are public, testimony is limited to the inmate, a representative of the inmate, if any, victims of the crime and one family member or supporter of the inmate. The board will consider confidential information, including a pre-sentence investigation, a parole hearing report, a risk assessment and letters of support or opposition, if any.
Well behaved
Simpson said at his 2013 parole hearing that he had been a model inmate during his five years in Lovelock. Simpson said he would "be the best prisoner they've ever had here" when he arrived and "for the most part I've kept my word on that."
"I've not had any incidents despite all the stories in the tabloids and everything," he told the parole board.
The board on Thursday will get an update on Simpson's behavior over the past four years.
Simpson said in his 2013 statement that he had spoken to the victims and apologized for the incident, which he said got out of hand.
"We have, for the most part, put it behind us," he said.
Simpson said the difference between he and other inmates is that they tried to steal other people's property or money while he was trying to recover property that belonged to him.
"Make no mistake, I would give it all back to these guys," he said. "They can have it all to give me back five years."
Simpson said he has missed seeing his two younger children go through high school and missed his sister's funeral.
Contact Sean Whaley at swhaley@reviewjournal.com or 775-461-3820. Follow @seanw801 on Twitter.
Media Buzz
Multiple national and California-based media organizations will be at the Lovelock Correctional Center for the parole hearing of former football player and actor O.J. Simpson. Media will not be in the hearing room, where only Simpson and a handful of others will be in a teleconferenced hearing with the parole board in Carson City.
A handful of media members will be at the Lovelock site while Simpson is questioned by the board. Dozens of media groups also will be at the Carson City offices of the Parole and Probation Division. The hearing is expected to be aired live by numerous media outlets.
Related
O.J. Simpson's fall from sports hero, star — PHOTOS