Las Vegas woman sentenced for crash that killed 8-year-old boy
Updated November 21, 2018 - 2:23 pm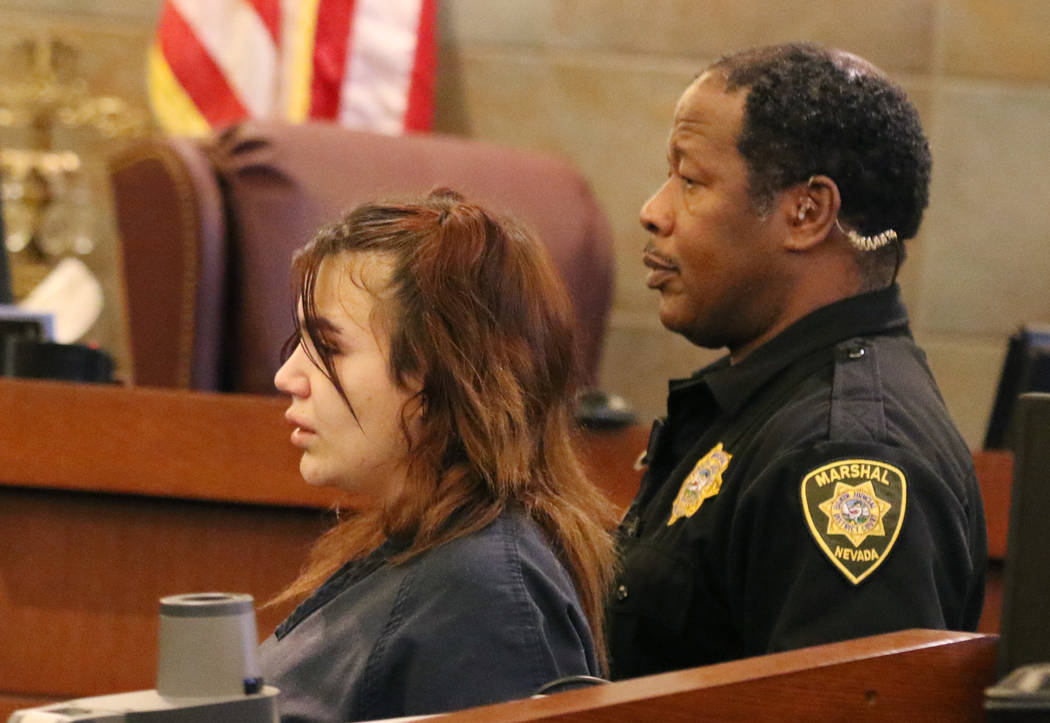 Eight-year-old Levi Echenique may have died to save the lives of other children headed to school in late August, his mother said Wednesday as the intoxicated driver who killed the boy and injured his parents was sent to prison for up to 65 years.
An audible gasp echoed in the Las Vegas courtroom as Chief Deputy District Attorney Thomas Moskal played video surveillance of a red Camaro speeding past buses, cars and trucks, before T-boning the family's black Dodge Avenger at 8:30 a.m. on Aug. 31.
The prosecutor asked for a sentence that would result in "retribution and public deterrence."
Prosecutors said Aylin Alderette, 25, had marijuana in her system when she drove more than 100 mph and slammed her car into the Echenique family's vehicle near Harmon and Eastern avenues.
During an hourlong sentencing hearing, Levi's family wept and held each other, wearing T-shirts that read "For the Love of Levi."
Parents of 8 yr old Levi Echenique speak to media after Aylin Alderette to 26 to 65 years for 2nd degree murder & 2 counts DUI pic.twitter.com/rVWZWeXxl0

— M Price (@LasVegasCourts) November 21, 2018
The boy often wanted to help others and ensure their happiness, they said.
"He was a very kind soul," said his father, Jose Echenique. "He was a star, getting brighter every year… He was a true angel."
Toxicology results showed that Alderette was under the influence of marijuana, authorities said. An arrest report stated that Alderette demonstrated "slow reflexes by only slowing down to 81 mph for a red light that had been red for approximately three seconds."
Alderette sobbed loudly throughout the proceeding, at times speaking over the boy's family to say, "I am so sorry."
She asked the boy's family for forgiveness.
"I wish I could go back to that horrific day and change everything… I will always wish my life had been taken that day."
Defense attorney Warren Geller said Alderette's actions were those of someone suffering from mental illness, pointing to scars on her arms as suicide attempts. A Cuban immigrant, Alderette had been sexually and physically abused throughout her life, the lawyer said.
"She's not a callous sociopath," Geller said.
Levi would have turned 9 on Saturday.
His older brother, 12-year-old Joey, told District Judge Michelle Leavitt: "The best birthday present my brother could get is the max sentence" for Alderette.
Leavitt ordered Alderette to serve at least 26 years in prison before she is eligible for parole, the maximum possible sentence for second-degree murder and two counts of DUI resulting in substantial bodily harm.
After the hearing, Levi's mother, Briejet said she was "relieved" that the legal process had come to an end.
"We can put this part of it behind us and focus on working on healing emotionally as a family, knowing that we got justice for Levi," she said. "We got it."
Contact David Ferrara at dferrara@reviewjournal.com or 702-380-1039. Follow @randompoker on Twitter.