Car in crash that killed Las Vegas boy was going 103 mph, report says
Updated September 5, 2018 - 6:45 pm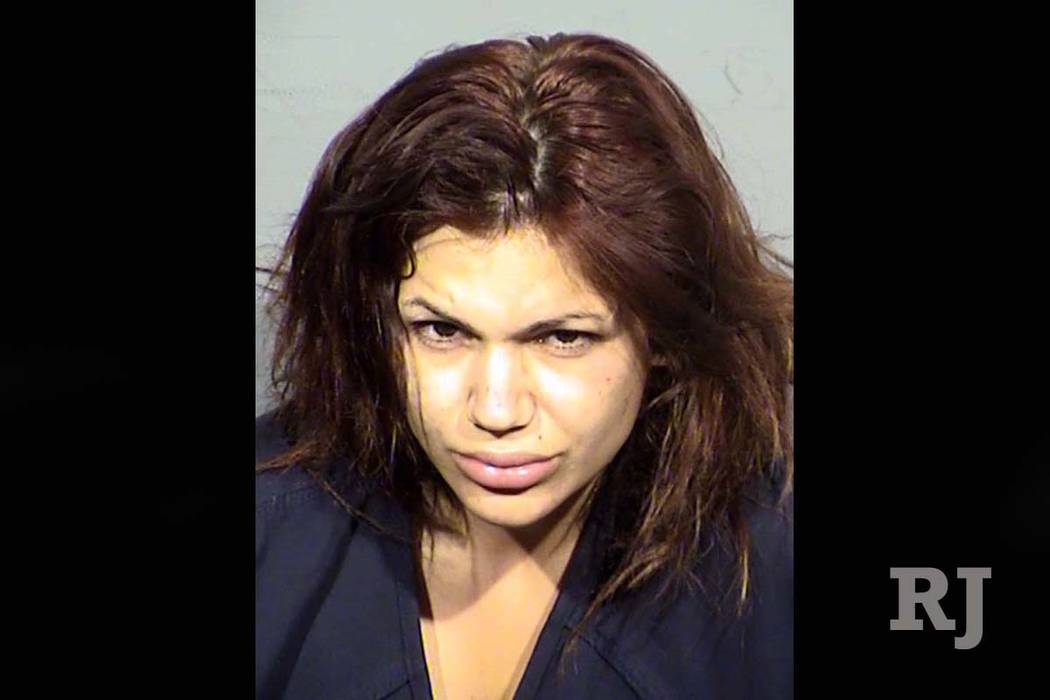 The woman arrested in a crash that killed an 8-year-old boy told Las Vegas police she was speeding because she was late for work, according to newly released court documents.
Aylin Alderette, 25, was driving her car 103 mph in a 45 mph zone before the 8:30 a.m. Friday crash at the intersection of Eastern and Harmon avenues, according to her arrest report. Jail records and police also identified the woman as Aylin Alvarez-Perez.
She is suspected of impaired and reckless driving in the three-car crash that killed 8-year-old Levi Echenique, injured his parents and injured two others.
Police found Alderette sitting on a parking lot curb while first responders tended to the Echenique family, who had to be freed from their Dodge Avenger through "mechanical means," the report said.
"Alderette stated to me that she was late to work and she was in a hurry," an officer wrote in the arrest report.
Police suspected she was also driving impaired, in part, because of Alderette "having slow reflexes by only slowing down to 81 mph for a red light that had been red for approximately 3 seconds according to the fatal detectives on scene," the Metropolitan Police Department arrest report said.
Detectives confirmed the speed by downloading data from her car, the report said.
She told an officer that her foot slipped off the accelerator and that she broke her foot trying to stop her red Chevrolet Camaro, the report said.
Alderette appeared "very lethargic" at the scene, and officers found unspecified central nervous system depressants and marijuana in a warranted search of her car, the report said.
An officer also found marijuana in her purse while she was being treated for her injuries at Sunrise Hospital and Medical Center. That same officer, trained to recognize drug impairment, evaluated her for drug use, but the results were inconclusive because of the medication she was given for her injuries, the report said. Blood samples also were taken for testing.
Witnesses reported she had driven through at least one red light, including one at the intersection of Eastern and Harmon, the report said.
Police noted that the crash occurred during rush hour and that parents were taking their children to school.
Among them was the Echenique family, who had just dropped their 12-year-old son, Joey, at a nearby school and were on their way to drop off 8-year-old Levi at a nearby elementary school, Savanna Sparks, a close family friend, told the Las Vegas Review-Journal.
The parents, Briejet and Jose, are recovering from their injuries at Sunrise Hospital and Medical Center.
A GoFundMe page set up in the family's name and titled For the Love of Levi indicates Levi's mother is in critical condition. She suffered collapsed and punctured lungs, broken ribs, a broken pelvis and loss of movement in her right leg, the page said. His dad may need several procedures, including neck surgery, the page said. The fund had raised more than $22,000 as of Wednesday evening.
Alderette faces two counts of reckless driving resulting in death or substantial bodily harm, as well as counts of DUI resulting in death and DUI resulting in substantial bodily harm.
She was treated for her injuries at the hospital and then taken to Clark County Detention Center.
Alvarez-Perez was granted $250,000 bail with house arrest on Tuesday, although she remained in the county jail Wednesday evening, court and jail records show. A status check is scheduled for Monday.
Contact Mike Shoro at mshoro@reviewjournal.com or 702-387-5290. Follow @mike_shoro on Twitter.