Driver arrested after boy killed in 3-car crash in Las Vegas
Updated August 31, 2018 - 9:30 pm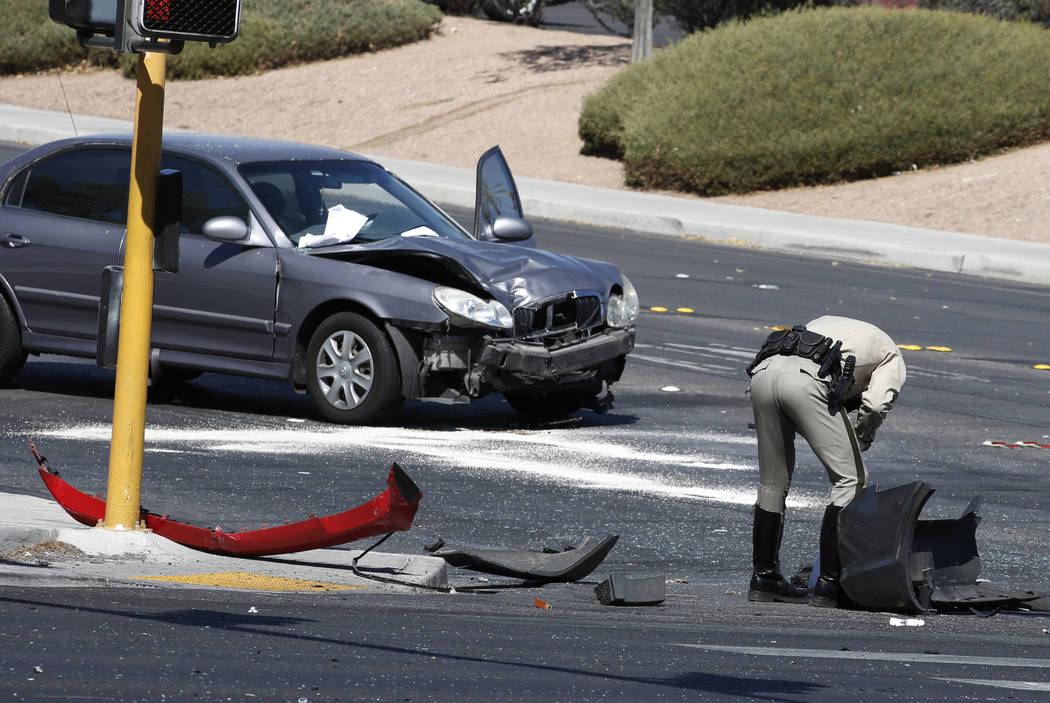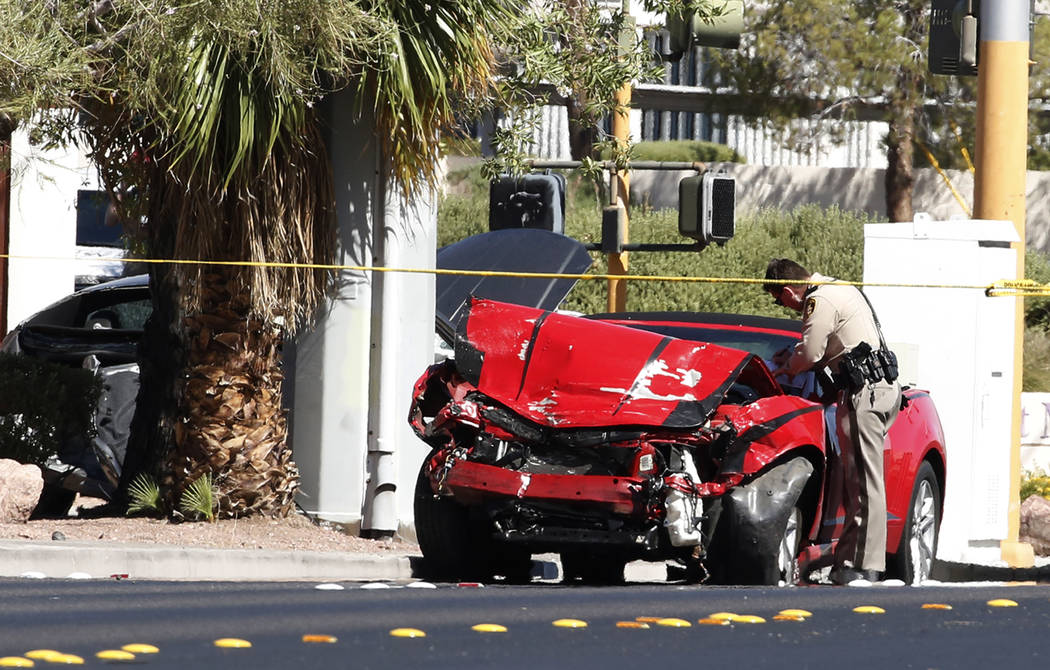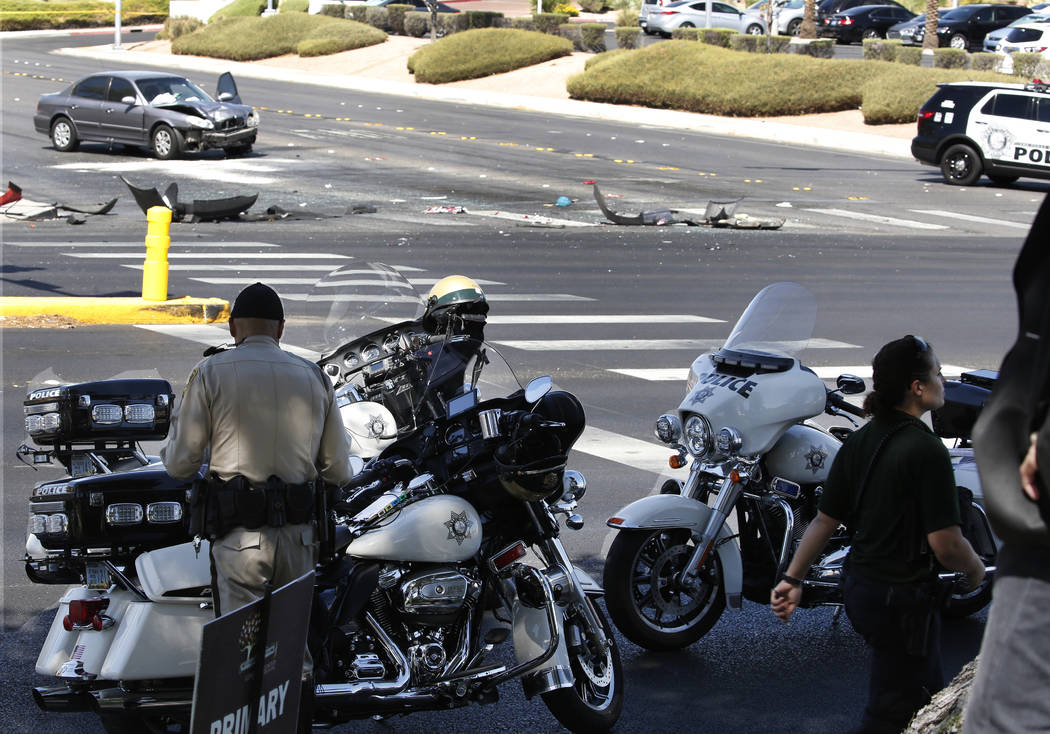 A speeding sports car blew a red light and smashed into another car Friday morning, killing an 8-year-old boy, Las Vegas police said.
The crash marked the Metropolitan Police Department's first traffic death of the Labor Day weekend. It was also "100 percent avoidable," according to the captain who oversees the Metro's traffic bureau.
"We're unfortunately out here at the beginning of a holiday season for our first fatal of the holiday weekend, and quite frankly, this one is an embarrassment to the community," a visibly upset Capt. Nick Farese told reporters Friday.
In addition to killing the boy, the crash injured five other people, involved three vehicles and resulted in the arrest of the sports car driver, who faces several DUI and reckless-driving charges.
Farese implored drivers to observe posted speed limits and to pay attention to signals and signs.
"I don't know what else we can say to the community. But I mean, a loss of a child, if that isn't the catalyst for some reform, for people to slow down and not drink and drive," Farese said at the scene, trailing off before he could finish his sentence. "A couple of minutes could be the difference between your life or someone else's life."
About 8:30 a.m., the driver of a red Chevrolet Camaro heading south on Eastern Avenue reportedly blew through a red light at Harmon Avenue and T-boned a Dodge Avenger, sending it into a third vehicle before coming to a stop on a sidewalk, Farese said.
The Camaro was "grossly exceeding the speed limit" as it approached the intersection, a Metro release said.
By 10 a.m., the mangled Avenger was door-less on its passenger side. The boy, who was buckled into the back seat, and a parent were extricated from the car by first responders, police said. The boy died at Sunrise Hospital and Medical Center, the release said.
By 7 p.m., the cars were gone, but debris remained scattered across a rocky area at the intersection. Reflective material and car parts sat near a red "Angry Birds" hat, while a broken pair of glasses lay among other assorted car debris.
The Metro release said the Avenger's driver and adult passenger were hospitalized, suffering moderate and critical injuries, respectively. Two occupants of the third vehicle, a 2005 Hyundai Sonata, suffered minor and moderate injuries, the release said.
The Camaro's driver, identified in the release as 25-year-old Aylin Alvarez-Perez, suffered minor injuries. Clark County jail records show she was booked on charges of DUI resulting in death and DUI resulting in substantial bodily harm, and two counts of reckless driving resulting in death or substantial bodily harm.
Here's a snippet of a briefing from @LVMPD Capt. Nick Farese on the first fatal crash of the Labor Day weekend. A child was killed in this crash, which involved three vehicles. pic.twitter.com/zI12c0nrgm

— Rio Lacanlale (@riolacanlale) August 31, 2018
At the scene, investigators had collected evidence that the Camaro's driver "ran at least one red light, possibly two," before the collision, Farese said.
The crash was the 89th traffic fatality investigated by Metro this year. The Clark County coroner's office will release the boy's identity.
"These are 100 percent avoidable," he said. "And whether you're late to work, whether you're distracted, you're speeding just because, speed kills. And today a testimony of that is a family that now has to bury a child."
Contact Jacob Lasky at jlasky@reviewjournal.com or 702-383-0219. Follow @Jtlasky on Twitter. Contact Rio Lacanlale at rlacanlale@reviewjournal.com or 702-383-0381. Follow @riolacanlale on Twitter. Review-Journal staff writers Mike Shoro and Katelyn Newberg contributed to this report.