Lawsuit: Elderly patient abandoned on side of road after hospital discharge
Updated July 23, 2023 - 7:47 am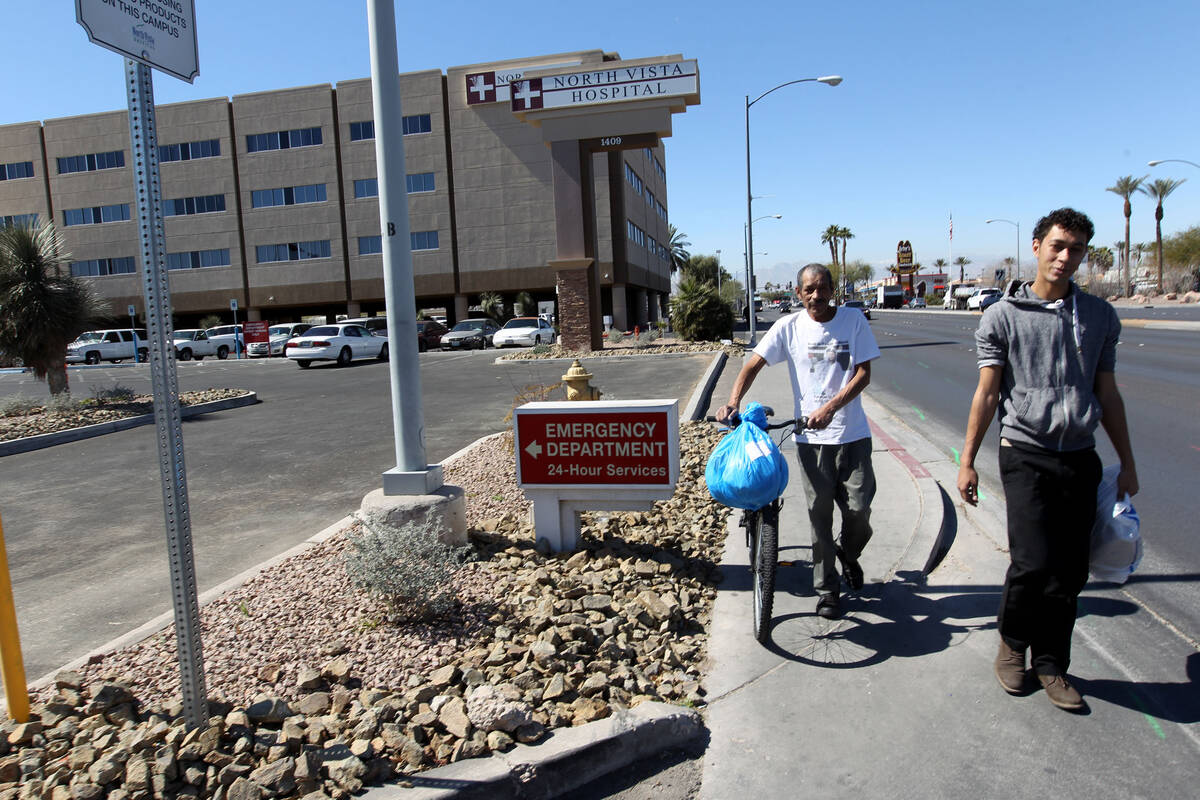 A 65-year-old woman was abandoned on the side of the road in sweltering heat after being discharged from a North Las Vegas hospital last summer, according to a new medical malpractice lawsuit.
Nancy Mando was released from North Vista Hospital around 1:40 p.m. on July 12, 2022, and put into a vehicle for transport to a recovery facility. Her family was not told about the transfer, according to a complaint filed this month in District Court.
Mando had been receiving treatment the past two months for symptoms consistent with "schizophrenia and psychiatric complaints," the lawsuit said.
It said that Dr. Kevin Bernstein approved Mando's discharge from North Vista and subsequent transfer to Journey to Recovery, near Lake Mead Boulevard and Civic Center Drive in North Las Vegas. Registered nurse Christopher Nojadera then completed the paperwork for her transfer, the lawsuit said.
Journey to Recovery, which the complaint described as a rehabilitation and mental health facility, sent a driver to pick up Mando.
Two hours later, she was found on the sidewalk with no identification, wearing only a robe and no memory of how she got there. The high temperature that day was 111 degrees.
The complaint included two attached letters written by medical professionals who offered their opinions on how the hospital and staff erred in their handling of Mando's care.
Mando was under the guardianship of her daughter, according to one letter, and did not have the capacity to sign herself out of the hospital. Her discharge should have been approved by Mando's daughter.
She was taken to Valley Hospital Medical Center and treated in the intensive care unit for two to three days after being described as hypothermic upon arrival. Mando was later transferred to a skilled nursing facility.
North Vista, Bernstein, Nojadera and Journey to Recovery were named as defendants. They were accused of negligence and elder abuse in the complaint.
The recovery facility is listed as a DUI school on the Nevada Department of Motor Vehicles website. A call Friday to the phone number listed online for Journey to Recovery resulted in an automated message saying that the number was no longer in service.
North Vista Hospital declined to comment Monday or say whether Bernstein and Nojadera were still employed by the hospital.
Mando's attorney Jerome Bowen could not be reached for comment.
Contact David Wilson at dwilson@reviewjournal.com. Follow @davidwilson_RJ on Twitter.