Man sentenced in DUI crash that killed 2 cyclists
Updated May 24, 2023 - 6:22 pm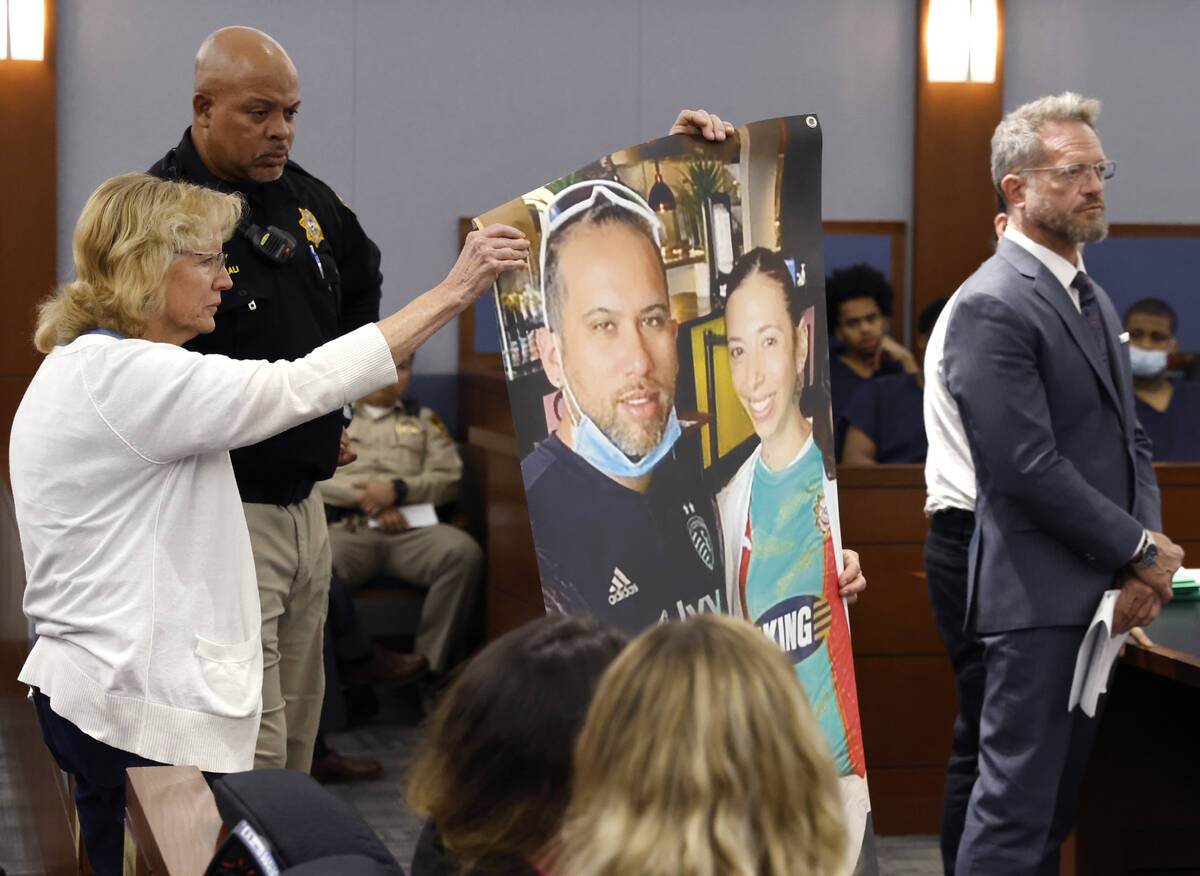 A Las Vegas judge on Wednesday sentenced a man to at least 16 years in prison for a fatal DUI crash last year that killed two bicyclists near UNLV.
Marco Benitez, 27, pleaded guilty in February to DUI resulting in death, failing to stop at the scene of a crash involving death, and reckless driving resulting in death or substantial bodily harm, court records show. According to his arrest report, Benitez had cocaine and marijuana in his system following the crash, in which he struck two bicyclists then attempted to drive away, causing a 10-car pileup at Flamingo and South Maryland Parkway.
Bicyclists Antonio Zabala, 36, and his long-term girlfriend, Karina Del Carmen Lopez, 37, were struck during the crash. Lopez died at the scene, and Zabala was hospitalized and died days later, the Clark County coroner's office said.
Zabala had moved to Las Vegas from his hometown of Kansas City about four months before the crash. He was working as an executive sous chef at The Westin Las Vegas, and had been dating Lopez for 10 years, his family has said.
Senior Judge Carolyn Ellsworth sentenced Benitez to between 16 and 40 years in prison. She said the case was a "horrible loss of life" for the victims' families.
"You can see the ripple effects," she told Benitez. "And that's only talking about the ripple effects on their side of this equation. That does't account for all the damage you've done to your own family."
Chief Deputy District Attorney Chad Lexis played a witness' dashcam footage, which showed Benitez's car speeding and swerving down the road before striking the bicyclists and causing the larger crash. Lexis said the circumstances of the case were as "egregious as they get."
"These type of crimes happen way too often in this town, and I'm glad to see that an appropriate punishment was given," Lexis said following the hearing.
Benitez told the judge on Wednesday that he had no memory of the crash.
"I am terribly sorry for what happened," he said. "I didn't even know what happened until I woke up in the hospital."
His attorney, Robert Draskovich, said Benitez had no prior criminal history and that he wanted to plead guilty in the case after he saw the dashcam footage of the crash.
"It's a tragedy all the way around," Draskovich said after the hearing.
Zabala's mother, Geralyn Torres, spoke to the judge on Wednesday while standing next to a poster-sized image of her son and Lopez. She said that she viewed Lopez as a daughter-in-law and that the couple would travel with her family every holiday.
Torres said her son had a "larger than life" personality and was excited about building a life for himself in Las Vegas. Zabala helped raise his two younger sisters, his mother said, and he is also survived by his 14-year-old son.
Multiple family members who spoke on Wednesday asked the judge to sentence Benitez to the maximum time he could spend in prison.
"I think now is when we start our healing," Torres said after the hearing. "It's going to be forever with us. It's a huge hole; it's never going to get filled. But we're going to do our best to move forward and start healing."
Contact Katelyn Newberg at knewberg@reviewjournal.com or 702-383-0240. Follow @k_newberg on Twitter.