Teen accused of rape was disciplined for sexual deviancy at age 9
Updated January 25, 2018 - 6:05 pm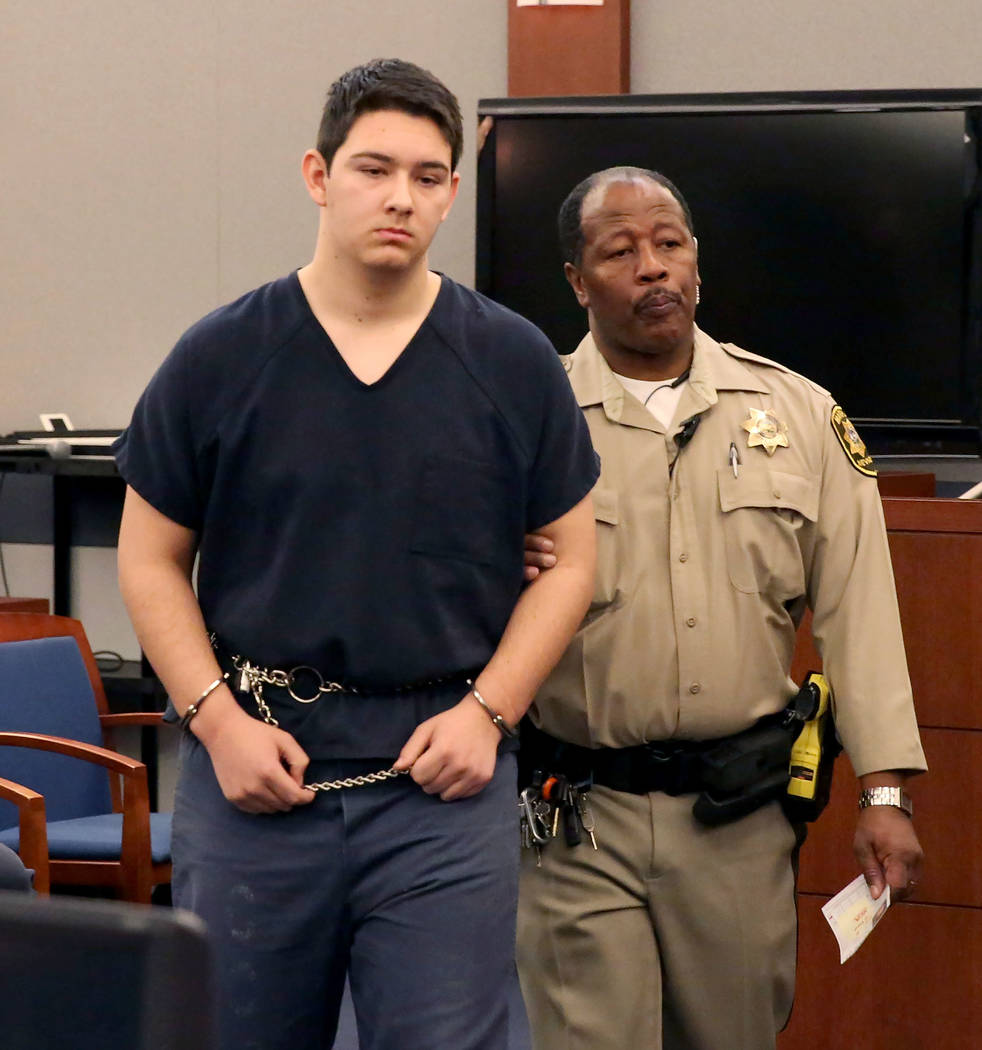 Maysen Melton, accused of raping four high school classmates and sexually harassing others, had been disciplined for sexual deviancy as early as February 2011, when he was a 9-year-old student at Bracken Elementary School, prosecutors said in court papers filed this week.
At a bail hearing Thursday, District Judge Jennifer Togliatti pointed to the history of allegations against the boy, now 16, and ordered him held on $500,000 bail as an adult.
The judge cited an "astronomical probability of conviction" at trial for Melton, who faces 23 felony counts, including charges of sexual assault, first-degree kidnapping and battery with intent to commit sexual assault, along with the possibility of life behind bars.
"In over 25 years in the criminal justice system, I have not seen a more prolific sex offender starting in elementary school, allegedly," Togliatti said. "I'm concerned that someone walking past his house is at risk."
Melton was suspended from Bracken for two days after allegedly sexually harassing classmates, and he was later disciplined for sexual deviancy at three separate middle schools, court documents state. In April 2015, Melton was expelled after groping a girl at Cadwallader Middle School, according to Chief Deputy District Attorney Kristina Rhoades.
Before Melton was charged as an adult for attacks that allegedly occurred while he attended Shadow Ridge High School, he had completed the "strictest" form of a sex offender probation program in Juvenile Court, according to the prosecutor.
Defense attorneys Ozzie Fumo and Dustin Marcello said Melton's family could not afford their son's bail and requested that he be granted house arrest. They also pointed to a history of abuse the teen allegedly suffered at the hands of an older woman before he started acting out.
"In this case, it has been clear Maysen and the community would benefit from counseling while this case is pending," Marcello wrote in a document filed late last week. The abuse Melton endured as a child "has had profound impacts on his ability to form healthy intimate relationships and interact romantically with girls. This has been made worse by cultural influence imposing stereotypical gender roles on young boys before they are emotionally and psychologically equipped to deal with these complex human interactions."
After the Las Vegas Review-Journal reported Melton's indictment last week, a classmate told authorities she had been sexually abused by him in October at a behavioral school, the prosecutor said.
"House arrest is not enough to supervise this person," Rhoades said. "He is the very definition of recidivism."
The prosecutor said Melton could face further charges for the October incident. Rhoades said Melton knew each of the victims, identified by initials in the indictment. The victims' ages ranged from 15 to 18, and the alleged rapes occurred over the course of about a year, ending in March 2017.
In one alleged incident that occurred in the Shadow Ridge theater room in September 2016, Melton pushed a girl to the floor before she told him "Stop" and "I don't want to do this," the court records state.
He allegedly responded by saying, "No means yes," and "I know you'll like it in the end." As the victim tried to rise to her feet, he knelt on her back and raped her, court documents state. Two weeks later, the documents state, he called the older teen from a blocked number and threatened to tell his parents and school officials that she had raped him and to post nude photos of her throughout the school if she did not have sex with him again.
In the winter of 2016, he forcibly raped another girl, with whom he had a relationship, in a secluded area of Craig Ranch Regional Park after kicking her to the ground, leaving her speechless and bruised, the prosecutors said.
Later, after apologizing for the attack, he allegedly demanded pornographic images and videos from the girl.
When she asked why, he responded: "Cuz I'm bored."
Contact David Ferrara at dferrara@reviewjournal.com or 702-380-1039. Follow @randompoker on Twitter.