Teens face judge in 17-year-old's slaying in vacant Henderson home
Updated June 20, 2018 - 5:31 pm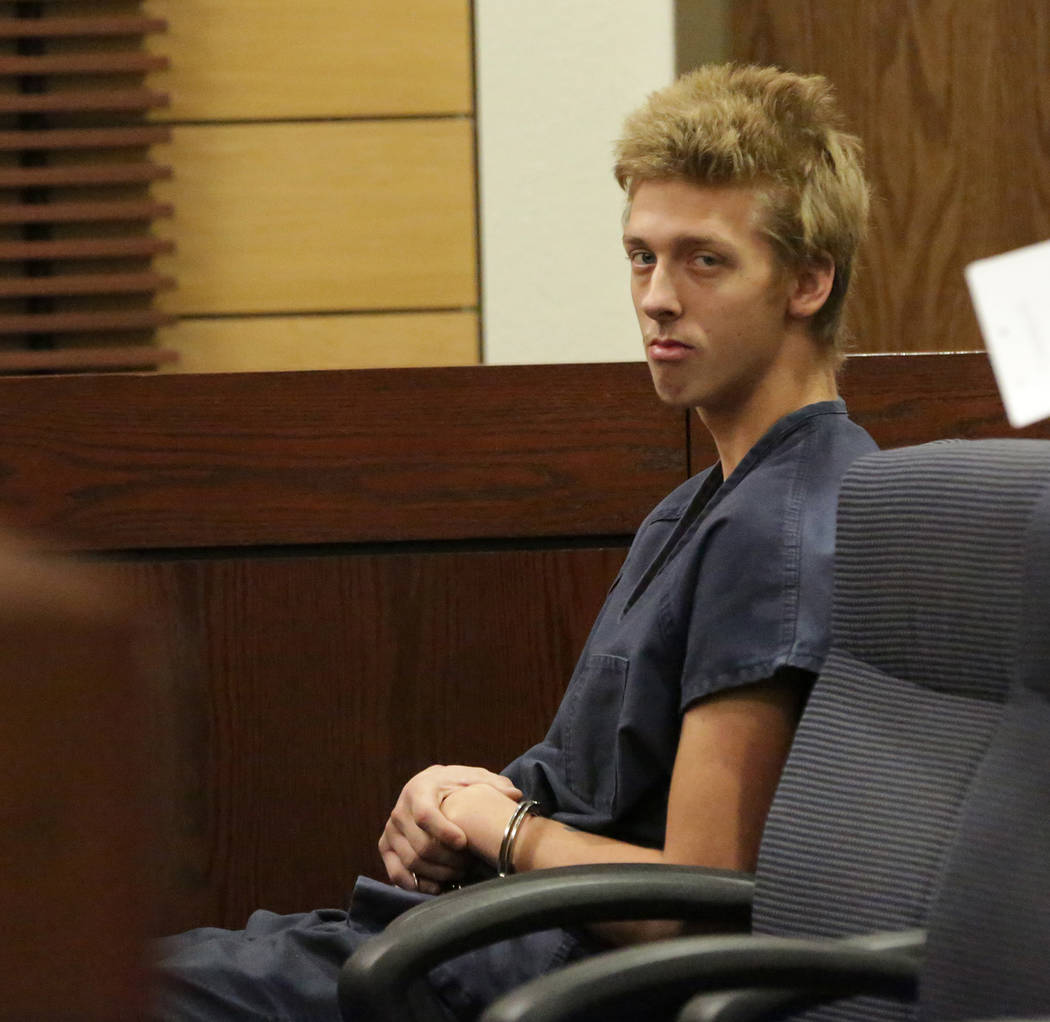 Two teenagers faced a judge for the first time Wednesday in connection with the shooting death of a 17-year-old boy inside a vacant Henderson home.
Prosecutors added a deadly weapon enhancement to charges against Jaiden Caruso, 16, and Kody Harlan, 17, in the June 8 slaying of 17-year-old Matthew Minkler. The enhancement carries additional prison time upon conviction.
Caruso and Harlan, shackled and wearing blue jail jumpsuits, were impassive during the hearing and did not speak to the judge.
Minkler, who was found dead of a gunshot wound to the head in an abandoned house in the 2000 block of Cool Lilac Avenue, would have been a senior at Silverado High School this fall.
Harlan told police after his arrest that Caruso pulled out a Ruger .357-caliber revolver and shot Minkler in the face during a modified version of Russian roulette. In this version of the deadly "game," Caruso "never allowed the other participants to handle the firearm or pull the trigger themselves," Harlan told officers, according to arrest documents.
Minkler's family and friends have said they do not believe that explanation.
Caruso's attorney, Bill Terry, told reporters that he expected more details about the case to be revealed at a preliminary hearing set for July 2 in Henderson Justice Court, though he declined to elaborate. Harlan's attorney, Keith Brower, who was appointed Wednesday, said he could not comment.
Prosecutors charged Caruso and Harlan as adults. Caruso faces charges of murder with a deadly weapon and robbery, and Harlan faces charges of robbery and aiding a felony offender after the fact, court records show.
Henderson police detectives arrested a third teen last week who they believe was present when Minkler was shot. That suspect, who has not been identified, faces charges of destroying evidence and accessory to murder. Authorities also are pushing to have the teen charged as an adult, police have said.
According to police documents, Caruso and Harlan returned to the house shortly after the shooting, but only to clean up the scene and hide Minkler's body inside a downstairs closet under a plastic sheet. They also took about $300 from Minkler's wallet and used it to buy a pair of shoes and drugs, the documents say.
Minkler's slaying was discovered after the pair crashed a stolen Mercedes while attempting to evade Henderson police officers attempting to pull them over. During questioning, Harlan told officers about the murder, according to the documents.
Contact David Ferrara at dferrara@reviewjournal.com or 702-380-1039. Follow @randompoker on Twitter.