Woman with 'locked-in syndrome' awarded $47M in malpractice suit
Updated February 9, 2023 - 7:17 pm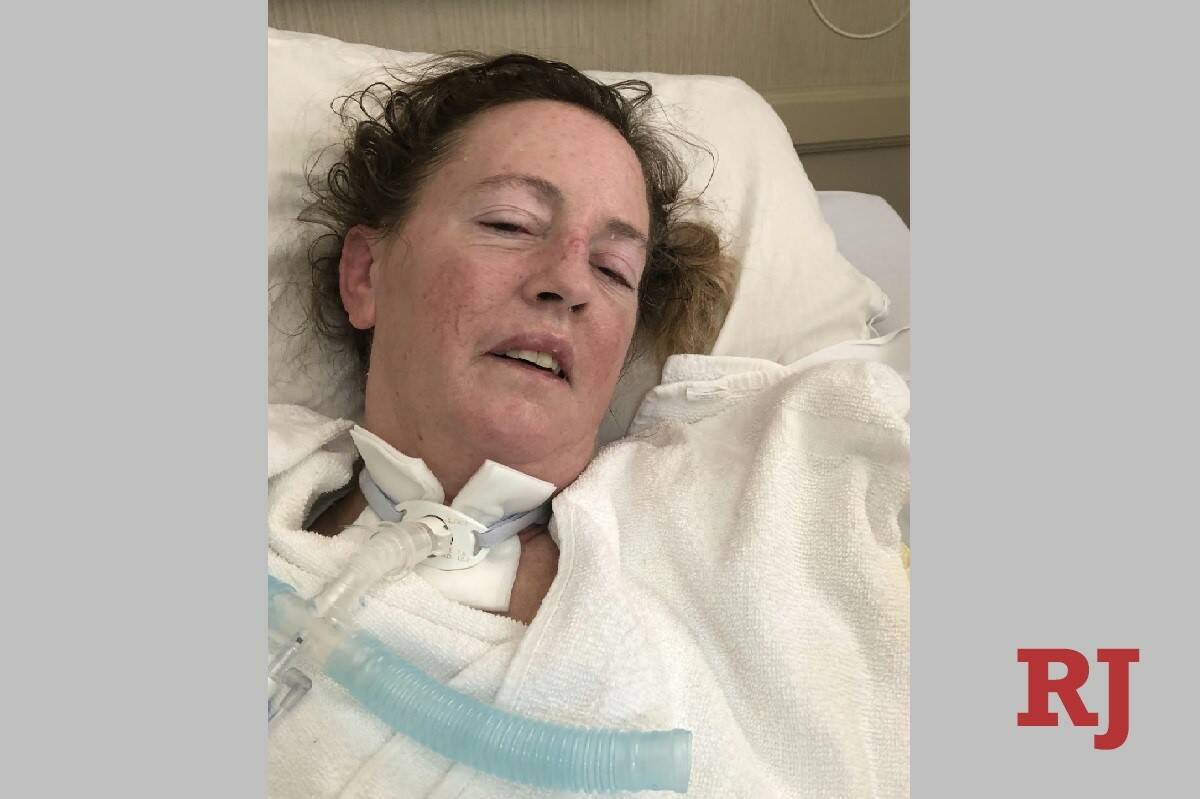 A woman suffering from "locked-in syndrome" was awarded a $47 million verdict this week in a medical malpractice case, although her lawyer said she will likely only see a fraction of the money.
In a lawsuit filed in 2020, Amy Geiler alleged that doctors at MountainView Hospital and Mountain's Edge Hospital failed to adequately treat her low sodium levels when she was hospitalized as the result of a fall. Because doctors raised her sodium levels too quickly, Geiler now suffers from Locked-in syndrome — meaning her brain is still functioning, but she cannot move and can only communicate through blinking.
At the end of a five-week trial on Tuesday, a jury awarded Geiler $47 million, of which $35 million was for noneconomic damages of pain and suffering. But a cap in Nevada on noneconomic damages in medical malpractice lawsuits means the $35 million will be reduced to $350,000, said Geiler's attorney, Sean Claggett.
"This is the worst injury known in medicine, and it's worth $350,000," Claggett said Wednesday.
Geiler will likely receive $4 million to $5 million of the total settlement, which will include damages from medical fees and lost wages, Claggett said.
The lawsuit originally named 11 defendants between the two hospitals and various doctors and nurses. After multiple settlements, which Claggett said were confidential, only three defendants remained during the trial — MountainView Hospital, Dr. Ejo John and Dr. Amit Valera.
The jury determined that of the three remaining defendants, Valera was 35 percent liable for causing Geiler's injuries. The other 65 percent of liability was assigned to defendants who had previously settled. That means Valera is the only defendant who will be required to pay any amount from the verdict, Claggett said.
Attorneys for Valera did not reply to request for comment on Wednesday.
Mike Prangle, an attorney representing MountainView Hospital, said the verdict showed that the hospital did not cause Geiler's injury.
"At MountainView Hospital our foremost priority is the health and well-being of our patients, and it deeply saddens us what Ms. Geiler has endured," the hospital said in an emailed statement. "We are committed to ensuring the highest standard of care for all our patients. Our sympathies are with those affected by this unfortunate event."
Risk of brain injury
Geiler was hospitalized at MountainView Hospital on Jan. 1, 2019, after falling and hitting her head on a dresser. When she was admitted, her sodium levels were abnormally low, which leads to swelling and excessive water in a patient's brain cells, and can cause confusion, seizures or coma, according to the lawsuit.
But if a patient's sodium levels are raised too quickly, water can be drawn out of the brain cells, leading to permanent brain damage, the complaint said. Geiler was at a higher risk of brain damage because of abnormal sodium levels because of her alcohol use and abnormal liver enzymes, the lawsuit said.
John and other doctors at MountainView Hospital were accused of failing to notice that Geiler's sodium levels were being raised too quickly.
Geiler was then transferred to Mountain's Edge Hospital, and the lawsuit accused John and Valera, the receiving physician at Mountain's Edge, of failing to communicate a plan of care for Geiler before she was transferred.
John's attorney, Anthony Lauria, said in an emailed statement on Thursday that the jury found that John was not responsible for Geiler's injuries.
"The decision as to Dr. John was clearly the correct one," he said.
The lawsuit also alleged that Geiler should have been transferred to a facility capable of a higher level of care.
According to the complaint, the hospitals "knew or should have known that the failure to properly transfer Amy to a higher and more appropriate level of care would create an unreasonable risk of brain injury to high risk patients such as Amy."
Geiler's mental state began to decline, and by Jan. 7, 2019, she was transferred to St. Rose Hospital in respiratory distress and had to be intubated, according to the lawsuit. Claggett said her brain stem was permanently damaged, causing Locked-in syndrome.
In the past four years, Claggett said Geiler has seen small improvements. She now can move her neck slightly, and her family is hoping she will be able to learn to communicate through eye movements.
Medical malpractice law
Claggett said Geiler's case highlights issues with Nevada's law that caps noneconomic damages in medical malpractice suits, which Claggett said allows hospitals to avoid liability.
"It's truly one of the most awful laws ever created, and it was done to benefit big hospitals and insurance companies," he said. "That's who's the winner."
Claggett said the jury was able to award $47 million because the jury is not supposed to consider the cap when reaching a verdict. He said Geiler plans to appeal the verdict to challenge the constitutionality of the limit.
The cap was approved by Nevada voters in 2004 as part of a medical malpractice reform ballot measure called "Keep Our Doctors in Nevada." The initiative was supposed to prevent doctors from fleeing the state because of high medical malpractice insurance costs.
In 2015, the Nevada Supreme Court upheld the law, overturning a lower court determination that the limit was unconstitutional.
Contact Katelyn Newberg at knewberg@reviewjournal.com or 702-383-0240. Follow @k_newberg on Twitter.