Doughnuts, burnouts will result in shredded tires at this Las Vegas intersection
Updated March 28, 2023 - 12:26 pm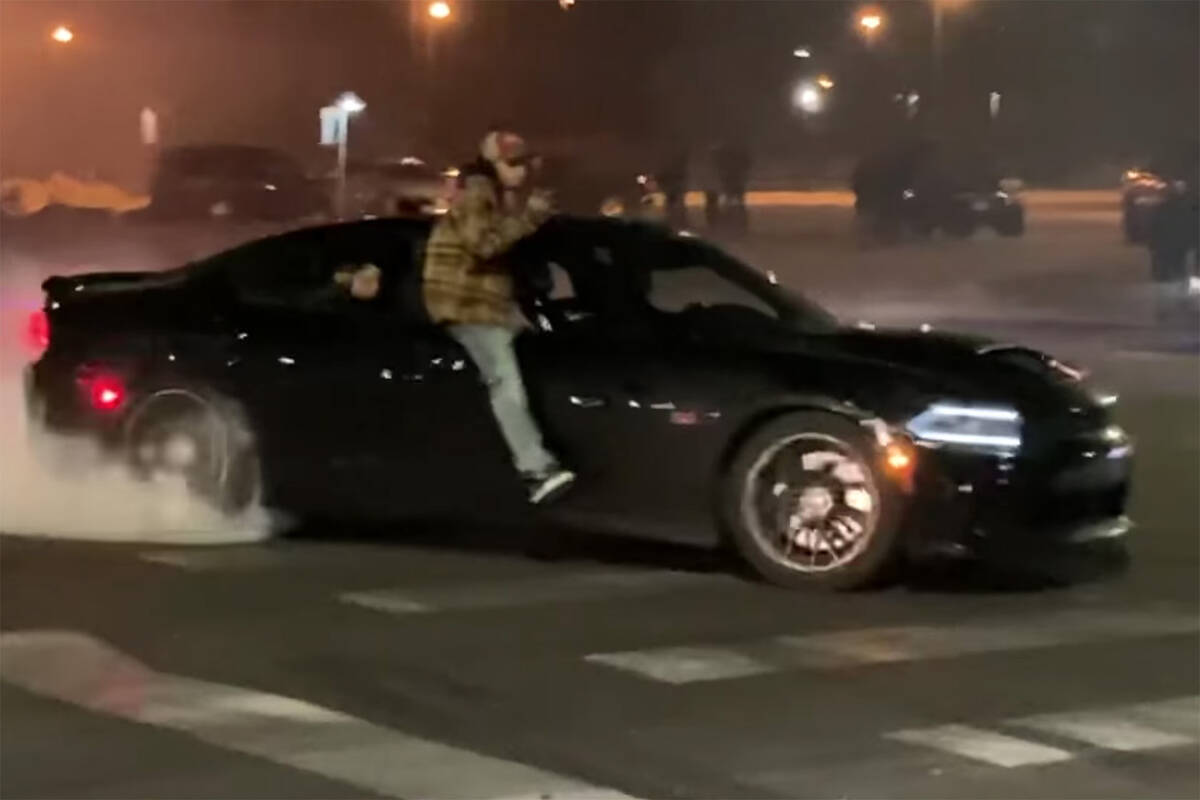 It's the latest effort to rid Southern Nevada streets of would-be stunt drivers and their so-called street takeovers, police say.
An intersection studded with rivets designed to destroy the tires of any driver who attempts doughnuts and burnouts will be unveiled Tuesday morning in the Apex area, northeast of the Las Vegas metro area, by police and traffic officials.
That intersection is Grand Valley Parkway and U.S. 93, a 13-mile drive northeast of the Las Vegas Motor Speedway, said Metropolitan Police Department spokesman Officer Aden OcampoGomez.
"They're actually putting rivets on the road," Metro traffic bureau Lt. Bret Ficklin said. "That way if somebody tries to do doughnuts in that intersection, it's just going to shred their tires."
Metro police say the kinds of reckless drivers seeking social media clout with their so-called street takeovers have been an ongoing public safety issue.
Introduced in March 2022, Metro's RAID (racing apprehension and intervention detail) team was set up to tackle such takeovers, as well as street racing, reckless driving and driving under the influence.
The Grand Valley Parkway and U.S. 93 intersection, which is about two miles west of Interstate 15, was described by police in a press release issued Monday as a "hotspot for street takeovers."
Street takeovers generally involve packs of drivers and their souped-up cars flocking to a particular street, intersection, or parking lot to race or spin around on their screeching tires, burning the rubber and sending thick clouds of smoke into the air. A lot of the activities are filmed and posted to social media.
Such takeovers are often teeming with spectators too, and some of them happen in already busy places, where there are bystanders. The concern among police is that one wrong move and a person, or several people, are at risk of severe injury or death.
"Again, we are constantly looking at what we can do either through enforcement, education, or engineering to make our streets safer," Ficklin said.
Police also described the intersection initiative as a project that involved the work of Metro, Clark County, and the Nevada Department of Transportation.
A press conference, which will feature Metro Traffic Bureau Lt. Daryl Rhoads and County Commissioner Marilyn Kirkpatrick, is slated for Tuesday at 10 a.m. at the intersection.
Contact Brett Clarkson at bclarkson@reviewjournal.com. Follow @BrettClarkson_ on Twitter.