False shooting report causes confusion at Town Square Las Vegas
Updated July 7, 2018 - 6:13 pm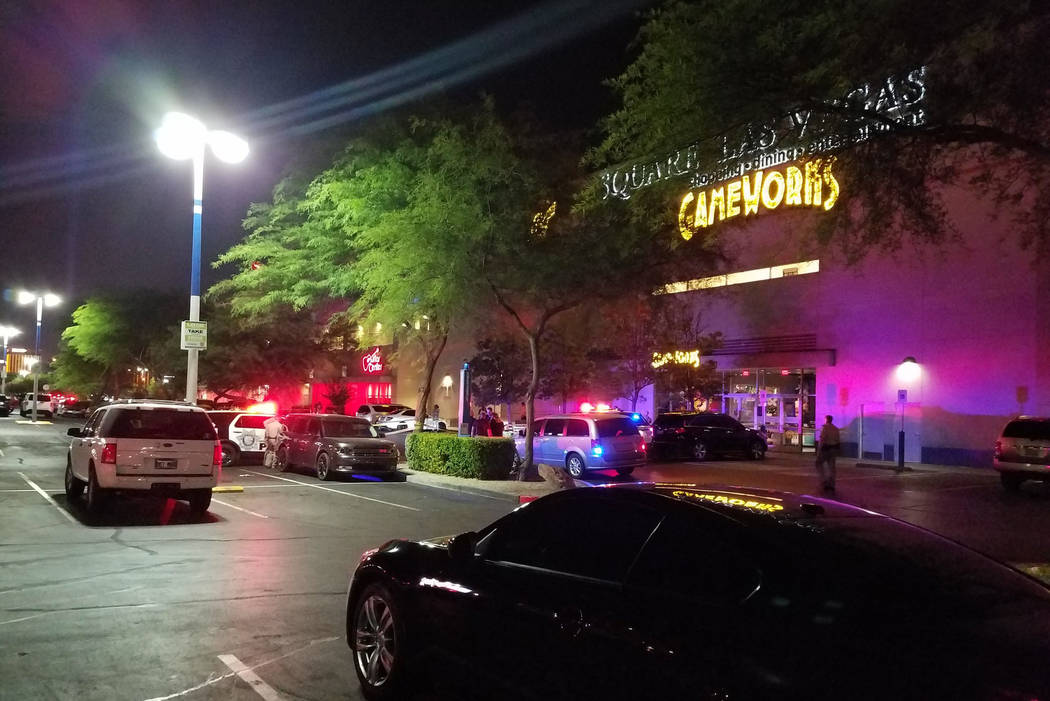 False reports of an active shooter at Town Square Las Vegas on Friday night prompted a heavy police response to the shopping center and confusion among many patrons.
"We did not have an active shooter tonight down at Town Square," Metropolitan Police Department Lt. Dave Sims told reporters Friday night near the scene.
A fight inside the Gameworks at Town Square led to incorrect reports of an active shooter, drawing police to the shopping center located at 6605 Las Vegas Blvd. South.
The situation unfolded after two teens came inside the Gameworks to fight, Sims said. People inside Gameworks saw that one teen had a gun, which incited panic, he said. While no shots were fired, the gun was found on the floor at the scene, he added.
Las Vegas police detained the teen boy believe to have brought the gun early Saturday, Sims said. Charges against the teen were still to be determined, police said.
Metro also had early detained several others, including friends of the two teens who had planned to fight, he said.
While the reports of an active shooter were false, Metro received a "barrage" of calls starting at 9:12 p.m. Friday, Sims said.
"It's not uncommon when we respond to calls like this where a gun is seen and people start yelling that in the crowd that it can escalate based on what people are hearing or seeing," Sims said.
Soon after, police arrived and started securing the area, he said. Officers evacuated the area and advised people to shelter inside neighboring businesses while they conducted interviews and gathered information, he said.
Police were able to conduct detailed interviews once the shopping center was shut down.
"We do have a very rapid and practiced response," Sims said.
Brylon Shockley, 31, said he and his nephew Blake, 14, had left the AMC Town Square movie theaters shortly before reports of a possible shooting surfaced. As word spread, Shockley said he tried to walk with his nephew back to their car. A woman at a nearby retail store ushered them in to hide for about 20 minutes until they were told the area was safe.
The two were both visiting from Tennessee. Shockley, a Marine, said he wasn't fazed, but he took Blake inside of the store because the 14-year-old was frightened.
A police presence remained at the shopping center Friday night.
On May 17, Metro responded to an active shooter scare at the Boulevard Mall, near Maryland Parkway and Desert Inn Road. Police responded to reports of a masked man armed with a long gun. Police evacuated the mall but later determined that no shots had been fired.
Officers later arrested the man with the gun, which was found to be fake.
Contact Mike Shoro at mshoro@reviewjournal.com or 702-387-5290. Follow @mike_shoro on Twitter.