Family of Las Vegas girl missing for 20 years asks public for help
Updated October 18, 2019 - 1:50 pm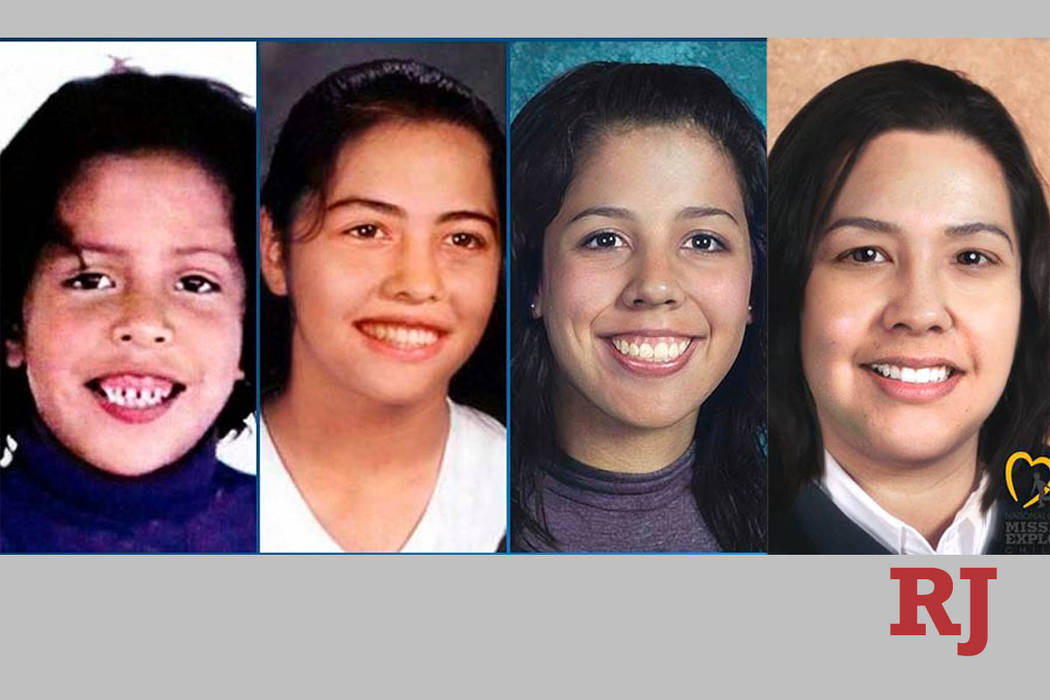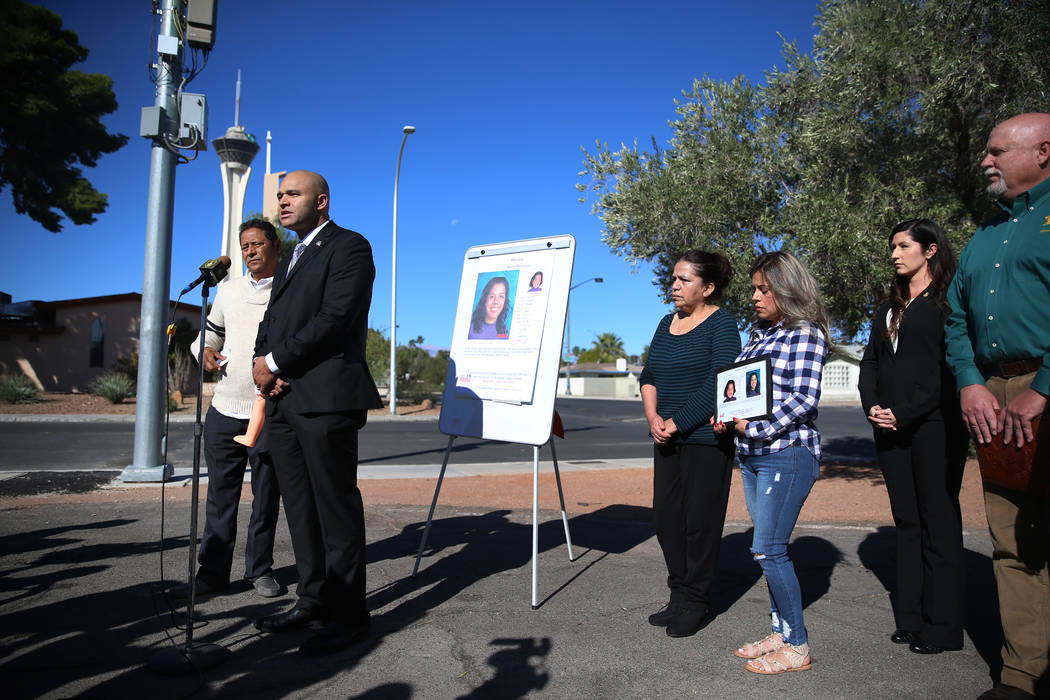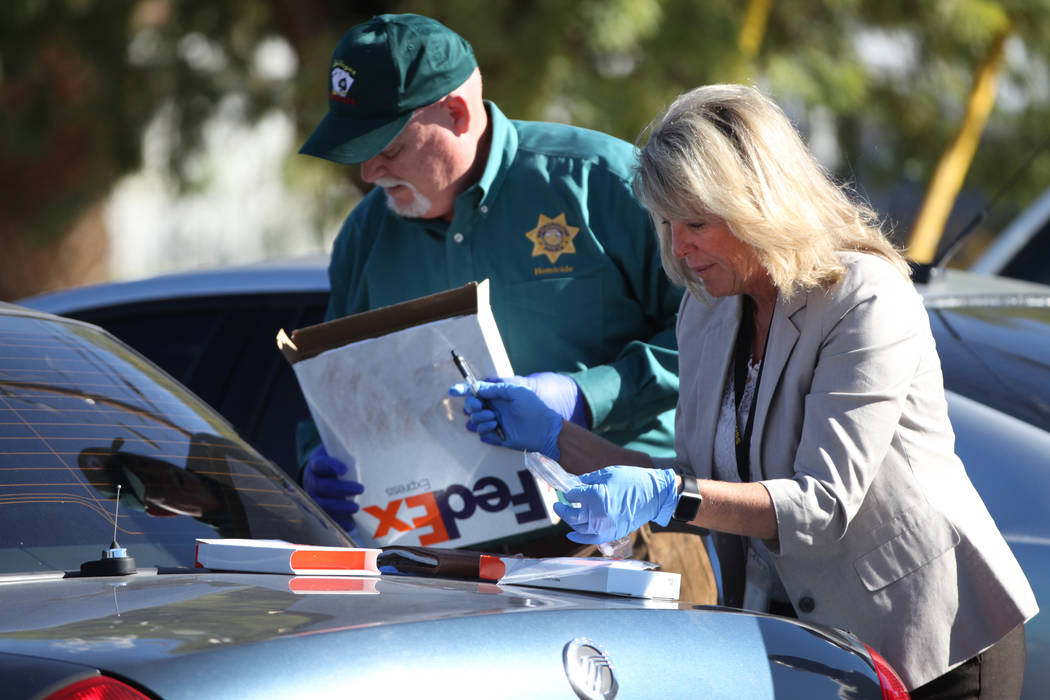 At a news conference with Las Vegas law enforcement officials early Friday, Karla Rodriguez's parents asked the public to help find their daughter, who hasn't been seen in 20 years.
On Oct. 20, 1999, Karla disappeared from her central Las Vegas neighborhood near the resort now known as The STRAT. Metropolitan Police Department homicide Lt. Ray Spencer said Friday that the 7-year-old "literally vanished without a trace."
During the emotional conference Friday morning, Karla's parents, Elia Zepeda and Ramon Rodriguez, stood on the corner of Sixth Street and St. Louis Avenue along with Karla's older sister Rosy Rodriguez and addressed reporters yards away from the home where they lived in 1999.
"We miss you, Karla," the sister, now 35, said. "Please someone who has any clue — please let us know, contact the police"
The last time Karla was reportedly seen, she was leaving a neighbor's yard a block from the family home. It was about 7 p.m. on Oct. 20, 1999, when the neighbor told her no, she couldn't play with his son, because it was getting too dark for a 7-year-old.
When police began searching for Karla the next day, her bike was found near the neighbor's home, homicide cold case Detective Dan Long said in an interview with the Las Vegas Review-Journal on Wednesday.
The day Karla disappeared, she was supposed to go to an English language class at Park Elementary School. The girl's mother told police she walked Karla part of the way to school that morning, but Long on Wednesday said Karla may have walked alone.
Whatever happened, Karla didn't show up for class that day, and her whereabouts for the next 12 hours are still unknown.
Karla's father returned home from work around 5 p.m. and thought Karla was safe, because she was often left on her own. He left the house again to drop off the family car with Karla's mother, and when he returned about 10 p.m., Karla and her bike weren't there.
He talked to the neighbor who reported seeing Karla, and assumed that the 7-year-old had gone to a friend's home. So Ramon Rodriguez went to bed.
The next morning, Karla's mom showed up at Park Elementary School, hoping that her daughter had made it to class. It was the principal who finally called police when the adults realized that Karla was indeed missing.
Retired Metro Deputy Chief Al Salinas told the Review-Journal on Wednesday that, in his opinion, Karla was "a victim waiting to happen."
"Dad didn't call us. Mom didn't call us. It was the principal of the school that called us. Those kind of situations really give me concern," Salinas said, later adding that he thought Karla "fell through the cracks."
The day after her disappearance, two bloodhounds traced Karla's scent to an apartment complex on the 1700 block of Santa Paula Drive, near Oakey and Las Vegas boulevards, about a half-mile from her home, cold case homicide Detective Terri Miller said Friday.
But Miller said that "no items of evidence or value were ever recovered" from the complex.
With tears streaming down her face, Rosy Rodriguez addressed the news cameras and begged for information, promising not to give up on her sister's case.
"We're still going to be here," she said. "We're not going to give up until we find somebody or someone who has seen her."
Ramon Rodriguez, now 57, had tears in his eyes Friday as he held Karla's favorite doll. He told the Review-Journal in Spanish that he and the girl's mother now understand the dangers of leaving children unattended. The family still lives in Las Vegas.
Zepeda, now 54, has kept all of Karla's clothes and other belongings, and Karla now has a 17-year-old brother whom she has never met, Rosy Rodriguez said. She remembered the days after Karla's disappearance as a "nightmare."
She thinks a stranger took her sister, but she has held out hope for 20 years that they will be reunited.
"We believe in our heart that she's still out there somewhere, and we don't lose that hope," she said.
Officials on Wednesday said no substantial leads have come to light in about 10 years. Supervisory Special Agent Elena Iatarola, with the Las Vegas FBI office, said there is now a $5,000 reward available for anyone with information that leads to a resolution of the case.
Anyone with information about Karla's disappearance may call the Las Vegas FBI office at 702-385-1281 or Metro homicide detectives at 702-828-3521. Anonymous tips may be left with Crime Stoppers at 702-385-5555.
Karla was last seen wearing a blue jacket, a blue-and-white striped shirt and red pants. Her fingernails were painted green. She was 3 feet, 6 inches tall and weighed about 50 pounds, according to the Polly Klaas Foundation, which also has assisted with the case.
Police said Karla had a medical scar on her abdomen, a small mole above her right eyebrow and spoke limited English.
Contact Katelyn Newberg at knewberg@reviewjournal.com or 702-383-0240. Follow @k_newberg on Twitter.
Related
Unsolved case of missing Las Vegas girl still active 20 years later
Las Vegas girl vanished in 1999, leaving grieving family, frustrated police