Judge sets bail at $350K in 'chance encounter' slaying outside tavern
Updated November 24, 2021 - 3:57 pm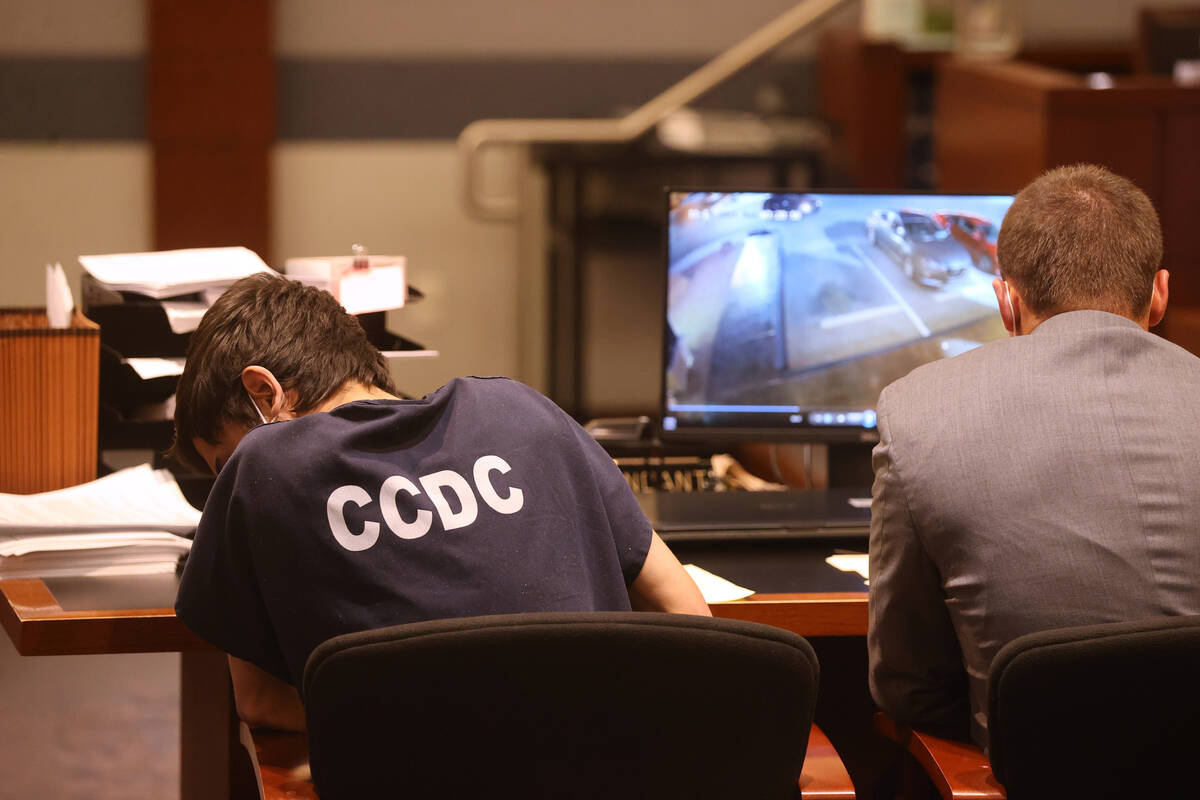 Bond was set at $350,000 Wednesday for a suspect accused of fatally shooting a man outside a west valley tavern this month following what a Las Vegas police homicide detective described as a "chance encounter."
The Nov. 14 killing, which was captured on surveillance video shown in court, occurred after a early morning quarrel in front of The Bar, located at 4340 South Grand Canyon Drive, near Flamingo Road.
Las Vegas police allege Launce Cliff, 21, shot Jacob Hughey four times — once in the face and three times in the back — after Hughey punched him.
Cliff, who drove away before first responders arrived, was arrested four days after the shooting, police said.
During a lengthy bail hearing Friday, Cliff's attorney, Ryan Helmick, argued self-defense and asked for bail to be set at $50,000.
Clark County Deputy District Attorney Agnes Botelho, who originally asked for no bond, later suggested $250,000.
But Las Vegas Justice Court Judge Joseph S. Sciscento decided on the higher amount, noting the "highly concerning" allegations in the arrest report, Cliff's history of fleeing a Metropolitan Police Department traffic stop in 2020 and his "tough guy" persona on social media.
The day of the shooting, both men had just met at the entrance of the bar, police said.
Metro homicide detective Mitchell Dosch, Botelho an Helmick, summarized the case in court Friday, and explained the video clips, which were shown on computers but difficult to see from the audience section of the courtroom.
A bartender told police that staff had denied Hughey entrance because he was acting "erratically," Dosch said
A few minutes later, Cliff walked up to notify the bar about a car alarm going off in the parking lot.
The bar's surveillance video, which did not capture audio, showed both men exchanging words.
Helmick said Hughey that "taunted" Cliff, who was on a video call with five friends.
The surveillance video showed Cliff walking back to his car, which was parked in front of the building, and Hughey following. At one point, Cliff turned his phone around to shoot video of Hughey.
Shortly after, Cliff used his other hand to pull out a gun, which he held at his side. Hughey punched Cliff, who then raised his gun and opened fire before driving away.
Cliff told police he "was concerned" that had he not shot his gun "he would've been struck again," Dosch said.
Hughey also recorded the argument and shooting on his cell phone, which was still filming when officers arrived, police said.
Bail arguments
Citing old social media posts attribute to Cliff, including some in which the poster quoted rap lyrics about shooting people, prosecutor Botelho argued that the suspect's actions led to the "willful" shooting.
"He didn't call 911," she said. "He actually chose to engage with this individual."
She conceded that the quotes on Cliff's Instagram account were rap lyrics, but noted that "they just happened to foreshadow what happened."
"They can make the (self-defense) argument all they want," she said. " But a punch? A punch? Give me a break, a punch from someone who is walking away."
Helmick described his client as someone who had acted in the "heat of the passion," who was "dazed and kind of blacked out" after being punched, he said.He said that Cliff fled the scene because he "panicked."
Hughey's mother and grandfather urged the judge not to grant bail.
Denise Stewart said she was so devastated by her son's killing that she has not been able to work, eat or sleep. She added that he is survived by a 10-year-old daughter.
"We're a loving family and I can assure you that my grandson was loved very deeply by all of us," Ralph Street said.
He said the shooting was a "cowardly" and "murderous," and that Cliff did not deserve bail.
"He's not going to be with us tomorrow to eat Thanksgiving dinner," Street said of Hughey. "He's not going to be able to be with my family."
They declined further comment outside the courtroom, as did Cliff's mother and two friends who attended the hearing.
If Cliff posts bail, he will be held under high-level monitoring during house arrest, the judge decided.
Sciscento chastised the defendant, noting that he could have easily avoided the situation he is in.
"Had you just gotten into your car and went away, none of this would've happened," he said.
Cliff is next due in court Dec. 20.
Contact Ricardo Torres-Cortez at rtorres@reviewjournal.com. Follow him on Twitter @rickytwrites.