Las Vegas police grapple with uptick in officer-involved shootings
Updated August 29, 2018 - 3:12 am
Nearly half of the Metropolitan Police Department's officer-involved shootings in 2018 have happened this month, but officials say the numbers do not tell the full story.
"When you're just talking about the number, I think you're missing a lot, because what we're seeing is an increase in the number of suspects who are willing to shoot at or use some other type of weapon toward the public or officers," Deputy Chief Chris Jones said Tuesday.
Las Vegas police officers have been involved in 18 shootings this year. Eight shootings happened in August, and four of those ended with police killing someone.
Assistant Sheriff Charles Hank said officers attempt to de-escalate situations, but "sometimes the end result is dictated" by the people they encounter.
"I wish I had a different answer to what we are seeing in our community, but I don't," he said.
The most police shootings the department has had in one year was 25 in 2010, police confirmed. Last year Las Vegas police were involved in 22 shootings, including 16 by this point.
Some of the past shootings happened because police mistook nonlethal objects for deadly weapons, Jones said.
The department worked to reduce such shootings through improved training and a policy overhaul, he said.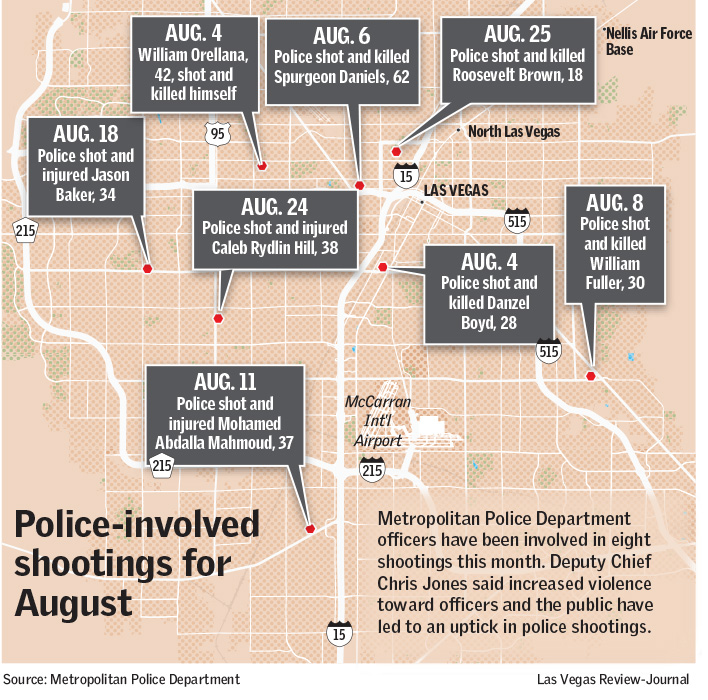 Jones said the recent shootings have not warranted any immediate policy changes.
"These shootings are all such anomalies," said Metro Capt. Jamie Prosser, who heads the section that investigates police shootings.
Latest deadly police shooting
On Tuesday, Hank released more details about the department's most recent shooting, in which an 18-year-old man was shot and killed Saturday morning by Metro SWAT sniper Jonathan Collingwood.
Hank said the man, Roosevelt Brown, pointed a gun at officers after a standoff that lasted more than an hour near Doolittle Avenue and H Street in Las Vegas' Historic Westside.
Police were called to an apartment in the area to investigate reports of a man shooting a gun, Hank said. Officers talked to Brown's family, who said the man came to the apartment and fired a shot after an argument, he said.
Brown was on supervised release on a burglary charge and was being monitored by a GPS ankle bracelet, Hank said. He was not allowed to be at the apartment and was not supposed to contact one of the women at the home.
He fired two rounds from a gun before officers arrived, but nobody was injured, police said.
Officers set up a perimeter after losing sight of him, Hank said. Brown eventually walked around the neighborhood with a gun in his hand and ignored commands to drop the weapon, police said. Brown taunted police, verbally threatened officers and pointed the gun at his head, Hank said.
"I want you to give up so that you and everyone else in here can be safe," an officer can be heard saying in body camera footage.
As Brown pointed the gun at officers, Collingwood fired a single shot, Hank said. Brown died at University Medical Center.
There were no bullets left in the gun when police recovered it.
Collingwood was not wearing his body camera during the shooting, Hank said. He is on routine paid leave while police investigate the shooting.
Contact Blake Apgar at bapgar@reviewjournal.com or 702-387-5298. Follow @blakeapgar on Twitter.
Related
Las Vegas police stress safety after standoff livestreamed