Las Vegas police hold briefing on fatal hospital shooting
September 28, 2017 - 12:02 pm
Updated September 29, 2017 - 12:09 am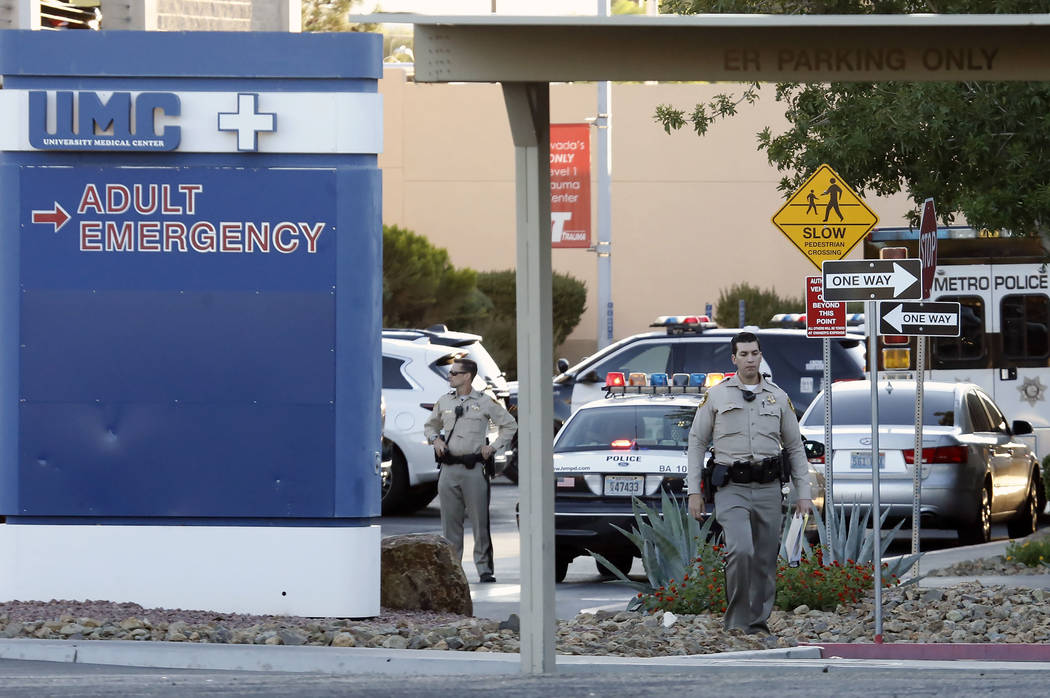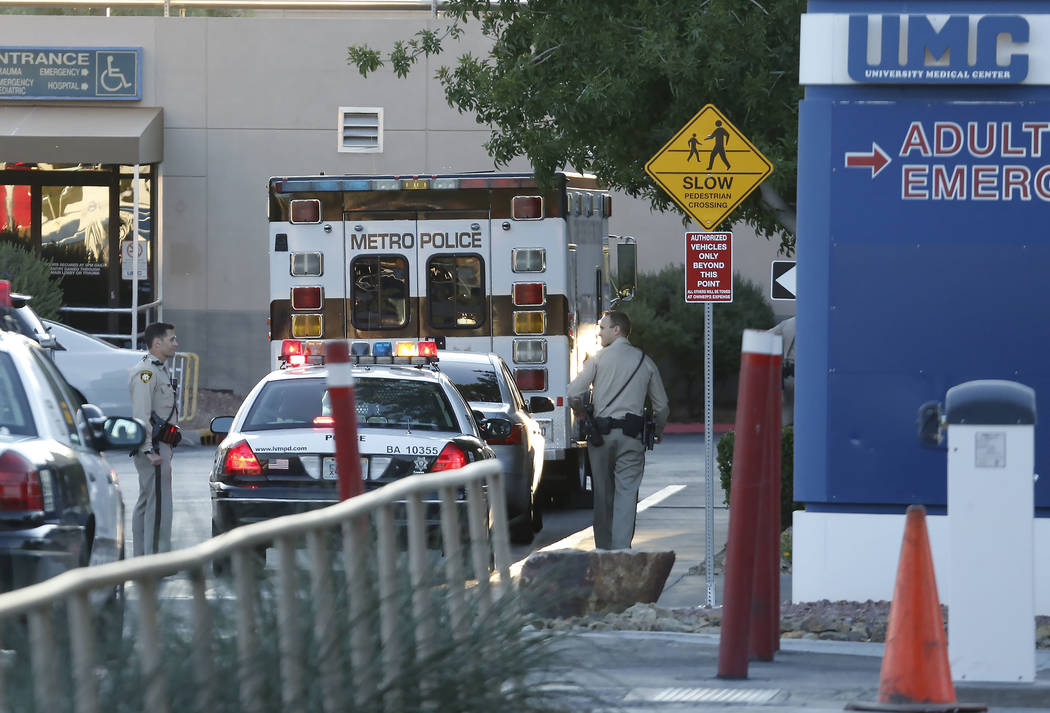 Las Vegas police expressed concern Thursday that a prisoner was left unattended with access to a stun gun before an officer fatally shot him inside a hospital room Monday.
The officer tasked with watching the man shot and killed him about 4:10 a.m. at University Medical Center after the man pointed the stun gun at him.
"This (officer-involved shooting) is unlike any other that we've had," Assistant Sheriff Todd Fasulo said at a news conference Thursday.
It was Metropolitan Police Department's first police shooting at a hospital, he said.
Patrol officer Thomas Rybacki, 35, was in charge of watching over the man, identified as Cody Leighland O'Bryan.
Fasulo said O'Bryan was left alone in his hospital room with a bag containing a stun gun for about a minute. During that time, he grabbed the Taser from the bag and hid it from Rybacki.
"He is responsible for what that inmate does while he's in his custody, so he should be watching that person," Fasulo said.
O'Bryan, 31, told 911 dispatchers Sunday night that he wanted to "blast it out" with police. When police arrived near Charleston Boulevard and Palmhurst Drive, he was found passed out on the ground.
Police learned he had an outstanding attempted battery warrant for his arrest. He was too intoxicated to go through the booking process at the county jail, police said, and he was hospitalized. Fasulo said a corrections officer from the jail met with Rybacki at the hospital room at 3:26 a.m. Monday.
The corrections officer dropped off a "duty bag," containing a radio, leg restraints and a Taser. He slid it under the sink and left.
Fasulo said police reviewing the incident identified duty bags in hospital rooms as a "gap" in their policy, and the policy was changed immediately.
"There will never be another duty bag placed in a room with a prisoner at the hospital," he said.
Fasulo also detailed how events unfolded Monday. O'Bryan had urinated on himself, and Rybacki took off one of his restraints to help change him into a hospital gown, he said.
Rybacki stepped out of the room and left O'Bryan alone with the bag at 4:04 a.m., at which point O'Bryan left the bed, pulled the Taser from the bag and hid the stun gun. At 4:05 a.m., Rybacki returned and took the bag from the room.
Body camera footage shows O'Bryan sitting on the ground, grabbing the stun gun and pointing it at a security guard. Rybacki momentarily stepped out the room before stepping back into the doorway and shooting him once.
O'Bryan tried pulling the Taser trigger, Fasulo said, but a safety lock on the weapon stopped its firing.
Rybacki was placed on routine administrative leave with pay pending an internal review.
No officers or hospital staff were injured.
Contact Mike Shoro at mshoro@reviewjournal.com or 702-387-5290. Follow @mike_shoro on Twitter. Review-Journal staff writer Blake Apgar contributed to this story.
Plans for Legal 2000 hold
Before booking him in absentia on his outstanding warrant, police planned to put Cody O'Bryan on a Legal 2000 hold, meaning officers recognized him as a danger to himself or others and would place him under psychiatric supervision.
Assistant Sheriff Todd Fasulo said O'Bryan had underwent 15 such holds and had 16 prior Metro interactions where police thought he met crisis response standards.
Thomas Rybacki had access to O'Bryan's documented mental health history police while responding to the call, Fasulo said.
Metro spokesman Larry Hadfield said Rybacki was certified for Metro's crisis intervention team.