Man who killed family, self had record of domestic abuse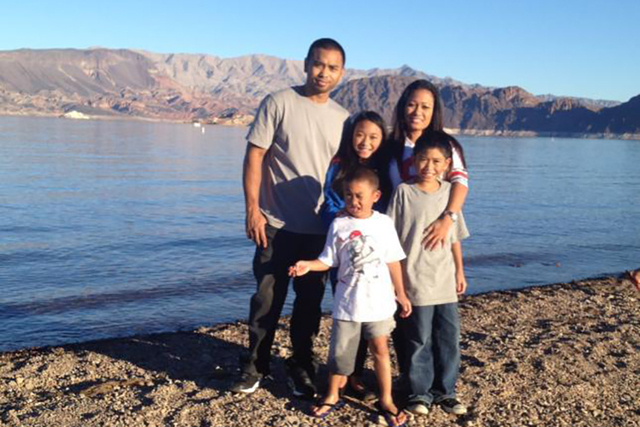 Out-of-state police records suggest Jason Dej-Oudom had a decade-long history of abusing his wife and kids before he killed them and himself in Las Vegas last month.
Las Vegas police have said the 32-year-old fatally shot his wife, Phoukeo Dej-Oudom, in front of a northwest valley drugstore on June 29. When officers tracked the man to a nearby apartment complex later that night, police said, they found he had killed himself along with their children — Dalavanh Ariel Dej-Oudom, 15; Xonajuk J.J. Dej-Oudom, 14; and Anhurak Jason Dej-Oudom, 9.
On Dec. 29, 2005, police in Fairfield, Ohio, responded to an emergency call from Phoukeo Dej-Oudom, according to Columbus Division of Police reports obtained by the Las Vegas Review-Journal this week through a public records request.
Dej-Oudom told police her husband had been choking, beating and kicking Dalavanh, then 5 years old. The girl was treated for back and neck injuries at a nearby children's health clinic and was referred to a hospital emergency room.
Dej-Oudom also suffered injuries to the back and left sides of her head from her husband punching her.
NO ARREST
Columbus police did not arrest Jason Dej-Oudom during that call — the disposition was listed on that report as "Not a Crime/Other Service."
Instead, police provided Phoukeo Dej-Oudom with a business card for the prosecutor's office in Franklin County, Ohio, and a pamphlet called "A Guide to Protection Orders, The Court, and Community Resources."
JUST FIVE HOURS LATER
It wouldn't be the last time the system failed to protect the woman, who again called for help five hours later.
She told police that Jason Dej-Oudom called her cellphone several times and said "something was going to happen to her because she left," the Columbus police report for that incident said.
A family friend called the man to try to calm him. Jason Dej-Oudom told the friend that if "he did not find out where (the) victim was then (he) was going to kill somebody."
It is unclear whether the man was arrested after that incident. The report said the case was cleared and referred to the prosecutor's office.
Phoukeo and Jason Dej-Oudom married in Franklin County in 2000, county records show. She filed for divorce and primary custody of the children in Clark County Family Court on May 25.
Records indicate that no one showed up for a June 22 hearing on the custody motion, which was then dismissed.
Las Vegas police responded to a domestic violence incident at the family's Torrey Pines condominium in June, but the department has refused to share details of that incident citing an open investigation. Police dispatch logs show that officers responded to the complex seven other times in June, including a call about a family disturbance on June 21 — the night before the custody hearing.
Phoukeo Dej-Oudom also applied for temporary protection order against her husband just a few weeks before her family was killed.
In the protection order application, Phoukeo Dej-Oudom indicated that her husband had threatened the family with weapons in the past.
"Throughout the marriage, the children's lives as well as mine have been threatened. Guns have been pulled out and pointed to our heads multiple times," she wrote.
The application was filed June 8. It was denied by domestic violence hearing master Amy Mastin the following day because it did "not meet statutory requirements," according to court records.
According to a Clark County court statement about the denial, the woman's application did not meet the requirements because many of the incidents she listed "referenced situations in Ohio many years ago between 2000 and 2007 involving the father and guns, but nothing that had recently occurred in Las Vegas."
Contact Wesley Juhl at wjuhl@reviewjournal.com and 702-383-0391. Find @WesJuhl on Twitter.
RELATED ITEMS
Mother killed in quadruple murder-suicide of family had quit work, was 'scared for her life'
Family of 5 dead after quadruple murder-suicide in northwest Las Vegas Valley; police release identities of four victims
Vegas woman denied protection order weeks before husband fatally shot her, 3 children
Las Vegas mom killed by husband didn't meet protection order standards, court says
Residents come together in wake of murder-suicide at Las Vegas condo complex
Woman killed in quadruple homicide filed for divorce last month