Police, victim's kin plead for tips to solve woman's Halloween slaying
Updated January 20, 2022 - 2:43 pm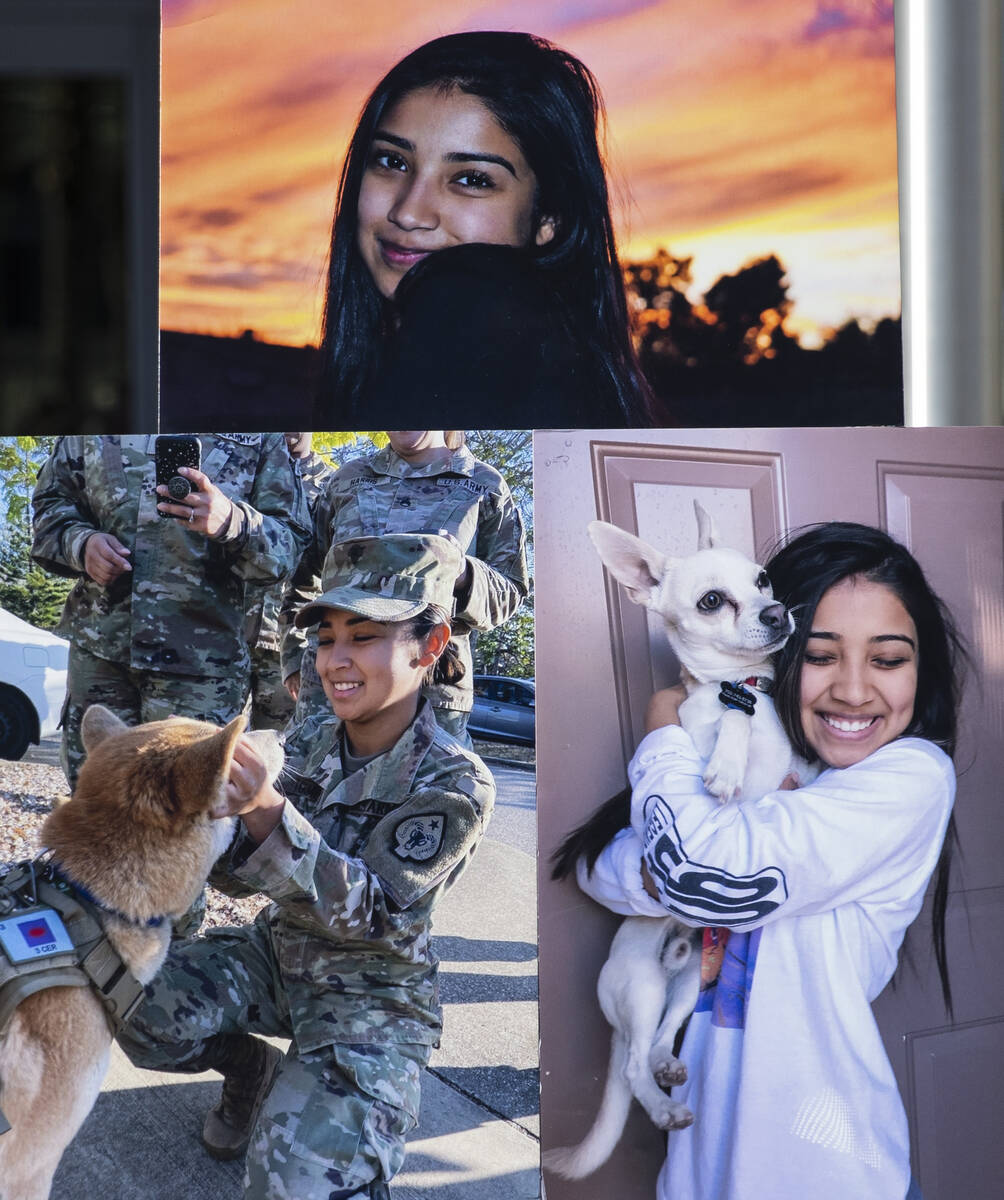 Graciela Gomez had a very bright future ahead of her.
The 22-year-old Las Vegas High School graduate was a corporal in the Nevada Army National Guard. She was contemplating a career in either the military or in education, her family said, and she had recently helped her community by working at Southern Nevada testing and vaccination sites during the pandemic.
"She placed her life on pause, put her uniform on every day, and stood sholder to shoulder with our first responders, community health care providers, and local officials to support the battle against Covid-19," said Brig. Gen. Troy Armstrong of the Nevada National Guard.
But on Oct. 31, Las Vegas police say Gomez was fatally shot by a stranger at a house party on the 200 block of Beesley Drive, near East Charleston Boulevard and North Sloan Lane. On Thursday morning, her loved ones and Las Vegas police held a press conference asking for the public's help in solving the slaying.
"Help us find the people who did this to my daughter, because she was a good person, a person with a future," said Gomez's mother, Concepcion Velasquez-Gomez. "She was a person who always was trying to fly high, looking to be better. My daughter was not an animal for them to kill her that way. Thank you for your help. God willing we could find those responsible."
Homicide Lt. Ray Spencer said the house where the shooting happened was rented by a group of people for a Halloween party.
"They were sharing the party's details with friends on social media," Spencer said of the party's hosts. "That invitation was then shared with hundreds of different individuals. As a result of it being shared so many times, the party quickly began to get out of hand."
One of the hosts of the party, Spencer said, began patting down attendees for weapons when a group of Hispanic males showed up at the door. The group was denied entry. Spencer said as the group left, someone in a sedan fired a string shots at the residence. Gomez died at the scene of a gunshot wound to the abdomen. Two other people were hospitalized.
"We know that there were additional partygoers at the front entrance when the party was taking place," Spencer said. "We also know there were people who fled the party prior to the police arrival. We are asking for them to reach out to Metro homicide or Crime Stoppers."
Video surveillance from the area is poor, the lieutenant said, preventing police from determining "for sure" the color of the sedan.
Armstrong said Gomez was an exemplary soldier who served as a member of the Las Vegas-based 17th Sustainment Brigade. Gomez joined the National Guard in September 2018 and was responsible for coordinating military convoy operations and military support operations. She recently spent time in Australia on a training mission.
"She was enthusiastic, dependable and committed," Armstrong said.
Gomez's boyfriend, Yohfed Catalan, described Graciela as "very uplifting and "very caring towards everyone." He urged tipsters to come forward to help his girlfriend's family find justice.
"Everyone on the east side knows each other," he said. "There has to be someone that saw something or knows something. If those people are afraid to come out for whatever reason there are anonymous hotlines."
Anyone with information is asked to contact police at 702-828-3521 or homicide@lvmpd.com. To remain anonymous, contact Crime Stoppers at 702-385-5555 or online at crimestoppesrofnv.com.
Staff writer Ricardo Torres-Cortes contributed to this story.
Contact Glenn Puit by email at gpuit@reviewjournal.com. Follow @GlennatRJ on Twitter.