Third suspect in fatal Lee's liquor store shooting surrenders to police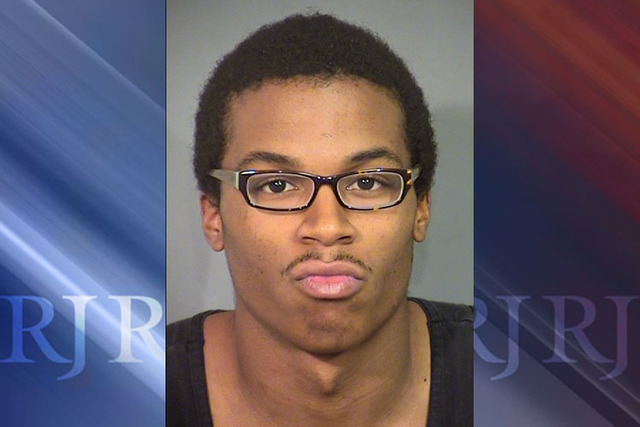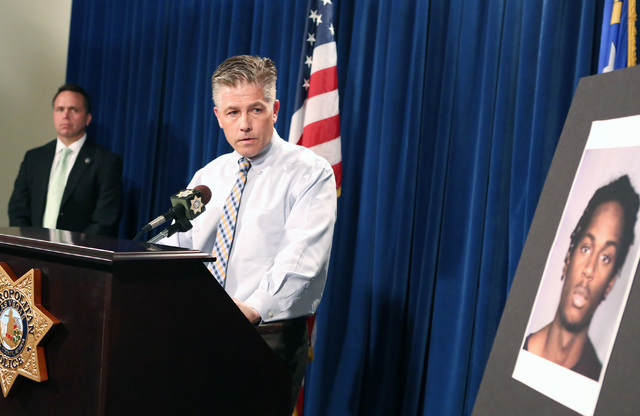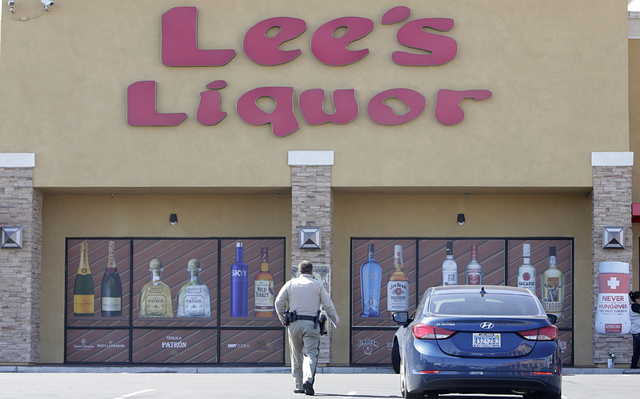 The final man Las Vegas police were looking for in connection with the fatal shooting of a southwest valley Lee's Discount Liquor cashier two weeks ago turned himself in late Wednesday night — a day after police made two high-profile arrests involving the case.
Lee Murry Sykes, 22, surrendered himself to detectives about 9 p.m., police said, and he was subsequently booked on several charges including murder with a deadly weapon. He is related to one of the two men arrested Tuesday night in connection with the case, Lee Dominic Sykes, 20.
Both Lee Dominic Sykes and Ray Charles Brown, 22, were taken into custody at the culmination of five search warrants executed by nearly 80 people from the Metropolitan Police Department, U.S. Marshals and the FBI late Tuesday, Metro homicide Lt. Dan McGrath said.
The Lee's shooting on April 18 began with an armed robbery at the 8785 W. Warm Springs Road liquor store. In a span of about three minutes, three armed men caught on tape robbed the store and ordered cashier Matthew Christensen, 24, to open a safe, which he didn't have access to.
When Christensen couldn't open it, at least one of the men shot him several times. He later died at University Medical Center.
"Matthew Christensen was truly innocent," Assistant Sheriff Tom Roberts said Wednesday afternoon during a media briefing. "He did what the suspects asked, and because he was not able to open a locked safe, the suspects killed him in cold blood."
Tuesday — the day Lee Dominic Sykes and Brown were arrested — would have been Christensen's 25th birthday.
Sykes and Brown are being held without bail at the Clark County Detention Center, and each is facing one charge of first-degree murder, burglary while possessing a gun, conspiracy to commit robbery, robbery with a deadly weapon and multiple charges of first-degree kidnapping with a deadly weapon.
The specific charges that Lee Murry Sykes now faces weren't yet viewable through jail records late Wednesday, but he had a warrant out before he turned himself in which listed similar charges.
Brown is also facing a child abuse charge, because when an armed SWAT team confronted Brown late Tuesday at the 1400 block of North Sandhill Road house where he was staying, near Owens Avenue and Pecos Road, "He shielded himself with a young child," McGrath said.
Lee Dominic Sykes was arrested without incident after leaving a friend's apartment on the 3000 block of South Nellis Boulevard, near Desert Inn Road, which police also searched.
McGrath said both arrests were possible thanks to a slew of tips from the public — the department received about 150, though only a few led directly to the multiagency arrests of Brown and Lee Dominic Sykes, who McGrath said were childhood friends.
Both men had criminal records, McGrath said. Court records show Brown faced charges of conspiracy to commit robbery and robbery with a deadly weapon in 2011 but later pleaded guilty to coercion with force. He was sentenced to probation, which was later revoked, resulting in a sentence of at least 12 months in prison.
Contact Rachel Crosby at rcrosby@reviewjournal.com or 702-387-5290. Find @rachelacrosby on Twitter.
RELATED
Lee's Liquor cashier's silence may have saved pregnant co-worker's life
Pregnant Lee's Discount Liquor manager to name son after cashier gunned down Monday