Las Vegas billboards part of FBI anti-corruption push
Updated February 22, 2023 - 1:53 pm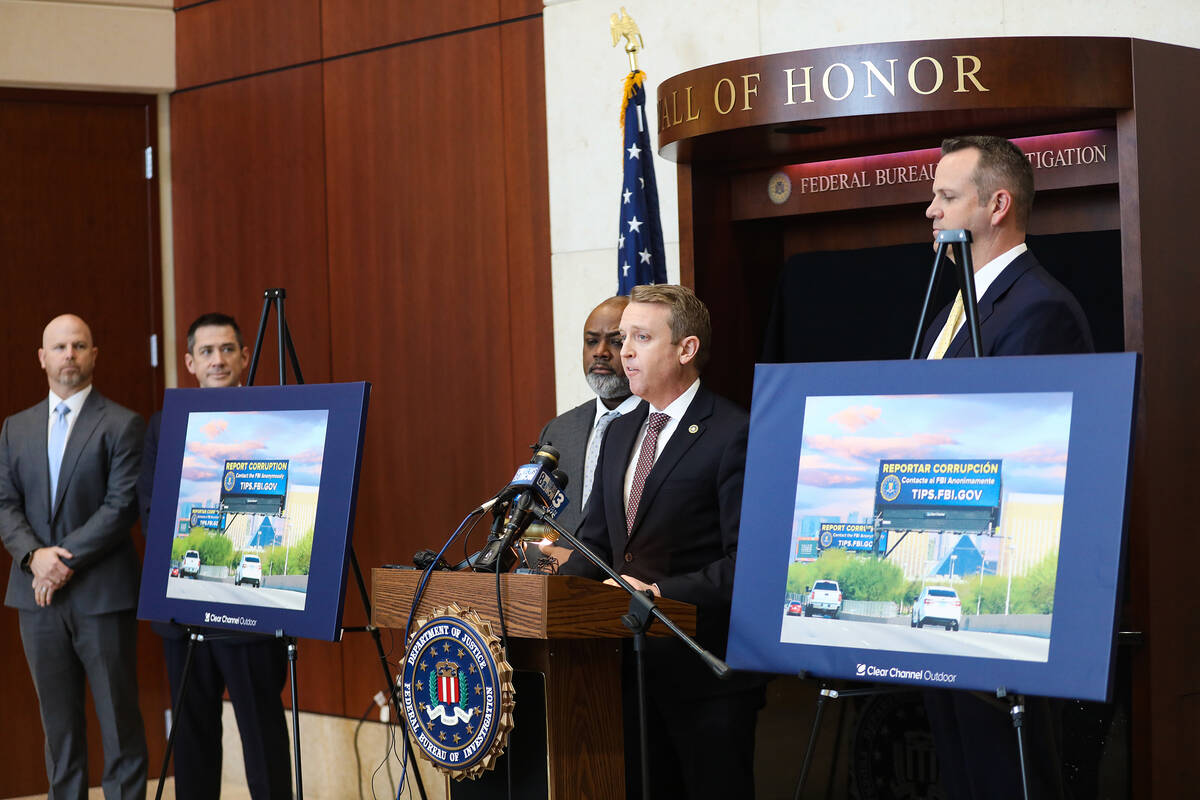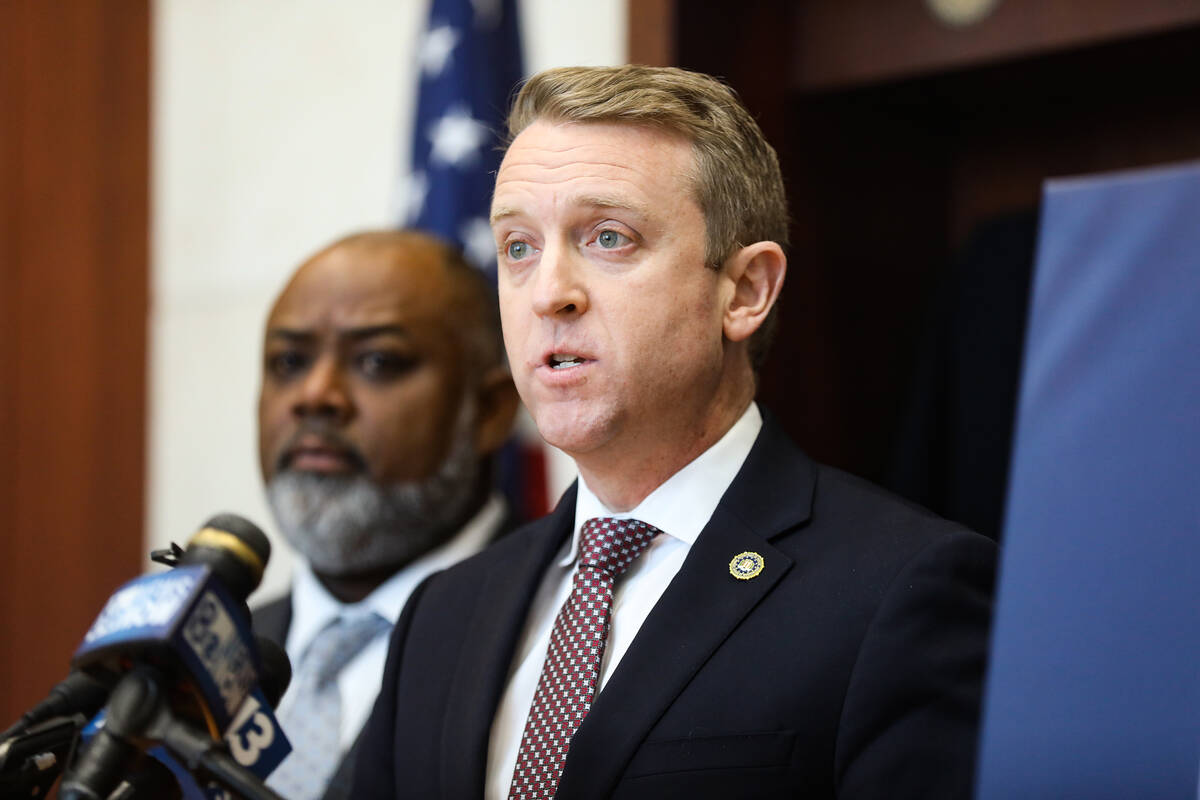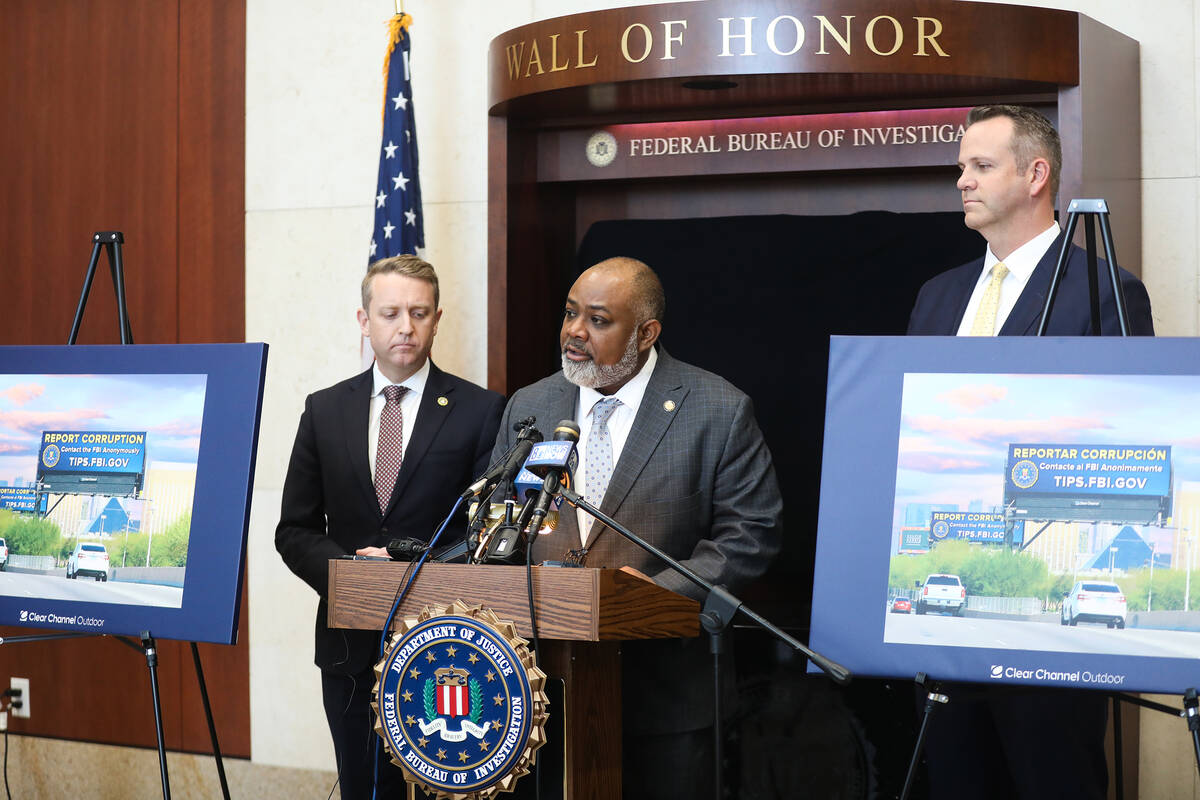 New billboards around Las Vegas encourage motorists to report public corruption to the Las Vegas office of the FBI.
Federal authorities on Wednesday announced the launch of what they called the Corruption Awareness Campaign, with 15 digital billboards throughout the valley advising residents to report possible corruption, including bribes, kickbacks, fraud and selective enforcement of laws at tips.fbi.gov or 800-CALLFBI.
"Most public officials, both elected and appointed, are honest, dedicated civil servants who are committed to doing right by their fellow citizens," Spencer Evans, special agent in charge of the FBI's Las Vegas field office, said during a news conference alongside Nevada U.S. Attorney Jason Frierson and representatives with Clear Channel Outdoor. "Unfortunately however, a small percentage are not and choose to abuse the public trust."
Evans said that most corruption happens in secret, so the FBI relies on tips. Evans said he hoped the recent election, and resulting shifts in power across the valley, would lead to more tips from residents.
He said former employees might feel more comfortable reporting corruption after they had left a political office, and new employees might notice problems and report them quickly.
Evans denied that the campaign was in response to any recent corruption.
An FBI investigation in 2003 resulted in the conviction of former Clark County commissioners Erin Kenny, Mary Kincaid-Chauncey and Dario Herrera. All three were found guilty of taking bribes from strip club owner Michael Galardi during the FBI's corruption investigation, dubbed Operation G-Sting.
Former commissioner Lance Malone was incarcerated for delivering cash bribes. Details in Herrera's eight-week trial, which was covered extensively in the Review-Journal at the time, included the commissioner being paid off for zone changes that kept competitors away from Galardi's clubs.
"Witnesses described salacious encounters Herrera had with Galardi's strippers, including free golf outings that included sexual favors from the dancers," a story from the trial read.
In 2019, former state Senate majority leader Kelvin Atkinson pleaded guilty to a federal wire fraud charge and admitted to misusing $250,000 in campaign funds and was sentenced to 27 months in federal prison.
At the time of Atkinson's plea, authorities said that the FBI had investigated more than 3,000 cases related to elected officials from 2015 to 2018. But no figures were disclosed at Wednesday's news conference.
"Any public official who chooses to serve themselves over their constituents will be brought to justice," said Jason Frierson, U.S. attorney for the District of Nevada. "The communities we serve deserve nothing less."
Adam Barthelmess, president of Clear Channel Outdoor Las Vegas, said they had partnered with the FBI before to provide billboards about human trafficking and opioid abuse. The company owns 75 billboards around the valley, but he did not elaborate Wednesday on which 15 would have the new messaging.
"Everyone has not just the power but the obligation and responsibility to report corruption," he said.
Contact Sabrina Schnur at sschnur@reviewjournal.com or 702-383-0278. Follow @sabrina_schnur on Twitter.