Las Vegas judge facing ethics charge to resign
Updated April 30, 2021 - 2:07 pm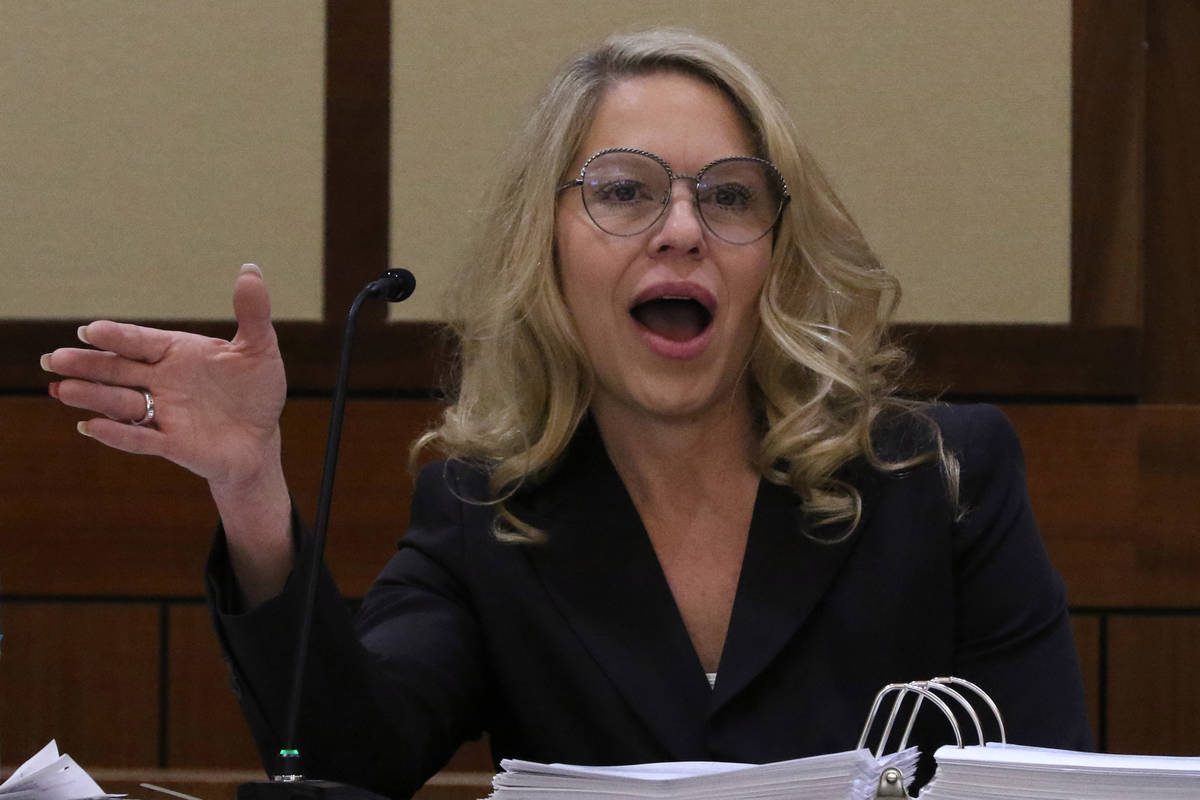 Las Vegas Justice of the Peace Melanie Tobiasson has agreed to resign, rather than fight ethics charges alleging that she became improperly involved in a double murder investigation and was affiliated with an organized crime figure.
She is expected to step down from the bench next week, according to an agreement with the Nevada Commission on Judicial Discipline.
Tobiasson "further stipulates that after vacating her judicial office she will neither seek nor accept judicial office in the state of Nevada at any time in the future, nor will she undertake or perform any duty with the definition of 'Judge,'" the agreement stated.
Tobiasson said Friday that she was told the commission would not publish her agreement until next week, and that she had not received a copy of the signed document.
"It kind of took me by surprise, and I'm really upset about it," she said. "I was extremely upset to learn that this had been posted this morning, as it was agreed that they would not post it until the 7th," her last day on the bench.
"Quite frankly, I feel that this is just one more opportunity that they took to damage me and make sure that I didn't get to make a statement prior to them."
The commission's executive director, Paul Deyhle, did not immediately respond to phone messages on Friday.
Clark County spokesman Erik Pappa said commissioners will appoint a replacement after the judge formally submits her resignation. Commissioners also could hold a special election for residents in Las Vegas Township, which is slightly larger than the city of Las Vegas.
Long list of allegations
Tobiasson faced a long list of allegations after the commission said she urged Metropolitan Police Department detectives to investigate a clothing store where her daughter worked, which Tobiasson believed was a front for an unlicensed club where teens drank, used drugs and engaged in prostitution.
The commission alleged that Tobiasson failed to comply with and uphold the law, and allowed family interests and relations to influence her conduct.
Lawyers for Tobiasson have accused the Nevada Commission on Judicial Discipline of flouting its own regulations and procedures in an effort to disparage the judge.
"I have been vilified, lied about and accused of wrongdoing, when in fact what I did was appropriate and should be applauded," Tobiasson said. "I'm resigning because they have terrorized and lied about me for three years."
She added: "The bottom line is I didn't resign because I did anything wrong. I resigned because I've been accused of doing things that are completely appropriate. I called the police and reported a crime, and they didn't do anything. I've never interfered in the investigation."
Tobiasson said that she had spent roughly $600,000 in attorney fees defending herself against the allegations. A trial before the commission had been set to begin May 17.
In ongoing litigation with the commission, Tobiasson's lawyers had pointed to several factual errors in the charges against her.
At one point, Metro launched its own investigation into the judge, and detectives started tracking Tobiasson's phone.
While Metro found that the judge had committed no crimes, detectives learned that between July 2017 and December 2017, Tobiasson communicated with or tried to communicate with a man identified as Anthony Danna. The commission referred to Danna as a "known and documented organized crime figure."
But Tobiasson's lawyers said a mobster with that name died in 1984.
The commission also alleged that Tobiasson dismissed domestic battery charges against Danna, who later exchanged text messages with the judge while he was fleeing from police in a separate case.
However, online court records suggest that prosecutors dropped the charges against Danna. The court's website indicates that the case was dismissed as "state not proceeding."
'My passion, my fun, my love'
Tobiasson, 53, was born in Las Vegas and graduated from Bishop Gorman High School.
She received her law degree from Pepperdine University in Malibu, California, and was licensed to practice law in Nevada in 1993.
Before taking the bench as a justice of the peace pro tem in 1999, Tobiasson worked in the Clark County District Attorney's office.
She was appointed to the Las Vegas Justice Court bench in 2009.
The job, she said, "was my passion, my fun, my love. And I deserved to be able to announce my resignation in a way that dignified my career, and they once again deprived me of an opportunity out of vindictiveness. This was their last chance to take a shot at me and hurt me."
After a hearing in late 2019, the commission decided against suspending Tobiasson and fellow Las Vegas Justice of the Peace Amy Chelini over questions about profanity off the bench and administrative complaints involving court clerks. But the panel's investigation into Tobiasson did not end.
Tobiasson also said Friday that she negotiated her resignation agreement for seven weeks.
"This was not an easy decision to make," she said. "But I knew it was the right decision, because they were never going to let me have peace as long as I was on the bench."
Asked about her plans after leaving the bench, Tobiasson said, "I'm going to do whatever I want for the rest of my life."
Contact David Ferrara at dferrara@reviewjournal.com or 702-380-1039. Follow @randompoker on Twitter.