O.J. Simpson meets criteria for parole, says Clark County DA
Steve Wolfson, the top prosecutor in Clark County, suggested Thursday that O.J. Simpson should be granted parole from Nevada prison next week.
"(In my opinion), most people who are almost 70 years old, who have been model prisoners, will be excellent candidates for parole," Wolfson wrote on the internet forum Reddit. "Mr. Simpson fits that description."
Wolfson also made clear that he is married to retired District Court Judge Jackie Glass, who oversaw the Las Vegas robbery trial against Simpson. In December 2008, Glass ordered Simpson to serve nine to 33 years behind bars for an armed robbery of two sports memorabilia dealers at Palace Station.
Simpson has a parole hearing scheduled for July 20, and parole board members are expected to decide that day whether he should be released. He could be released from Lovelock Correctional Center as early as Oct. 1.
Wolfson took to the web in part to promote the second season of a cable reality show about his office called "Sin City Justice," and he also offered a glimpse into his plans for the future.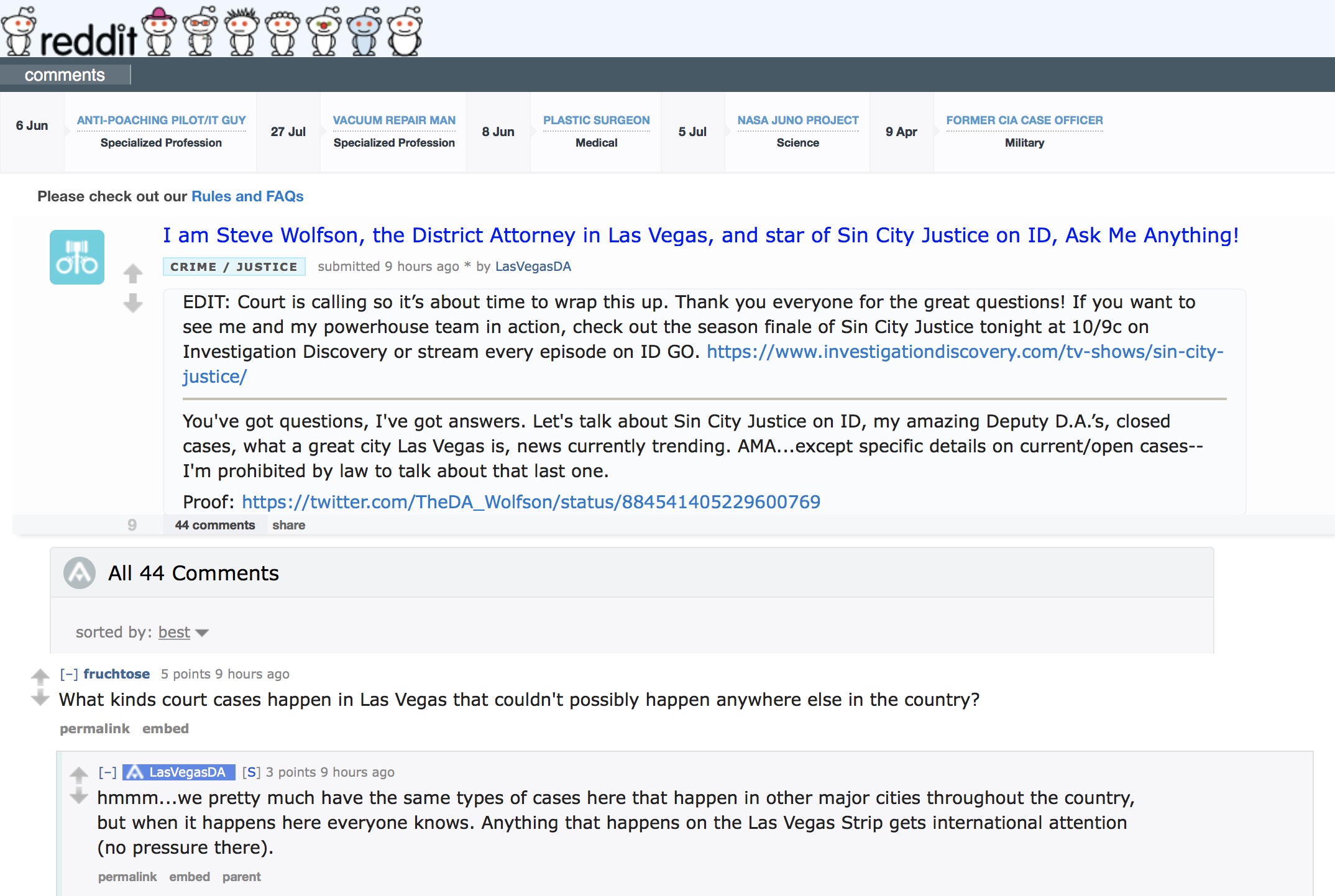 He used the platform to hint publicly for the first time at a bid for re-election.
"Until I'm offered a job as a judge … on America's Got Talent (my dream job) my plans are to run for re-election," he wrote.
There's no indication that Wolfson, who already appears regularly on the reality show about the Clark County district attorney's office, is in line to bump Simon Cowell, or one of his cohorts, from his celebrity thrones.
On the site, he said he also wanted to talk about "my amazing Deputy D.A.'s, closed cases, what a great city Las Vegas is, news currently trending," but pointed out that he was prohibited from discussing ongoing cases.
In a text message to the Las Vegas Review-Journal, Wolfson said, "Reddit was suggested to me because it reaches a lot of people."
#Reddit #AMA This Thursday, July 13 at 8am PST/11am ET. District Attorney in Las Vegas. #askmeanything @reddit @LasVegasDA @ClarkCountyNV pic.twitter.com/kQOU7KBdB8

— Steve Wolfson (@TheDA_Wolfson) July 10, 2017
He's certainly not the first elected official to open himself up to questions about "anything." Sens. Rand Paul and Bernie Sanders and even former President Barack Obama all have answered questions on the site. Most do so while in the throes of a campaign.
After the thread closed, Wolfson told the newspaper that "no final decisions have been made" regarding his re-election bid.
Questions on the forum ranged from the legalization of marijuana to more complex cases, the television show and advice for someone who wants to follow his career path.
"I wanted to be a cop in Los Angeles when I got out of college," he wrote. "One thing led to another, and I ended up in Law School. Best on purpose accident of my life. Always be open-minded to opportunities that come along."
Contact David Ferrara at dferrara@reviewjournal.com or 702-380-1039. Follow @randompoker on Twitter.
Wolfson on Reddit
Clark County's top prosecutor, Steve Wolfson, took to the online forum Reddit on Thursday in part to promote "Sin City Justice," the reality television show about his office.
One commenter asked how the show has affected day-to-day operations.
"Our prosecutors are in court every day, with cameras from other media on them, whether they're participating in the show or not, so they are used to being on TV," Wolfson replied. "Those who are prosecuting a case being featured on the show do have some time out of the courtroom where the cameras are following them. They have told me that they forget about the cameras and just go about doing their job like any other day."