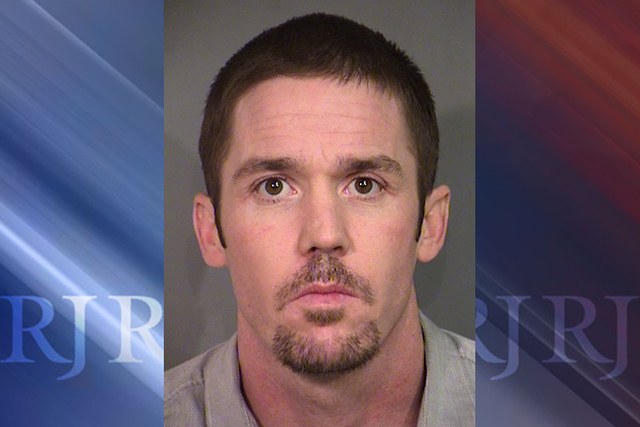 The FBI and the Metropolitan Police Department are seeking a "highly armed and dangerous" man suspected of robbing up to 18 businesses in the last seven weeks.
Police suspect Wyatt Peterson, 33, in a chain of robberies that began Nov. 1, and they believe he may strike again through the weekend, according to Capt. Dave O'Leary of Metro's theft crimes bureau.
There is no pattern or consistency about the robberies that Peterson is suspected of committing, O'Leary said, noting they include a bank, a pharmacy and a pizza restaurant.
"He doesn't have a particular type of business that he preys upon or a part of the valley that he likes to operate in. He operates 24 hours a day, seven days a week," he said.
Peterson's violence has escalated, and he is "highly armed and dangerous," O'Leary said.
During what police say was Peterson's latest robbery attempt Friday, officers were "very close" to catching him, O'Leary said.
"It can be very frustrating," he said. "We try to be aggresive and get him into custody without any harm. Because of this, we have people who ramp it up and manage to evade and get out."
But, he said, Peterson"has taken many steps to evade any tactics that we use."
Peterson has a significant heroin problem, an addiction police believe is driving his behavior, O'Leary said.
Anyone aiding or harboring Peterson will be accountable for their actions, police said. "He is very unsafe and unstable. You aren't helping him, you're hurting him," O'Leary said.
Peterson is known as a petty criminal in Clark County and has felony convictions for concealed weapons, narcotics violation and identity theft in Washington, police said.
O'Leary also offered a message to Peterson: "People do care about you, despite what you feel in the moment. … We care about the safest result. The situation is not hopeless for you," he said.
Anyone with any information about Peterson's whereabouts is urged to call 911 immediately. To remain anonymous, contact Crime Stoppers at 702-385-5555. The FBI is offering a reward of up to $10,000 for tips leading directly to an arrest.
Contact Jessica Terrones at jterrones@reviewjournal.com or 702-383-0381. Follow @JessATerrones on Twitter.