Las Vegas police say latest carjacking not related to others
Updated November 8, 2018 - 6:23 pm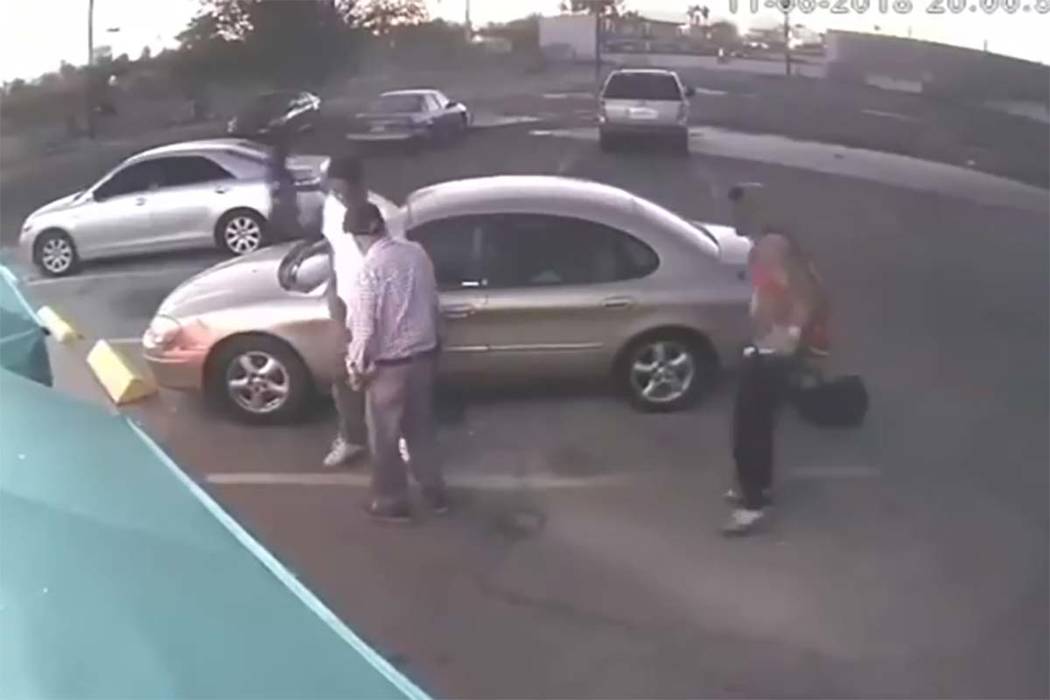 Las Vegas police said that a Thursday afternoon carjacking of a man in his 80s was not related to a series of similar crimes this week.
Police were investigating whether all of the carjackings over the last three days were related, but determined that a different suspect than those in the previous crimes carjacked an 87-year-old man Thursday afternoon, said Metropolitan Police Department Deputy Chief Chris Jones during a press conference late Thursday afternoon.
The carjacking was reported at about 1:36 p.m. Thursday after the man came home to the 6700 block of Del Rey Avenue, where he was shoved to the ground and had his wallet, keys and car stolen, Metro spokesman Jay Rivera said. The man was taken to Summerlin Hospital Medical Center with a broken collar bone, Jones said.
Police are searching for a 5-foot-9 man in his 20s who was last seen wearing a brown pullover and light-colored pants, Jones said. He is suspected of stealing the man's silver 2014 Toyota Avalon with a Nevada license plate of 170ZGV.
"We are asking for the public's assistance in locating that vehicle or coming forward with any information they may have on this brutal crime," Jones said.
Police announced earlier Thursday that the violent carjacking of a 78-year-old man on Tuesday was one in a series of carjackings from the week.
Two sought in carjacking series
Metro has arrested four juveniles in connection with the crimes, but officers are still looking for two other people in the series.
At a briefing Wednesday, police released video and discussed the beating of the septuagenarian. That attack happened about 5 p.m. Tuesday in the parking lot of a Mexican restaurant on the 2500 block of Fremont Street.
"Once you see this video, it should shock everybody," Metro Capt. Laz Chavez said at the Wednesday briefing. "This is one of our most vulnerable victims in Las Vegas — the elderly."
Two similar crimes against elderly people occurred on the 9100 and 9500 blocks of West Sahara Avenue, near South Fort Apache Road, on Wednesday, police said in a release Thursday.
The release didn't provide their ages, but Metro indicated one of the carjacking attempts was thwarted when a good Samaritan spotted someone stealing car keys from another person. The good Samaritan intervened and "blocked the vehicle to prevent the suspect from driving away," the release said. The would-be thief then ran from the scene.
Police believe the crimes on Tuesday and Wednesday are related, Rivera said.
Metro didn't release the names of the four juveniles arrested in connection with the carjackings. They face multiple charges, police said, including grand larceny of an automobile, robbery with a victim over 60, possession of a stolen vehicle, conspiracy to commit robbery, battery with intent to commit robbery, battery with substantial bodily harm, and obstructing a public officer.
One of the two wanted people appears in the video released Wednesday, wearing a white T-shirt and gray pants and carrying a black backpack, Metro said.
Thursday carjacking not related to series
Although police believe Thursday's carjacking was unrelated, Jones said that "these types of crimes" tend to increase around the holiday season.
"In the last 24 hours, and in the last few weeks, we have seen a number of our senior citizens victimized and robbed by either groups of individuals or suspects," Jones said.
Jones thanked the public for contacting police with tips in the recent carjackings. He also warned the suspects that "neither this department nor this community will tolerate these acts."
"Through technology, assistance from the community and good old-fashioned police work, we will bring every law enforcement resource to apprehend you and take you to jail," Jones said.
Anybody with information is urged to contact Metro's Downtown Area Command detectives at 702-828-4348 or Crime Stoppers at 702-385-5555 to remain anonymous.
Contact Mike Shoro at mshoro@reviewjournal.com or 702-387-5290. Follow @mike_shoro on Twitter. Contact Katelyn Newberg at knewberg@reviewjournal.com or 702-383-0240. Follow @k_newberg on Twitter.