Artist brings last portraits of shooting victims to Las Vegas
November 14, 2017 - 6:35 pm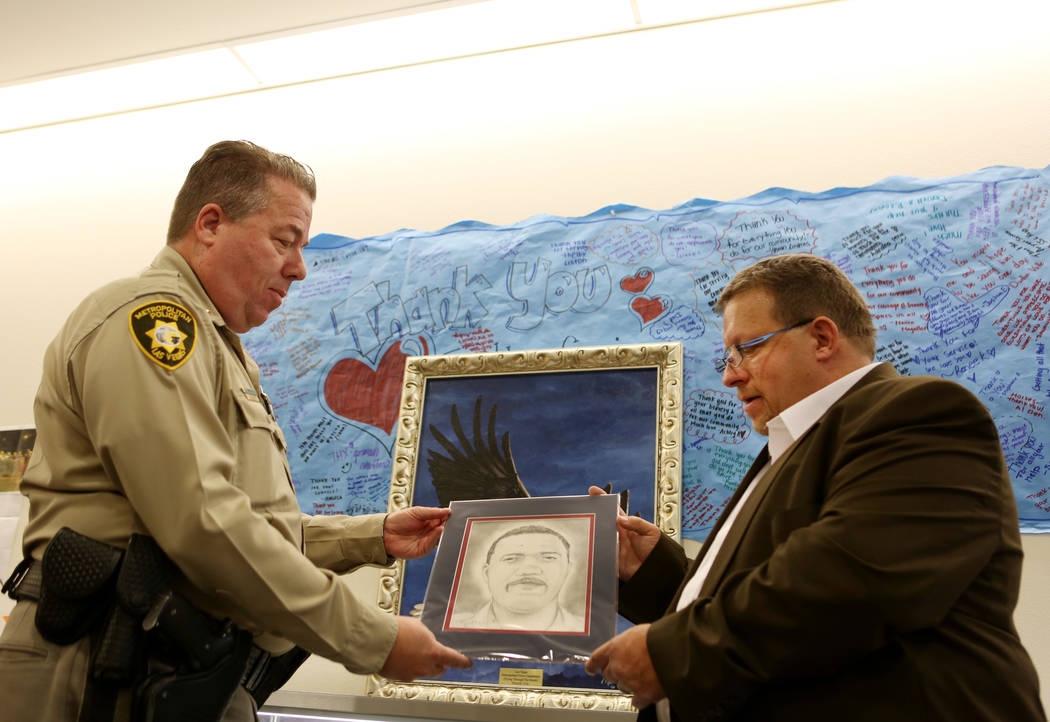 Ron Moore Jr. left Ohio on Monday morning for his flight to Las Vegas with nothing more than three black-and-white portraits and a gold-plated plaque in his carry-on.
In his bag were the smiling faces of Metropolitan Police Department officer Charleston Hartfield, local security guard Erick Silva and Huntington Beach, California-based makeup artist Andrea Castilla — the last of the 58 victim portraits he had drawn.
Though he was more than 2,000 miles away, Moore said he realized within hours what he needed to do after the deadly Oct. 1 Route 91 Harvest festival shooting. Over 25 days, the Ohio-based artist dedicated nearly 175 hours to drawing portraits of the victims killed.
What Moore describes as his calling to bless the 58 families began in 2004, when he was diagnosed with Parkinson's disease. The symptoms progressed quickly, he recalled, and his tremors prevented him from drawing or painting for nearly eight years.
Defeated and depressed, he said he knelt to pray.
"If you give me the ability to draw again, I promise to use my talent to bless others," he recalled pleading with God.
Moore, who lives in Austintown, about 70 miles southeast of Cleveland, started drawing again in 2012 after undergoing deep brain stimulation, a surgical procedure used to treat a variety of disabling neurological symptoms. But it wasn't until after the Las Vegas shooting, Moore said, that he truly believed he was following through on his promise to God.
On Tuesday morning at Metro's headquarters, more than a month after the attack, Moore proudly shook hands with Deputy Chief John McGrath, who accepted Hartfield's portrait on the Police Department's behalf. As McGrath thanked Moore, a large bald eagle soaring in the night sky looked over the two from a painting above.
An added surprise to the Las Vegas police from Moore, the large acrylic painting of the eagle had arrived at the headquarters on Martin Luther King Boulevard days before Moore and McGrath were scheduled to meet. On Tuesday morning, the artist added the final touch to his gift: a gold plaque with the artwork's title, "Flying Through The Storm."
"I believe you officers don't just run from problems, like an eagle, you fly right into the storm and take care of business no matter how dangerous it is," Moore said to McGrath, looking over at the painting that had taken him nearly 30 hours to complete.
While painting, Moore said he turned off his brain stimulators to paint the texture of the eagle's wings. This decision, he said, married his battle against Parkinson's with the battles fought by the department on the night of Oct. 1.
"On behalf of the department, we appreciate all the hard work you did," McGrath said. "Our officers did charge in that night to do what they had to do. We appreciate all the time you put into this and coming all the way from Ohio to dedicate this to us."
Metro spokesman Jay Rivera confirmed the painting and Hartfield's portrait will remain on display inside the Las Vegas police headquarters' main lobby.
"It's touching and reassuring to know that people support the work we do," Rivera said of Moore's dedication to him and his colleagues.
Contact Rio Lacanlale at rlacanlale@reviewjournal.com or 702-383-0381. Follow @riolacanlale on Twitter.