Committee proposes guidelines for distribution of Las Vegas shooting donations
November 16, 2017 - 6:33 pm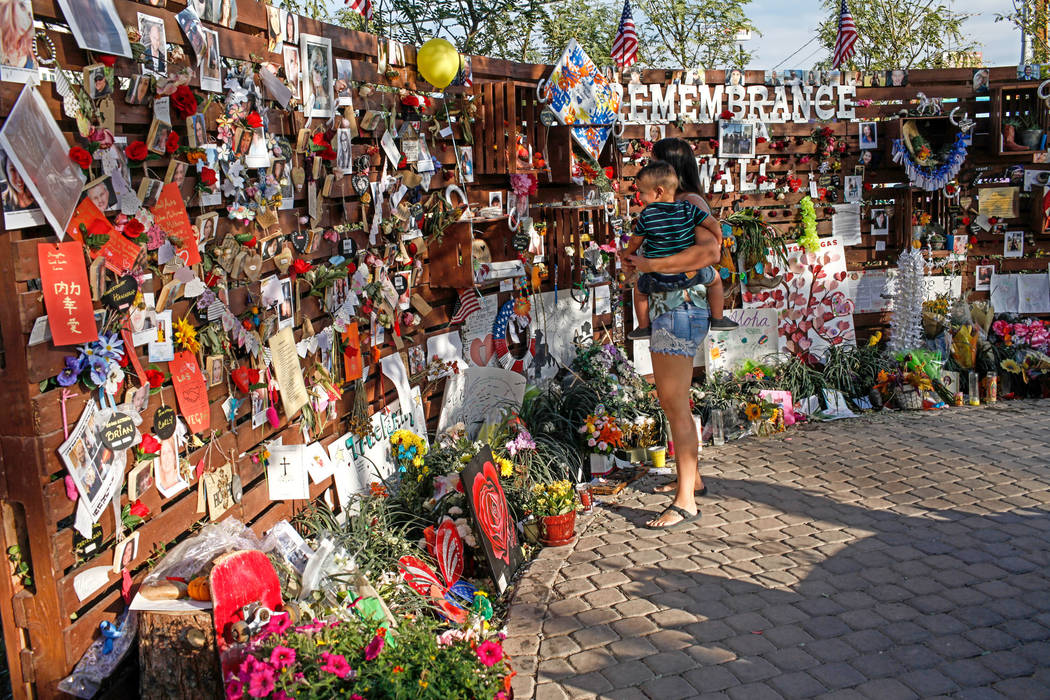 Victims and survivors of the Oct. 1 Las Vegas shooting can expect to start receiving money raised on their behalf through the Las Vegas Victims Fund around March.
The Las Vegas Victims Fund committee released a draft of guidelines Thursday that lists an estimated timeline of events and that spells out who will be eligible for funds.
Families of those who were killed in the shooting and people who sustained permanent brain damage and/or permanent paralysis resulting in continuous home medical assistance would receive the highest level of payment out of the fund, the draft guidelines propose.
People who were physically injured and admitted to a hospital within 48 hours of the shooting for at least one night between Oct. 1 and Jan. 31, 2018 would receive the next level of funding, according to the draft.
People who sustained nonphysical injuries would not be eligible for funding in the current draft, due to the scope of the tragedy and the vast funding needs, said Scott Nielson, chairman of the Las Vegas Victims Fund committee.
"This is a draft that we're putting out there so people will comment on it. We want to understand what people are thinking, and we want their comments and their feedback," Nielson said.
The committee has scheduled two town hall meetings to receive public comment and discuss the terms and conditions of the draft protocol. The meetings are set for 10:30 a.m. and 6:00 p.m. on Tuesday, Nov. 28, at the Clark County Government Center Commission Chambers.
People can also provide feedback and input relating to the protocol via email, to comments@lasvegasvictimsfund.org.
Limitations
"These funds are to be distributed to those who have been the most severely impacted by loss of life or physical injury," the draft states. "It is not possible to include all of the individuals impacted by 1 October and the criteria set by the LVVF in this protocol is by no means intended to devalue or minimize the trauma that has been experienced by a great many."
More than 22,000 people were at the Route 91 Harvest Festival in Las Vegas on Oct. 1 when a gunman sprayed bullets onto the crowd, killing 58 concertgoers and injuring 546.
Nielson said the committee has not yet set a time for when the fund will stop collecting money.
"We want to encourage everyone to contribute as much as they can by the end of the year," he said.
More than $15 million has been raised as of Thursday for victims' families and survivors, lagging behind funds raised in other incidents with fewer people killed and injured.
After the Boston marathon attack in 2013 and the Pulse nightclub shooting in Orlando, Florida, in 2016 additional funds were received after the initial distribution leading to a second round of disbursements.
"Should sufficient additional funds be received by the LVVF after the initial distribution, a supplemental distribution may be made to eligible claimants," Nielson said.
He said the committee will determine what constitutes a "sufficient" amount of funds and what will be done with money received if it is deemed to be an amount not sufficient enough to go through another round of disbursements. The public is welcome to provide feedback on that point as well, he said.
"If we don't have sufficient funds to make a second distribution, the remaining funds will be contributed for the benefit of the victims," Nielson said.
The process
The committee will accept feedback on the draft protocol until Dec. 8, and will adopt a final protocol on Dec. 11, according to the estimated timeline of events.
When the final protocol is adopted, a "claim form" will become available for applicants to complete. Only one claim should be submitted by or on behalf of each victim, and the claim form will detail what type of supporting documentation will be required.
The draft protocol says that each decedent or victim for whom a claim is submitted will be validated by the Federal Bureau of Investigation as a victim of the Oct. 1 attack. Additionally, no money will be disbursed to anybody listed on the U.S. Department of Treasury, Office of Foreign Assets Control, Specially Designated Nationals and Blocked Persons list.
Jeff Dion, deputy executive director of the National Center for Victims of Crime, said families of the deceased should identify a family representative for their loved one's estate, if they haven't already done so. A family representative must be authorized to apply for compensation.
"If everybody agrees on what the distribution within that family is, then we'll honor that. If people can't agree on how that should be distributed, then we're going to go ahead and send it to the probate court."
The protocol
The protocol is available on the Las Vegas Victims Fund website (lasvegasvictimsfund.org), launched Thursday evening, and will be available on the National Compassion Fund website (nationalcompassionfund.org), and at Clark County's website (clarkcountynv.gov), Nielson said.
Nielson said it took longer than expected to get the claims processing structure in place.
"The number of claims here is going to be unprecedented, unfortunately," Nielson said.
The draft was based upon advice provided by national victim-compensation expert Kenneth Feinberg and others as a result of the work they had done in Boston after the marathon attack and in Orlando after the Pulse nightclub shooting, Nielson said.
"The committee was then able to consider and make the appropriate comments for Southern Nevada and the Oct. 1 event."
Contact Nicole Raz at nraz@reviewjournal.com or 702-380-4512. Follow @JournalistNikki on Twitter.
Las Vegas Victims' Fund protocol by Las Vegas Review-Journal on Scribd
Las Vegas Victims Fund committee members:
Barbara Molasky — Outreach Director at Core Academy
Barry Lieberman — Chief Development Officer at South Point
Bill Noonan — Senior Vice President of Industry and Government Affairs at Boyd Gaming
Dana Lee — Vice President at Familee Properties
Deacon Tom Roberts — President and CEO of Catholic Charities
Allison Netski — Chair of the Department of Psychiatry and Behavioral Health at UNLV
Ikram U. Khan — M.D.
Elynne Greene — Victim Advocate Manager at the Las Vegas Metropolitan Police Department
Hunter Campbell — Executive Vice President and Chief Legal Officer of Ultimate Fighting Championship
Jackson Wong — Accounting Manager at the Las Vegas Metropolitan Police Department
Kristin Tyler — Partner at Garman, Turner, Gordon
Magann Jordan — Victim/Witness Program Administrator at the Clark County District Attorney's Office
Peter Guzman — President and CEO of the Latin Chamber of Commerce
Punam Mather — Executive Director of the Elaine Wynn Foundation
Scott Nielson — President of Nielson Consulting, LLC
Yolanda King — Clark County Manager
Estimated timeline of events, according to the draft protocol:
— Nov. 28: Two town hall meetings, one at 10:30 a.m. and one at 6 p.m., at the Clark County Government Center Commission Chambers, 500 South Grand Central Parkway, Las Vegas, Nevada, 89106. Each meeting will last approximately 90 minutes. The public meetings will be broadcast live on Clark County Television and via the internet to maximize participation of all victims and victims' families.
— Dec. 8: Deadline for all comments on the draft protocol.
— Dec. 11: The LVVF committee will adopt the final protocol.
— Dec. 15: The final protocol and information on the claim process will be electronically disseminated to all known claimants as identified by hospitals, the Las Vegas Metropolitan Police Department, the FBI or other local authorities, and potential claimants who registered through the lasvegasvictimsfund.org, the nationalcompassionfund.org, or other approved websites. These documents will also be available on the LVVF and National Compassion Fund websites.
— Jan. 2, 2018 – Jan. 31, 2018: Claim forms to be completed and submitted to the fund administrators along with required documentation.
— Jan. 31, 2018: Deadline for submission of all claim forms.
— Feb. 1 – Feb. 26, 2018: All telephonic meetings requested with the fund administrators completed.
— March 1, 2018: All claims to be reviewed by the fund administrators and recommendations for payments to eligible claimants submitted to the LVVF committee.
— March 5, 2018: Distribution of payments to approved eligible claimants begins on a rolling basis.
— April 30, 2018: Independent audit begins (contingent upon the completion of payments and the absence of a second round of determinations and payments).