It's back to work for Route 91 Harvest festival vendors
December 7, 2017 - 6:16 pm
Updated December 7, 2017 - 10:57 pm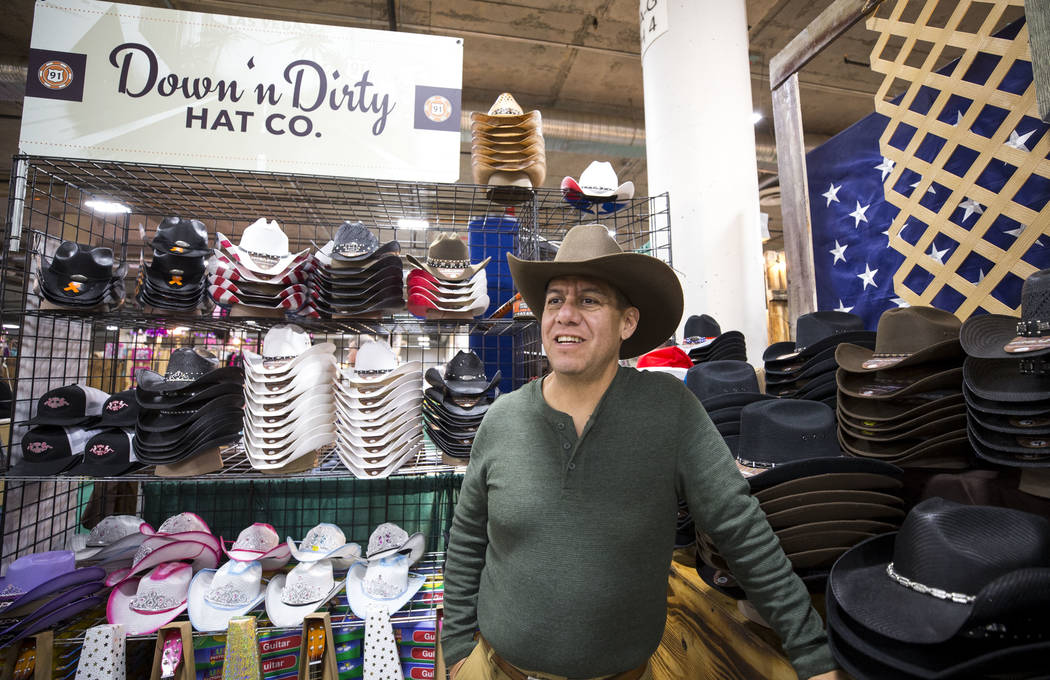 After Julie Craig talked, hugged and cried with a fellow Strip shooting survivor, she got to work.
Craig readied her booth Thursday for the first cowboy hat-adorned patrons of the Stetson Country Christmas gift expo to trickle into the Sands Expo and Convention Center.
Visitors talked to her about the stitching on her hats, her
wreaths made of rope with slogans like "Howdy," "Country strong" and "No whining."
"It's healing," said Craig, from Norco, California. "I've got to move forward."
The Route 91 Harvest music festival sign that had stood at her booth on Oct. 1 now watched over her as she helped a woman into a rustic-looking American flag-printed sleeve.
Pinned to Craig's shirt: an orange ribbon pendant in honor of the festival targeted in the shooting.
"That is perfect," Craig told the woman visiting from Idaho. "It's so patriotic."
Craig got the sale. For her and other Route 91 vendors working the Christmas show, the 10-day festival was a return to normalcy after the shooting.
Though the retailers had gotten some of their property back since Oct. 1, some still wondered what became of unreturned laptops, glasses and cash registers.
Thursday morning was the first time Craig and fellow vendor Cindy Davis met face to face.
The women had chatted online, compared the information each had gotten from the FBI, Las Vegas police, concert venue owner MGM Resorts and concert organizer LiveNation. Each had pointed to another as the holder of vendors' missing belongings.
"It's very emotional to meet people who understand what we went through and just hear their story in person," said Davis, who sells jewelry made of bullets under the business name Small Town Gems.
She lives about an hour outside Detroit.
The first day of Stetson Country Christmas proved slow, but event producer Chris Woodruff of Group W Productions said he expects the busiest day to reach 15,000 people.
Woodruff's company also runs the Roper Cowboy Marketplace event at Mandalay Bay, the hotel that housed the Route 91 shooter as he fired on the music festival.
Stetson Country Christmas lasts until Dec. 17. Roper Cowboy Marketplace goes until Dec. 16.
Talking to customers, the energy of people wandering an event spared Craig that anxious feeling when in large crowds. In the time since the shooting, she has learned to give herself five-minute breaks to find a private space.
"I'm not going to stop," she said. "This is what I love to do."
Elsewhere on the convention floor, Christian Petersen fed interested visitors to his booth samples of his family's Las Vegas-made jerky. It was Avalon Meat Candy's first event since Oct. 1.
Petersen's son and granddaughter ran the Avalon booth and survived the shooting. On Thursday, Petersen just wanted to talk about the food.
No items at his booth suggested Avalon had been at Route 91. But a man approached Petersen and said he recognized the Avalon name from a story about the shooting.
Petersen obliged the man's curiosity. He pulled up photos on his cellphone that showed Mandalay Bay on Oct. 1, hours before the bullets flew.
He told the man his business had lost about $5,000 because of the shooting. But he's thankful Avalon didn't get the same booth spot as last year because he thinks people died at that spot.
Later, Petersen tried to interest the man in a new flavor of jerky. The sale fell through, but another patron in a hockey jersey bought a bag of one of Petersen's spicier jerky flavors.
For the family behind Avalon, the time had come to move on.
"If I start talking about it, I'm going to cry," Petersen said later.
Contact Wade Tyler Millward at wmillward@reviewjournal.com or 702-383-4602. Follow @wademillward on Twitter.