Judge says police stalling in release of Las Vegas shooting records
Updated April 10, 2018 - 6:53 pm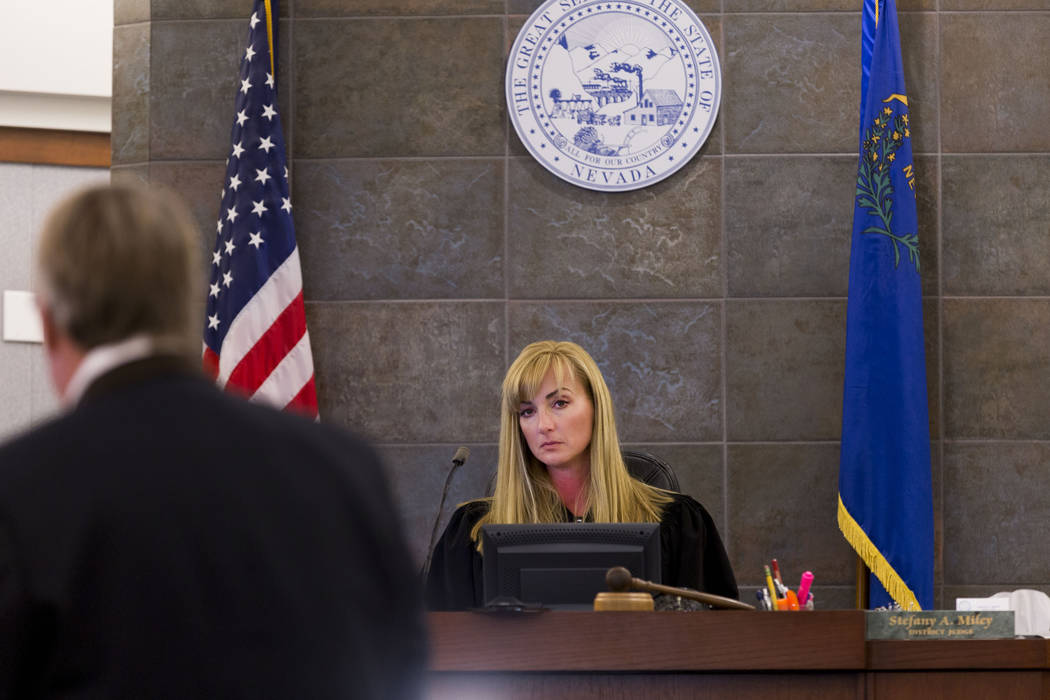 A judge accused the Metropolitan Police Department of gamesmanship Tuesday before denying another agency request to delay the release of 911 calls and body camera footage from the Route 91 Harvest festival massacre.
"I'm very frustrated, because I think that gamesmanship is going on here," District Judge Stefany Miley said in the contentious hearing. "It's now months since the shooting occurred, and it's still the same: delay, delay, delay. If one technique doesn't work, then you switch to another one. That's very concerning for the court."
In March, District Judge Richard Scotti ruled that Metro was obligated to immediately begin handing over recordings from the Oct. 1 shooting to the Las Vegas Review-Journal and other media organizations suing for their release.
Scotti said the records could be made public gradually, as they're processed — as opposed to releasing them all at once after additional delay — and gave Metro six months to complete the task. He also ruled that the department could not charge journalists hundreds of thousands of dollars for the production of those records.
Metro then had two options, Miley said Tuesday. The department could have asked Scotti to reconsider, or it could have filed an appeal with the Nevada Supreme Court.
The department decided to pursue the former option but asked for a new judge. The case was transferred to Miley's courtroom.
On Tuesday, Metro's attorneys asked to withdraw their motion for reconsideration and instead move forward with an appeal to the Supreme Court.
"All you've done is prolong the proceedings even further than it should have been, and that's what's very concerning to me," Miley said. "It seems like a game."
Metro lawyer Jackie Nichols then responded, "And I respect your honor, but I would disagree."
Miley ultimately denied Metro's motion for reconsideration, despite the request to withdraw it. The judge also denied Metro's subsequent request to keep the body camera footage and 911 calls in limbo until police can seek relief from the state's high court.
The decision means Metro is again obligated to immediately begin producing the records, unless the high court grants an emergency stay — or delay — while the appeal is pending.
"Additional appeals would be an additional waste of taxpayer resources," Review-Journal Executive Editor Glenn Cook said Tuesday. "The department should begin releasing the records at once."
Miley said two factors weighed heavily on her decision: Metro's stalling and Metro's failure to cite specific laws that make the recordings confidential.
"Although the court does agree with Metro in that there are privileges that may protect the disclosure of certain documents, the question has always been, for this court: Which documents are subject to protections under the law? And that's never been provided to this court," the judge said.
Earlier this year, Oct. 1 autopsy records, as well as FBI and Metro search warrant records, were released after the Review-Journal and other media organizations filed separate lawsuits. A gunman killed 58 concertgoers the night of the shooting before fatally shooting himself.
Contact Rachel Crosby at rcrosby@reviewjournal.com or 702-477-3801. Follow @rachelacrosby.