Las Vegas shooting survivor killed in California bar during attack
Updated November 8, 2018 - 9:41 pm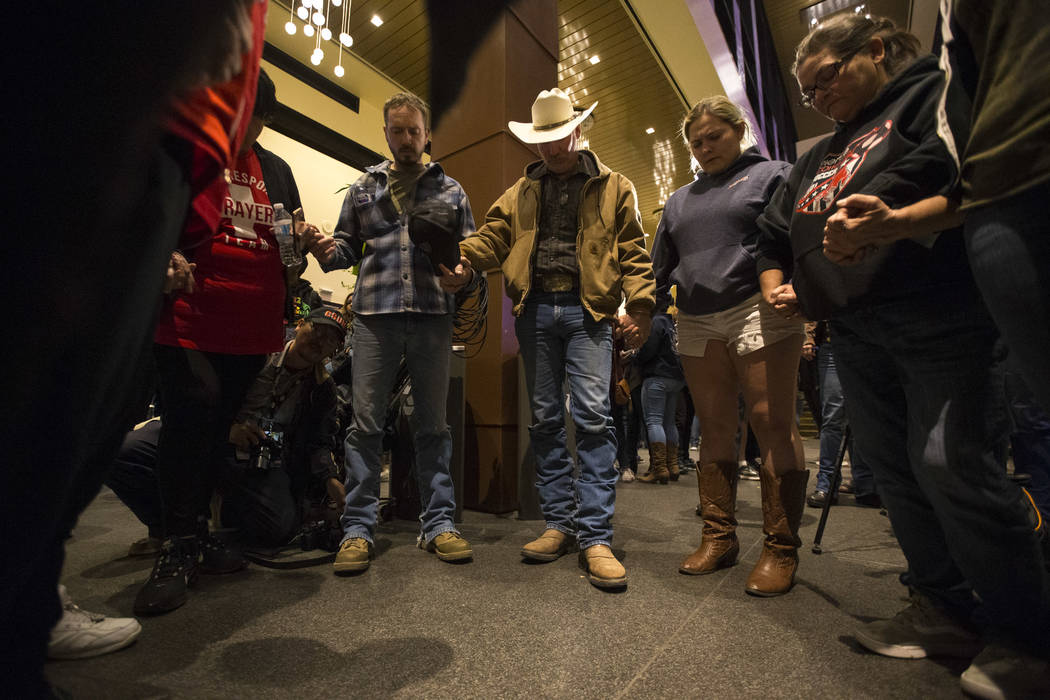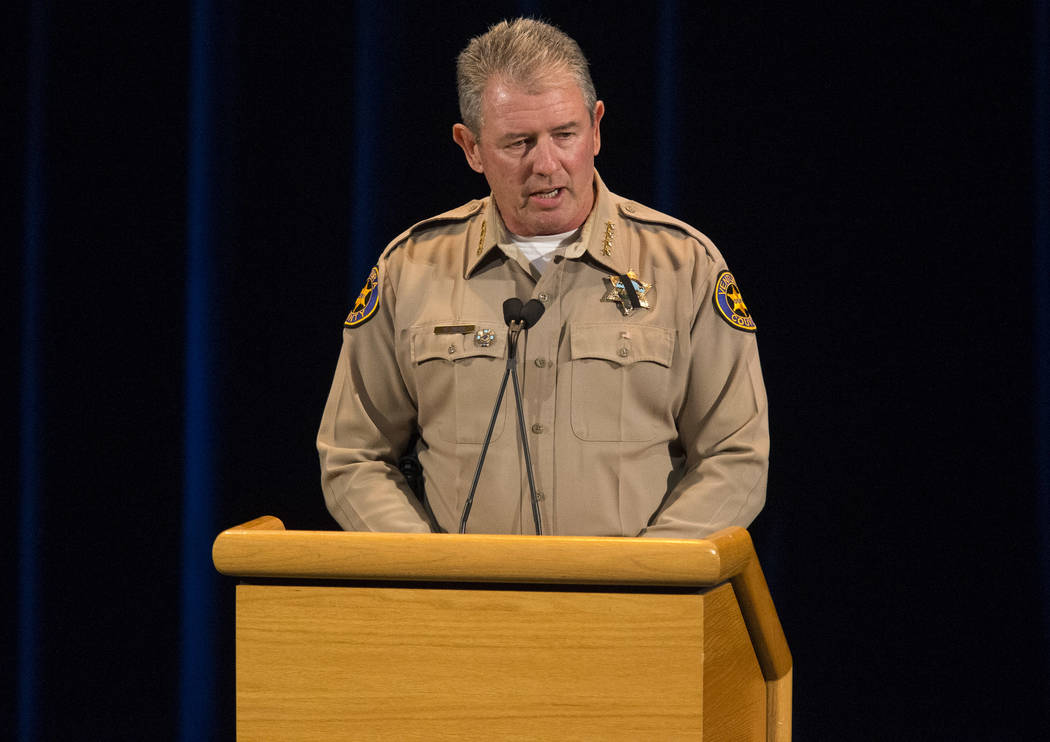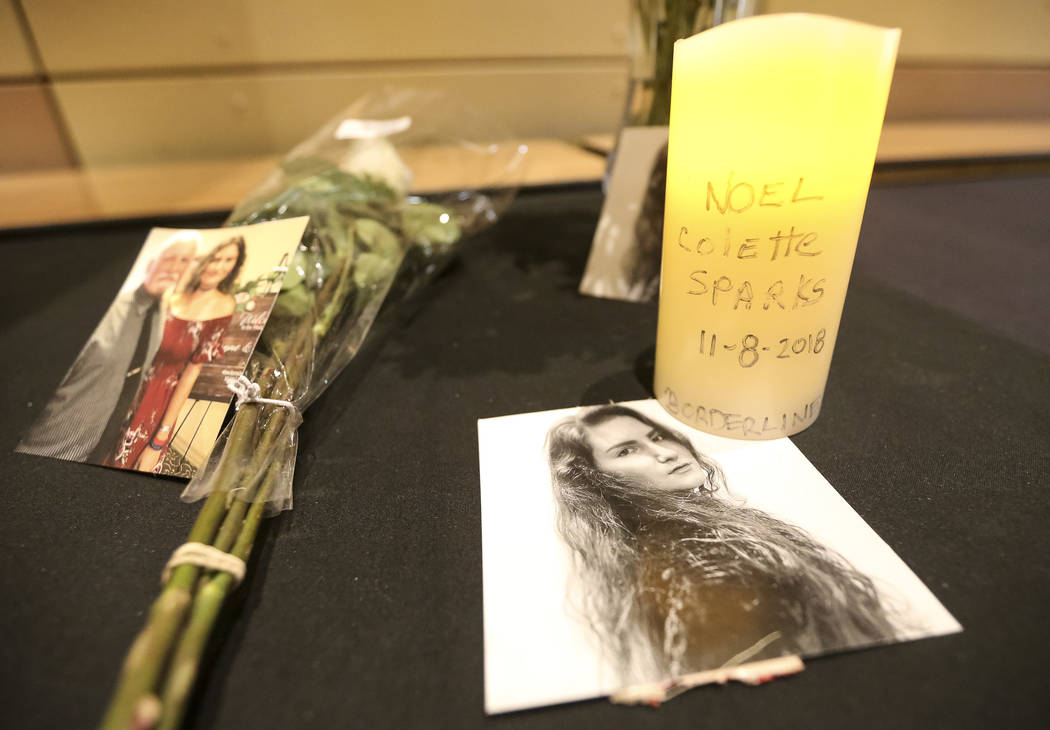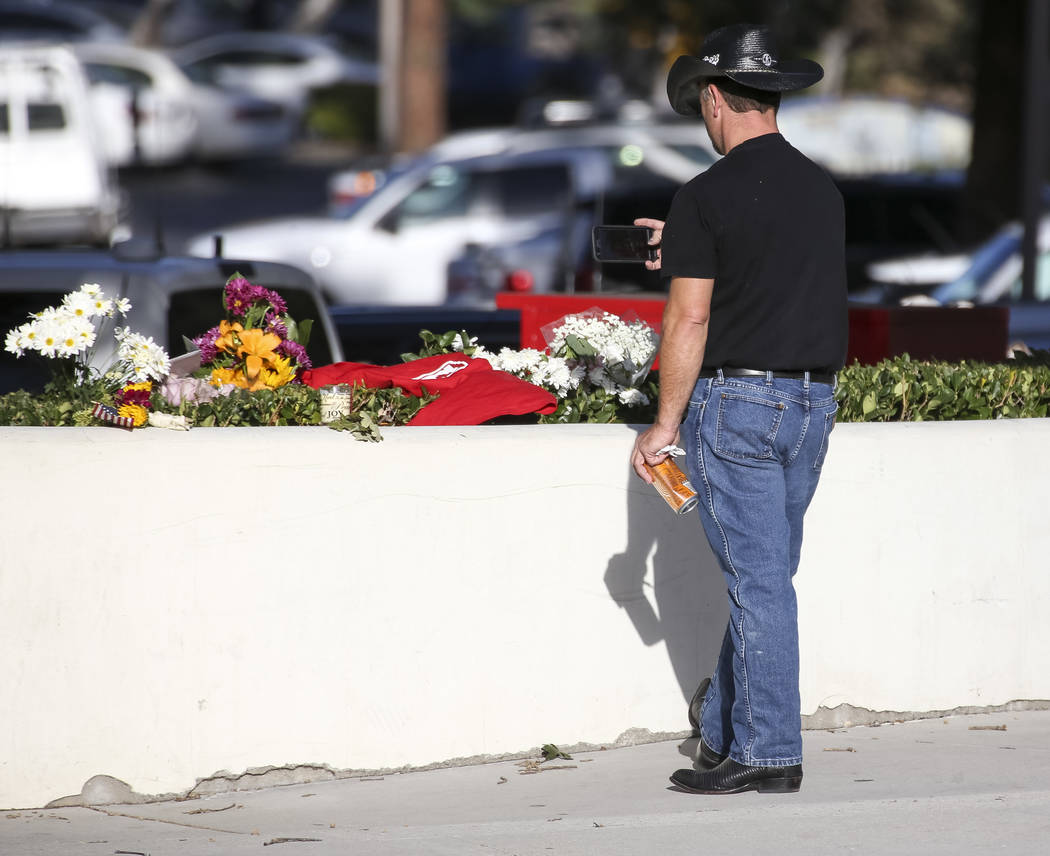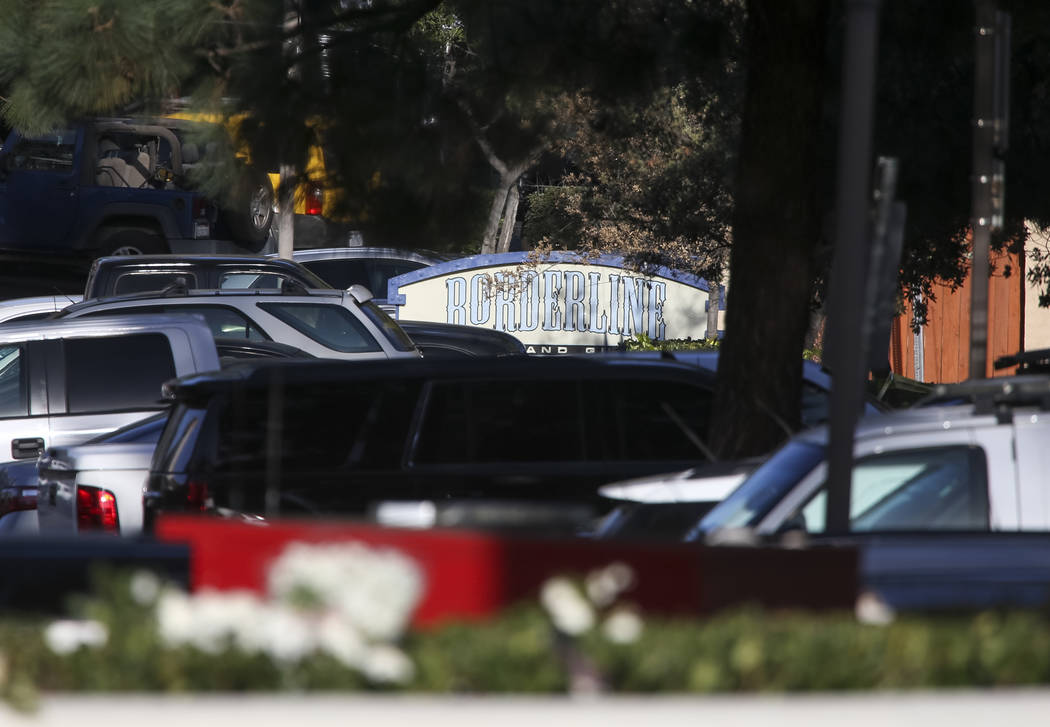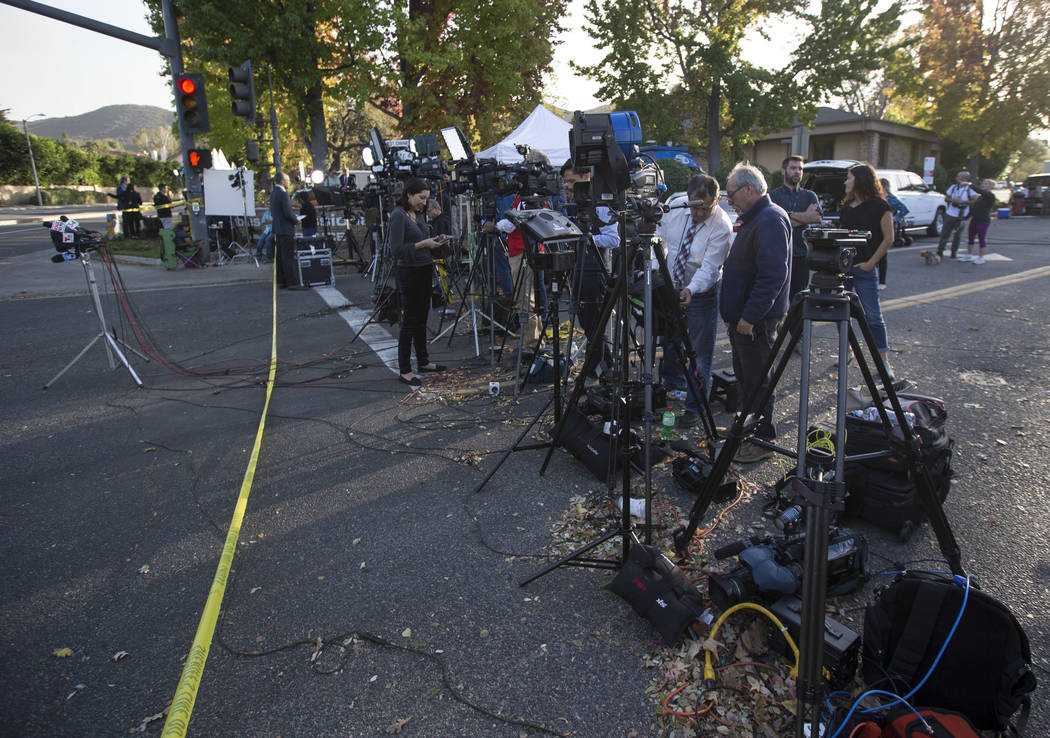 THOUSAND OAKS, Calif. — Inside that Southern California country bar, Las Vegas shooting survivors were just regular people.
"Around there, I wasn't a victim. I was just another person," a teary-eyed Jessica Maldoon said Thursday afternoon inside her home in Simi Valley, about 20 minutes outside Thousand Oaks. "I think the bar was a huge part of what helped me, knowing we had that place where we could go and still find a way to have fun and enjoy ourselves and know that we're surrounded by people who 100 percent understand."
Just over a year ago, Maldoon had survived the gunfire that killed 58 people at the Route 91 Harvest music festival. Back home, the Borderline Bar and Grill — a favorite among locals — had become something of a home away from home for her and many other Las Vegas shooting survivors in Ventura County.
But that image of a safe haven was shattered Wednesday night, Maldoon said, when a gunman later identified as a former Marine ignited a smoke device inside the bar before opening fire with a handgun. The shooting left 13 dead, including the gunman.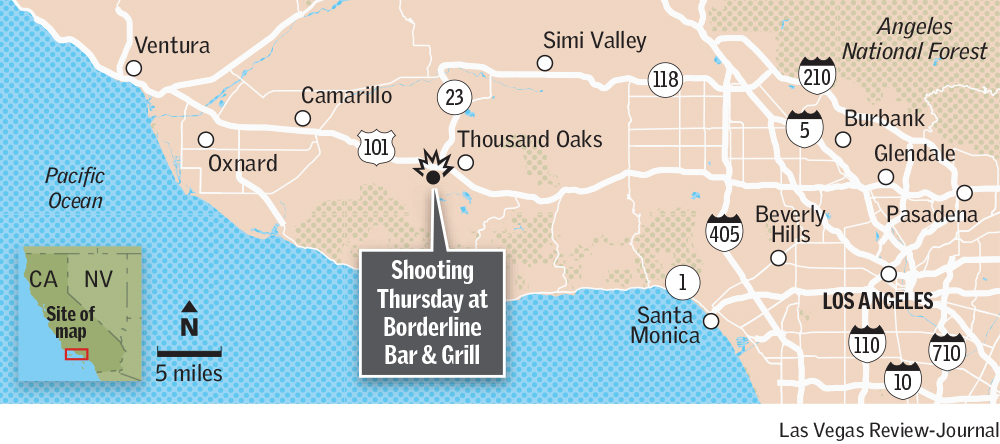 Maldoon had made a last-minute decision Wednesday evening to skip out on college night at her favorite bar, but the same feeling of panic and dread she felt Oct. 1, 2017, came rushing back all the same when she got the call about the shooting.
Her friends were there, she said, and five of them also were Las Vegas shooting survivors. It took Maldoon hours to confirm, but her friends had again survived.
Not all Route 91 survivors made it out alive. Telemachus Orfanos was identified Thursday as one of the victims. He was 27.
His mother demanded gun control when she spoke to the Las Vegas Review-Journal on Thursday, not long after learning her son had been killed.
"Print that in the largest letters you can. Can you do that for me?" Susan Orfanos shouted, her voice cracking. "If one more person sends me thoughts or prayers. We have lost too many kids. I want gun control. That's all I have to say."
The attack
Gunman Ian David Long, 28, opened fire about 11:15 p.m. Wednesday, less than an hour after the Borderline kicked off its final group dance lesson of the night.
He was armed with a Glock 21, a .45-caliber handgun designed to hold 10 rounds plus one in the chamber. But Ventura County Sheriff Geoff Dean has said the gun had an extended magazine that is illegal in California, although Dean said he does not know how many rounds that magazine can hold.
The shooting ripped through the bar's weekly College Country Night, where patrons 18 and older are welcomed to the "biggest dance floor in town," according to the bar's website. Last year, in the wake of the Las Vegas attack, the same bar hosted a "Country Strong" benefit concert to raise money for local Route 91 victims.
Among those killed in Wednesday's shooting was Sgt. Ron Helus of the Ventura County Sheriff's Department, who was shot multiple times as he and a California Highway Patrol trooper exchanged gunfire with the shooter.
Just before the shooting, Helus had been on the phone with his wife when he told her, "Sweetheart, I gotta go. Gotta handle a call," Thousand Oaks Mayor Andy Fox said Thursday night during a candlelight vigil inside City Hall's massive theater.
Afterward, outside City Hall, community members embraced each other, crying and praying — some wearing shirts and jackets that said "Route 91 strong" in orange letters.
"I have to go connect with my people," one survivor told the Review-Journal, her mascara smudged from crying.
'Tough nut to swallow'
Thousand Oaks was where one of the 58 Las Vegas victims grew up.
Laura Shipp, a 50-year-old single mother, was living in Las Vegas with her son when she died Oct. 1, 2017. But her younger brother, Steve, still lives in Thousand Oaks. He told the Review-Journal that the Borderline was a staple for the Shipp siblings growing up, especially Laura.
"It's a tough nut to swallow, to see something like that happen so close to home," Shipp, 48, said in a telephone interview.
The brother did not have any direct connections with those inside the bar Wednesday night. But when he turned on his TV early Thursday, he felt for the frantic Jason Coffman, who was trying to find his 22-year-old son, Cody.
As Shipp watched, he saw the dad desperately flash pictures of his son to TV news crews. Hours later, he would learn the young man had died.
"And then you remember Laura's situation. That was the toughest for us — 36 hours of waiting to find out what we probably knew the bad news of," Shipp said. "I definitely know what this town and those associated with the victims are going to be going through this next year, and beyond. I don't wish it on my worst enemy."
'It's been 13 months'
Maldoon, who is just 24 but already has been personally affected by two mass shootings in her lifetime, had trouble Thursday describing what she felt.
"I just don't understand why this keeps happening and why we can't get to the root of the problem instead of dancing around the topic and pointing fingers in different directions," she said. "It is not OK to live like this. It is not OK to walk onto your campus and think this might be your last day on Earth. It's not OK to go to a concert and think you might never see your family again."
As she fiddled with her fingers in her lap, she also wondered what impact Wednesday's shooting would have on her recovery.
"I'm not sure if this will set me back or if it'll just remind me that this is still something that could happen every day. I still have anxiety everywhere I go, and every time I step out that door," she said, glancing at the front door of her home, "I pray it's not the last time."
On Thursday, President Donald Trump ordered American flags to be lowered to half-staff until sunset Saturday.
A vigil for the Thousand Oaks victims will be held at 6:30 p.m. Friday at the Las Vegas Community Healing Garden, 1015 S. Casino Center Blvd.
Contact Rio Lacanlale at rlacanlale@reviewjournal.com or 702-383-0381. Follow @riolacanlale on Twitter. Review-Journal staff writers Mike Shoro, Briana Erickson and Rachel Crosby contributed to this report. The Associated Press also contributed.
Thousand Oaks shooting victims
– Sean Adler, 49, was a bouncer at the Borderline. He used to be the strength coach for the Royal High School wrestling team. He fulfilled a dream earlier this year when he opened a coffee shop called Rivalry Roasters.
– Cody Coffman, 22, was planning to join the Army, according to his father. A friend, Sarah DeSon, said Coffman got up and told everyone to run during the shooting. He played baseball in high school and worked as an umpire.
– Blake Dingman.
– Jake Dunham.
– Ventura County Sgt. Ron Helus, 54, went into the bar to engage the shooter. Just before the shooting, he was on the phone with his wife. He had planned to retire this year after a 29-year law enforcement career. He owned a firearm safety training business called Gun Control.
– Alaina Housley, 18, was a freshman at Pepperdine University in Malibu, California. On Oct. 15, 2017, she posted a series of photos from a trip to Malibu with a caption, "Hopefully, I'll get to spend more time in this gorgeous place."
– Dan Manrique, 33.
– Justin Meek, 23, was a California Lutheran University graduate. His father is a Navy Seal, and his mother is an Air Force veteran.
– Kristina Morisette was a cashier at the Borderline.
– Telemachus Orfanos, 27, was a Route 91 shooting survivor.
– Noel Sparks, 21.
– and one victim who has not yet been named.
Resiliency center offers counseling
The Vegas Strong Resiliency Center at 1524 Pinto Lane is offering support to survivors of the Route 91 Harvest festival attack who were affected by the mass shooting in Thousand Oaks.
Coordinator Teresa Etcheberry said Thursday that the center had received no calls from people who had survived both shootings. But she said the California shooting could be triggering for those already living with trauma.
"Please, please, please give us a call so we could help if there's anything going on with you," she said.
The center can be reached at 702-455-2433 or toll-free at 833-299-2433. Clients may set up appointments or walk in to the center for counseling help.
Banner for Thousand Oaks
Clark County and the Vegas Strong Resiliency Center are inviting Las Vegas-area residents to sign banners with messages of support for the Thousand Oaks community.
The public is invited to sign the banners from 11 a.m. to 5 p.m. on Friday, and from 8 a.m. to 5 p.m. Tuesday through Nov. 16 in the rotunda of the Clark County Government Center, 500 S. Grand Central Parkway.