Las Vegas shooting victim's surgeon was former neighbor
October 19, 2017 - 10:49 am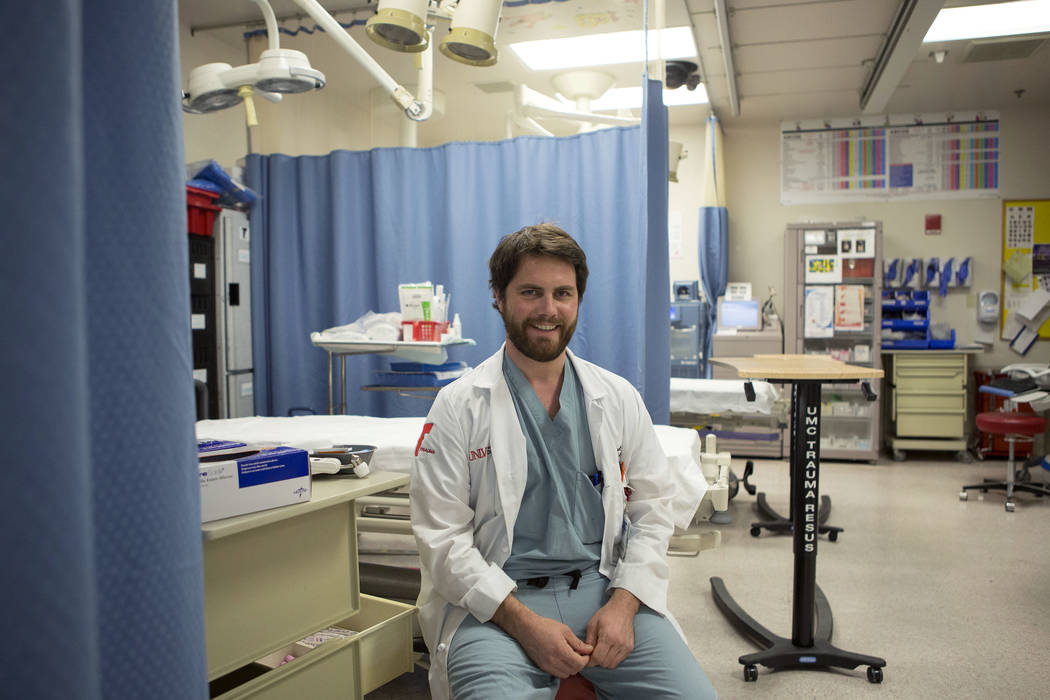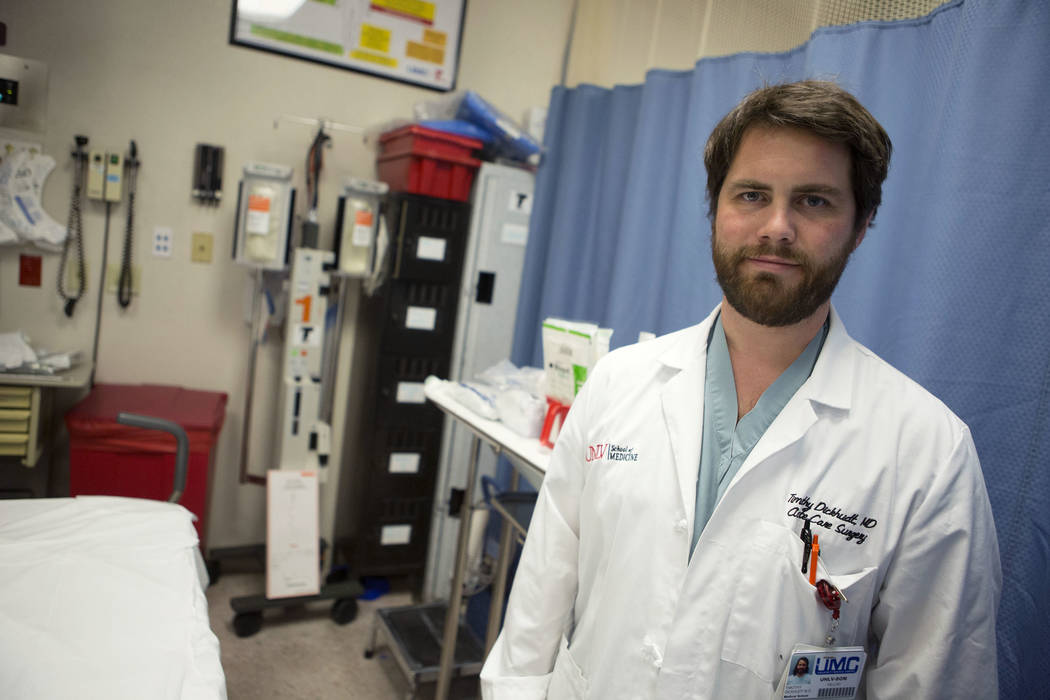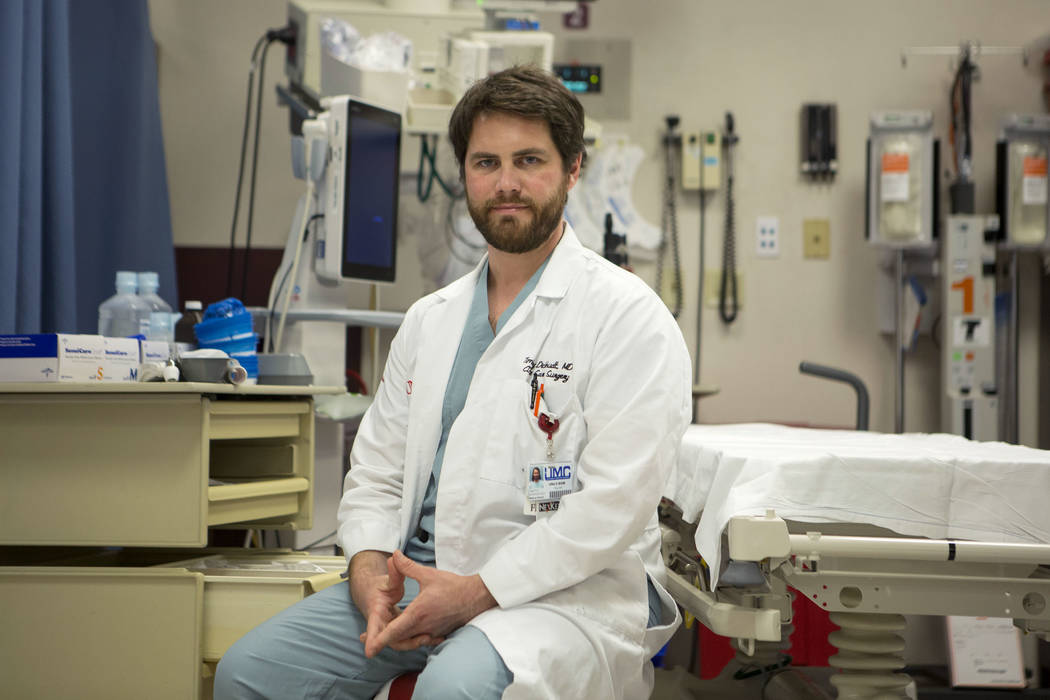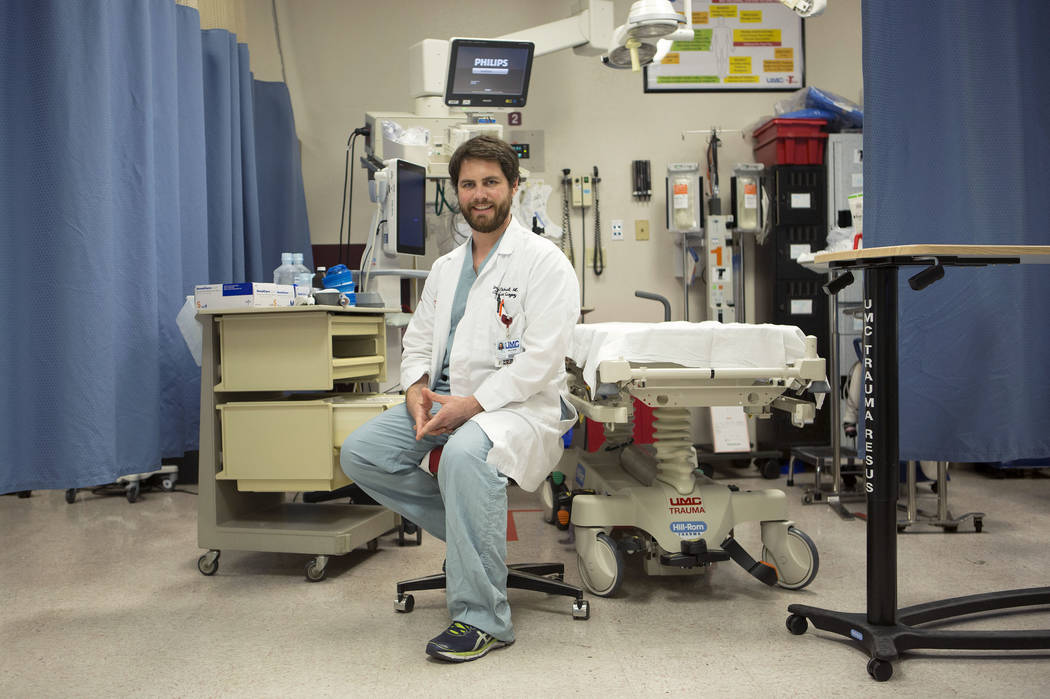 In Philip Aurich's hour of need after he was shot in the back at the Route 91 Harvest Festival, his savior turned out to be a former neighbor from his hometown, more than 1,600 miles away.
It's highly unlikely that Minnesota was a topic of many Las Vegas conversations in the days after the horrific Oct. 1 mass shooting on the Strip.
But Aurich's family members and Dr. Timothy Dickhudt, a University Medical Center trauma surgeon, had a lengthy chat about the Land of 10,000 Lakes at the hospital when it was becoming clear that the 36-year-old would survive his life-threatening injuries.
It wasn't because they all discovered they had a shared love of Garrison Keillor's "A Prairie Home Companion," a popular variety show that ran on National Public Radio for years from the fictional town of Lake Wobegon, Minnesota, "where all the women are strong, all the men are good looking, and all the children are above average."
No, the conversation took a northward turn shortly after Aurich, who recently moved to Las Vegas, awoke from surgery. That's when Aurich's girlfriend, Alyson Opper, mentioned that the his parents, Michael and Mindy, live in the St. Paul area and that Philip grew up there.
Really? So am I, the 31-year-old Dickhudt replied.
Being from the same distant city — even one of more than 300,000 people — was surprising enough, but the connections didn't stop there.
Intertwined clans
Mindy Aurich recalled how she went to grade school with Dickhudt's father, John, who also is a doctor.
"She also told me how her mom and my grandmother were friends," Dickhudt said. "It just became more and more incredible. She knew my grandpa died 15 years ago."
And then Michael Aurich realized that he had taught Dickhudt's cousins in high school.
As they compared notes, they realized that they were longtime neighbors before Dickhudt left Minnesota in 2008 to attend medical school at Creighton University in Omaha.
"Tim grew up about five blocks from where we lived," Michael Aurich said. "He didn't go to the same school because he played hockey and our school didn't have that."
The more they talked about Minnesota — the weather, winter sports and schools — the more incredulous Dickhudt became.
"I kept thinking to myself what a small world it is," said Dickhudt, who only moved to Las Vegas three months ago after working in Miami.
Until Monday, Philip Aurich's world was even smaller — a hospital room at UMC. It took him until Monday to recover from the surgery in which Dickhudt repaired his diaphram and colon and removed his spleen. He still has bullet fragments in his lungs.
Though Aurich, president of First Option Mortgage in Las Vegas, is now at home, painkillers have him sleeping much of the time.
Laboring to breathe
Opper, his girlfriend, was with him when shots rang out outside Mandalay Bay. She said she will never forget the terrifying minutes when she realized he had been wounded and thought he might die before they could get help.
Like so many people, she said Aurich and their friends initially thought the popping sound of the gunshots was fireworks. But when people dropped near them and yelled they had been shot, they began to run.
Not knowing the shots were coming from above, they dropped to the ground when the bursts resumed, then started running when they stopped. About the third time they hit the ground, she noticed Philip had blood on his shirt. But because he was still moving, she thought he had been bloodied by someone else when they fell in all the commotion.
She urged him to keep running. While they ran, she realized he had been hit because both his breathing and running had slowed dramatically.
They made it to nearby Reno Avenue, where they hoped to hail an ambulance or even a pickup truck to take Aurich to the hospital. But each one they saw left, full of other injured concertgoers.
When a nearby police officer, whose name she doesn't know, learned Aurich had been shot, he placed him and another wounded man in the back seat, and told Opper and another woman to get in the front. Then they raced to UMC.
Soon after their arrival, Dickhudt spotted the wheezing Aurich.
"I could tell he was really hurt, really sick, so we took him into the operating room right away." he said.
'Divine intervention'
The reason his son made it, Michael Aurich believes, is because God still has something for him to do.
"I saw God at work for Phil that night," he said. "His girlfriend kept him running so he wouldn't bleed out. The police officer who was supposed to stay at one place said 'screw it' and took him to the hospital. And Dr. Dickhudt could have started working on any patient but worked on Phil when he really needed it. I'd say there was divine intervention there."
That Dickhudt would later end up in a conversation about Minnesota surprises him in a way. He certainly wasn't expecting to meet any fellow Minnesotans at a trauma center in Las Vegas.
But he's not surprised they did once they discovered their common background.
"We do what Minnesotans do when they run into other people from Minnesota," he said. "We talked about Minnesota."
Contact Paul Harasim at pharasim@reviewjournal.com or 702 387-5273. Follow @paulharasim on Twitter.