Las Vegas Victims' Fund to distribute $31.4M to victims in March
Updated March 2, 2018 - 7:03 pm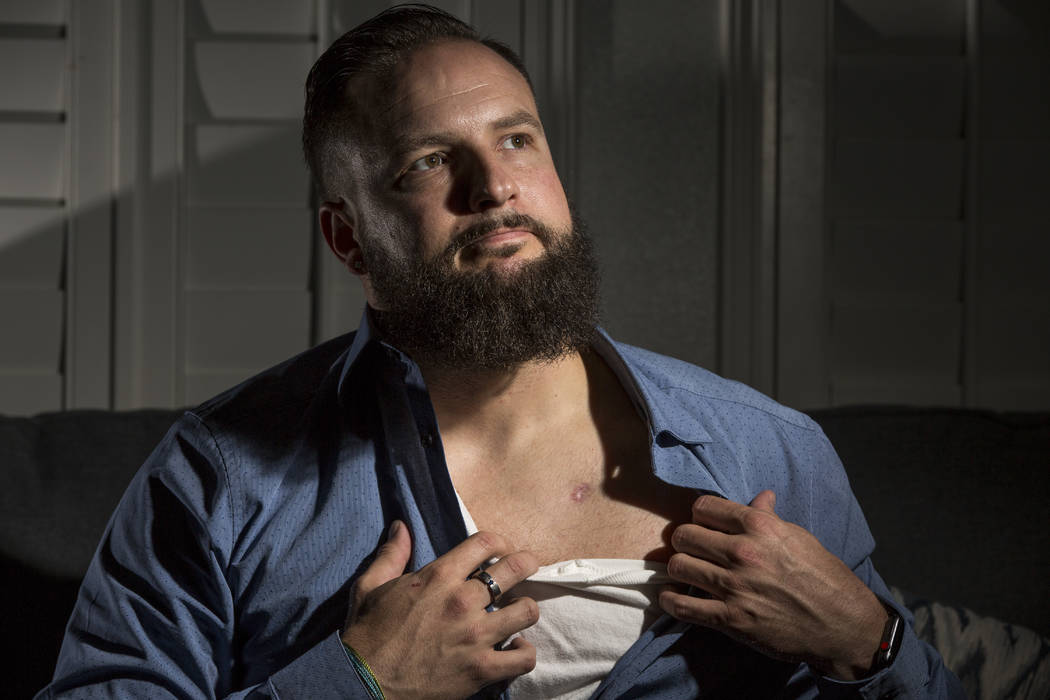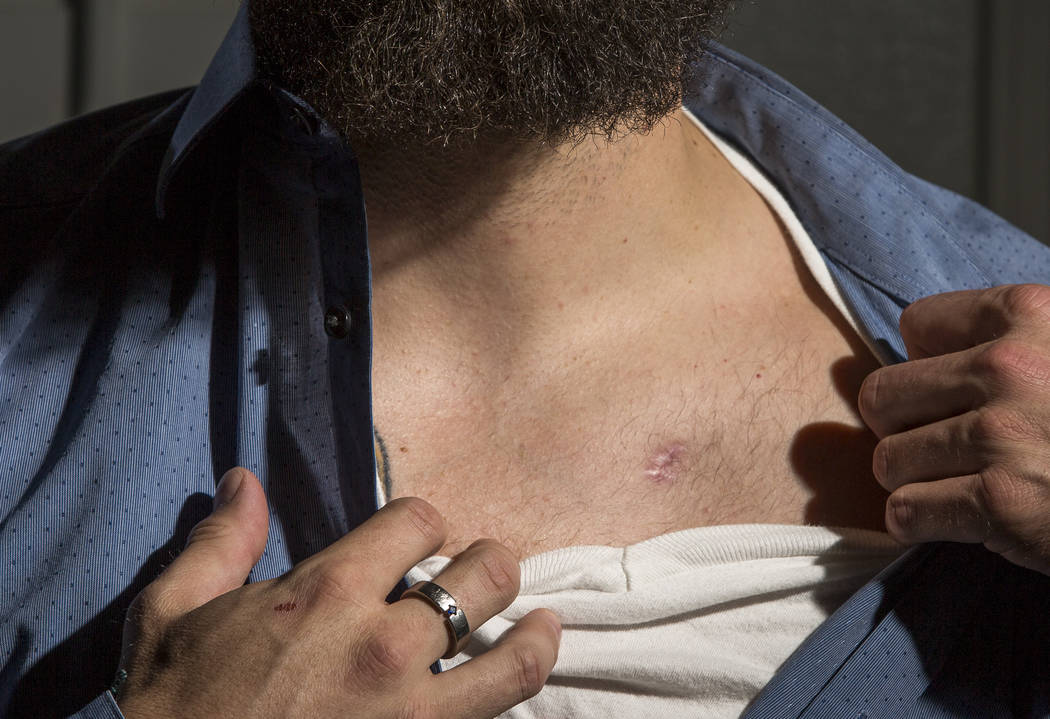 The Las Vegas Victims' Fund, the largest pool of money to aid victims of the Oct. 1 mass shooting, has collected more than $31.4 million, organizers said Friday.
The fund's committee is slated to distribute the money to 532 claimants, though some claims are still going through the vetting process.
The fund will begin distributing money Monday and will be finished by the end of the month.
The Las Vegas Victims' Fund was established in October to oversee the consolidation and distribution of donations following the Oct. 1 shooting at the Route 91 Harvest country music festival that left 58 people dead and hundreds of others injured.
The guidelines for distributing money to victims are similar to those implemented after previous shootings and attacks. Following the guidelines for the 2016 shooting at the Pulse nightclub in Orlando, Florida, and the 2013 Boston Marathon bombings, family members of those who were killed in the Las Vegas shooting will get the most money.
Jeff Dion, deputy executive director of the National Center for Victims of Crime, and victim-compensation expert Kenneth Feinberg have told the Review-Journal that the highest priority after a mass casualty event is collecting and distributing money as soon as possible.
Dion and Feinberg have helped distribute funds to victims after several tragedies. After the Pulse nightclub shooting, they distributed an initial $29.4 million to 299 claimants in 155 days.
After the Boston bombings, Feinberg helped distribute almost $70 million for more than 230 claims from the initial payout, 76 days after the attacks.
Las Vegas Victims' Fund committee members intends to distribute the money to all approved claimants by March 31, 181 days after the shooting.
In the Orlando tragedy, $29.5 million was initially raised for the 49 who died and 68 who were injured, and in Boston $61 million was originally raised for the three who died and 264 who were injured.
In all cases, the money goes only so far.
"The love and support shown for the families and survivors of the 1 October tragedy was tremendous," said Scott Nielson, chairman of the committee. "We recognize, however, that money cannot replace a life lost or forever changed due to this tragic event. What the committee worked hard to do was distribute the gifts given by tens of thousands of people in a way that would help those families and survivors most severely impacted by 1 October."
Medical bills
For many survivors with long-term physical recovery needs, the money won't be enough to pay for bills that have accumulated since Oct. 1 and for future care.
Las Vegas shooting survivor William King, 39, for example, has a medical bill for $130,000. He and his fiancee, Kimberly King, have both been out of work since the shooting. They have only $32 left of $10,000 in savings they have used to get by since Oct. 1 and take care of their four kids.
While it's been tough, they said they feel lucky compared with others who didn't have any savings and fortunate to have made it out of the venue at all.
William said he'd be grateful for any amount of money that will come his way from the victims' fund. But it would be a relief to make up the $25,000 he and Kimberly lost in combined income over the past few months, he said.
According to the committee, he will receive $52,500 this month.
Other victims
Angel Colon, 27, is one of the 68 who were injured in the Pulse nightclub shooting in 2016.
"I thought I was only shot three times. But I was shot six times," Colon said.
He's still relearning how to walk, but in December, he was able to trade the walker he had been using for a cane.
"It's been tough. I never would have thought I would have to learn how to walk all over again," he said. "It took me about three months just to be able to take steps on my own."
Before the Pulse shooting, Colon said he was always on his feet going from one gig to another, working as a bartender, a server or a brand ambassador.
He estimated that he made between $2,000 and $4,000 in any given month before the shooting.
He declined to say how much he received from the OneOrlando Fund created for Pulse victims. Colon was in the hospital for at least 12 days, if not longer, according to his Facebook timeline. Publicly available documents from the OneOrlando Fund indicate victims who were hospitalized for that long received at least $175,000.
"It lasted probably a year and some months," said Colon. "When you can't work and still have to pay bills, money goes very quick."
Rebekah Gregory, 30, one of the 264 who were injured in the 2013 Boston marathon attack, agreed.
"I don't know what I would have done without that money (from the One Fund Boston)," she said, adding that she's been in and out of the hospital for five years.
Gregory was with her son watching the Boston Marathon in 2013 when the first explosion went off three feet away. She spent 56 days in the hospital and then moved in with her parents.
In late 2014, her left leg was amputated below the knee.
"The surgeries don't stop," she said.
Gregory underwent her most recent surgery last November, one of 67 surgeries she's had since the attack.
She said she couldn't work until the end of 2014, leaving her with no income for over 1½ years. Gregory estimated she made about $5,000 a month working as an account manager at a sales and marketing firm before the marathon attack.
Gregory declined to say how much she received from the One Fund Boston created for marathon victims. But publicly available fund documents indicate victims who were hospitalized for more than 31 days received about $948,000.
She estimates the money lasted her around three years, allowing her to pay living expenses and her medical expenses. She estimated her care and recovery have cost about $500,000, including hospital stays and surgeries paid both out of pocket and by health insurance.
Long-term recoveries
Las Vegas victims with long-term physical recovery needs may face an even more daunting financial path.
Besides those killed, more than 700 people were injured in the Las Vegas shooting, the Metropolitan Police Department said.
As for shooting victim King, he considers himself lucky to be alive.
A bullet entered the side of King's torso and exited his body through the front of his chest while he laid on top of his fiancee to protect her.
He spent two nights at Sunrise Hospital and left wearing only two Band-Aids, to cover the entry and exit points of the bullet.
"The doctors told me that he was a miracle," Kimberly said. "The bullet missed everything."
Returning to work
William plans to return to work as a bellman for Delano Las Vegas in May, if the doctor clears him to do so.
He is working to regain the strength in the muscles on the left side of his torso and chest. He still can't open heavy doors, or lift a gallon of milk.
He said he's nervous about going back to work since his job requires him to handle luggage and push carts.
He can use his right arm, but strenuous use will irritate the muscles in the left side of his chest.
"No matter what, it's going to hurt," he said. But the toughest part of going back to work, he said, will be dealing with the mental and emotional toll of Oct. 1.
"Just thinking about going back and knowing that this happened I think is going to hinder me at work, mentally. It already does and I'm not even back."
Kimberly plans to return to work later this month, selling insurance and financial services through Primerica.
"Since this happened, I haven't been able to go back to work because I'm very hesitant about going into strangers' homes," Kimberly said.
She rescheduled an appointment with a client Thursday because she wasn't ready.
"It's just anxiety, but my kids have to eat somehow so I'm going to have to just get through it," she said.
Future distributions
Nielson, the Las Vegas Victims' Fund committee chairman, said he hopes to close the fund entity down after the distribution process ends.
"What we were trying to do is try to encourage everybody to give by the end of January, and then we gave it to the end of February to give the very best chance to people who were going to give to do so," Nielson said. "Donations can still come in, but if you look at the website, we're encouraging people to support other causes and other organizations that will benefit the survivor community."
Any additional money that is donated to the victims' fund before it closes will go to survivors and victims' families, but the protocols may have to be amended to ensure the money has the most impact.
No closing date for the fund has been set.
"We would prefer not to do a second distribution. We would prefer to wrap everything up."
Contact Nicole Raz at nraz@reviewjournal.com or 702-380-4512. Follow @JournalistNikki on Twitter. Contact Alexander Cohen at acohen@reviewjournal.com or 702-383-0261. Follow @capitolmuckrakr on Twitter.
The priorities
Money in the Las Vegas Victims' Fund will go to people in three categories of descending priority:
1. The families of those who were killed in the shooting and people who sustained permanent brain damage and/or permanent paralysis resulting in continuous home medical assistance.
2. People who were physically injured as a result of the shooting and first admitted to a hospital between Oct. 1 and Oct. 10 for at least one night through Dec. 15. The amount for the injured will be allocated by the number of cumulative overnight hospital stays.
3. People who were physically injured as a result of the shooting and who were treated on an emergency or outpatient basis on or before Oct. 10.
Managing your disbursement from the Las Vegas Victims' Fund
Forty-six fiduciary, fee-only financial advisors from across the country are volunteering up to four hours of free financial advice to recipients of Las Vegas Victims' Fund payouts.
The offering is part of the Las Vegas Survivors Project, coordinated by the Institute for the Fiduciary Standard and the Investor Protection Clinic at the William S. Boyd School of Law at UNLV.
Payout recipients can find a list of advisors working with the project at lvsurvivors.org. Meetings can be done virtually, and the recipient does not have to work with an advisor in their state.
"Receiving a significant sum of money can present new challenges for survivors or families who lost loved ones, especially during such an emotionally distressing time," said Scott Nielson, chair of the Las Vegas Victims' Fund committee. "These advisers are dedicated to assisting fund recipients during this difficult time."