Man in custody after shooting on bus in northeast Las Vegas
August 30, 2017 - 12:52 pm
Updated August 30, 2017 - 7:25 pm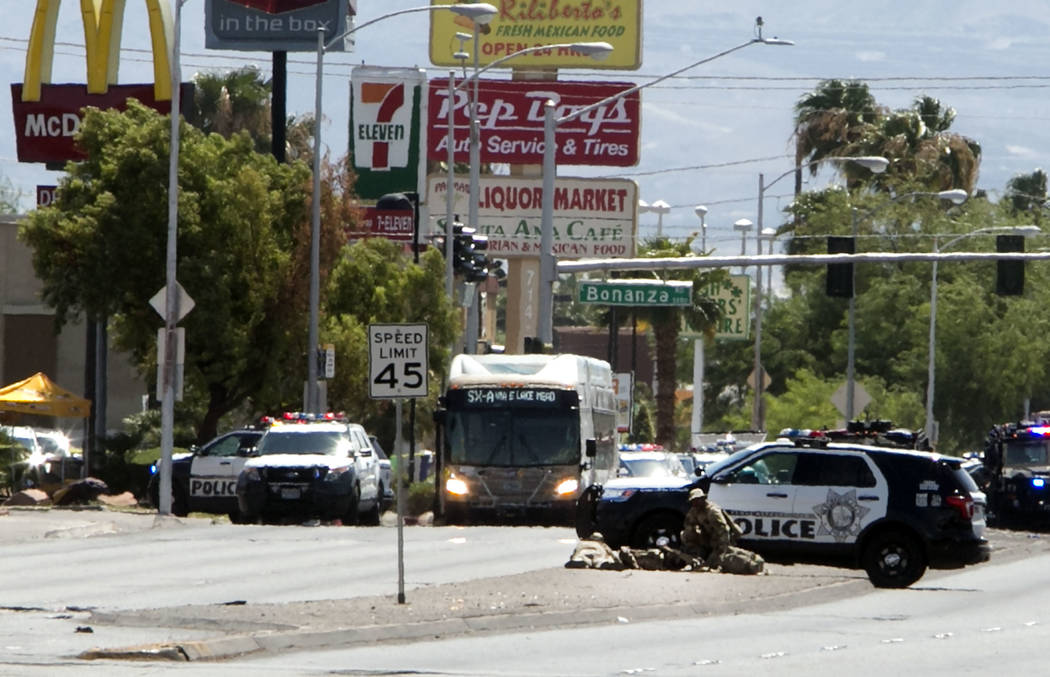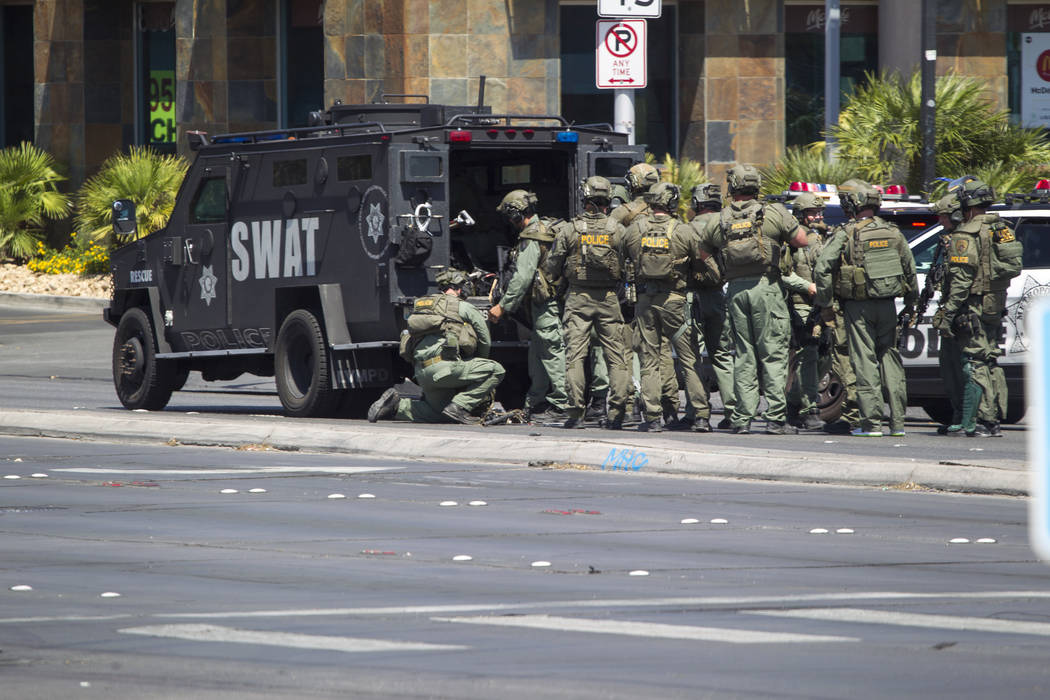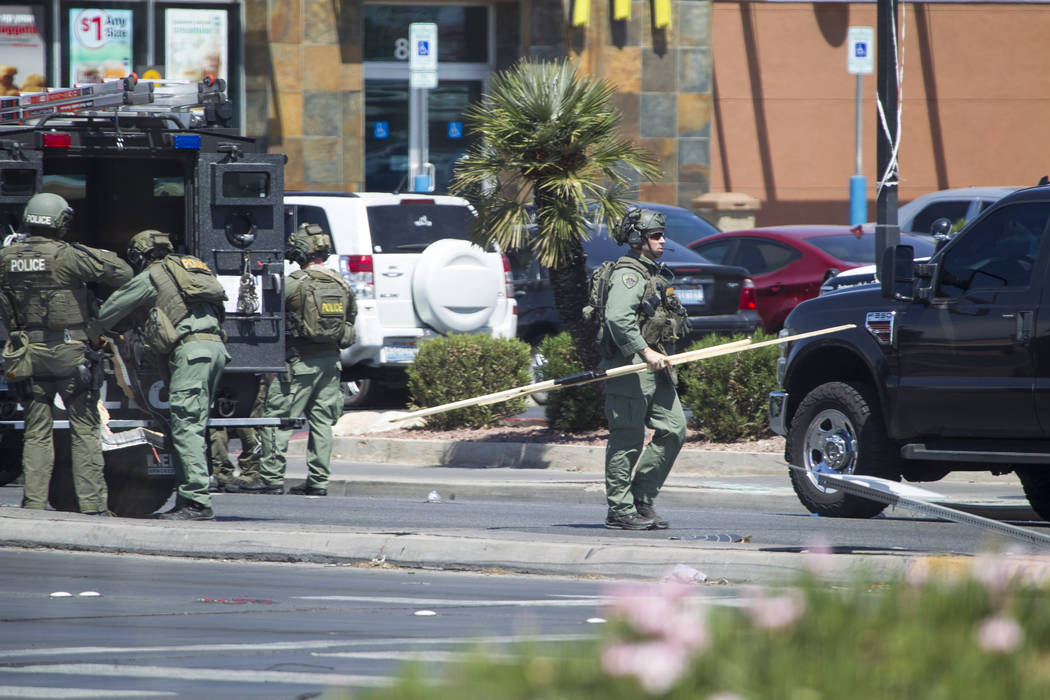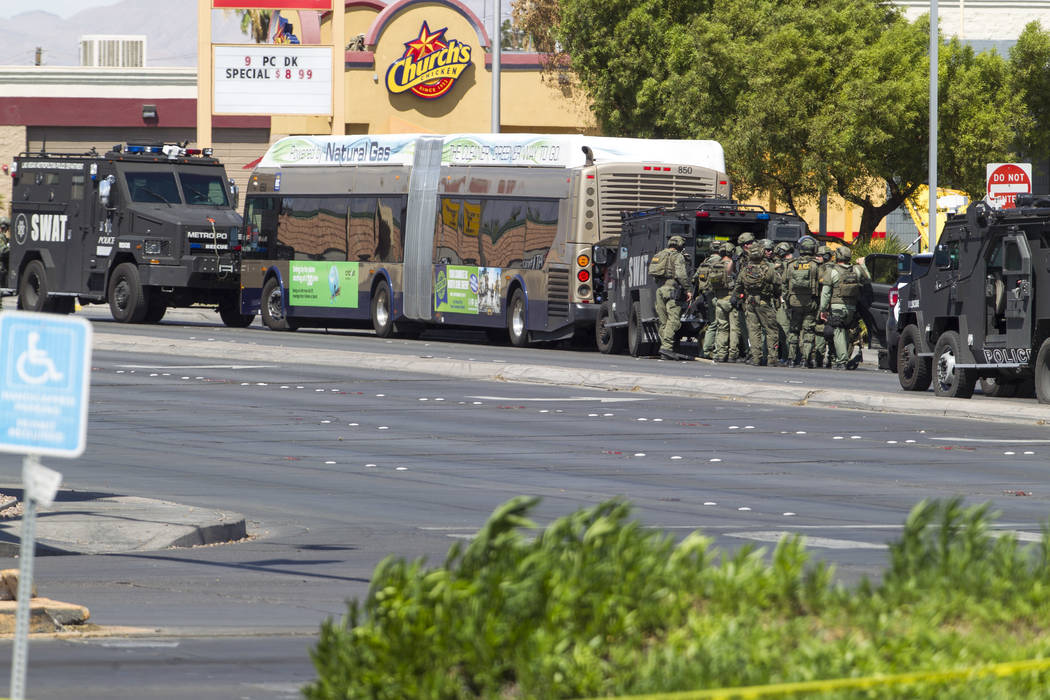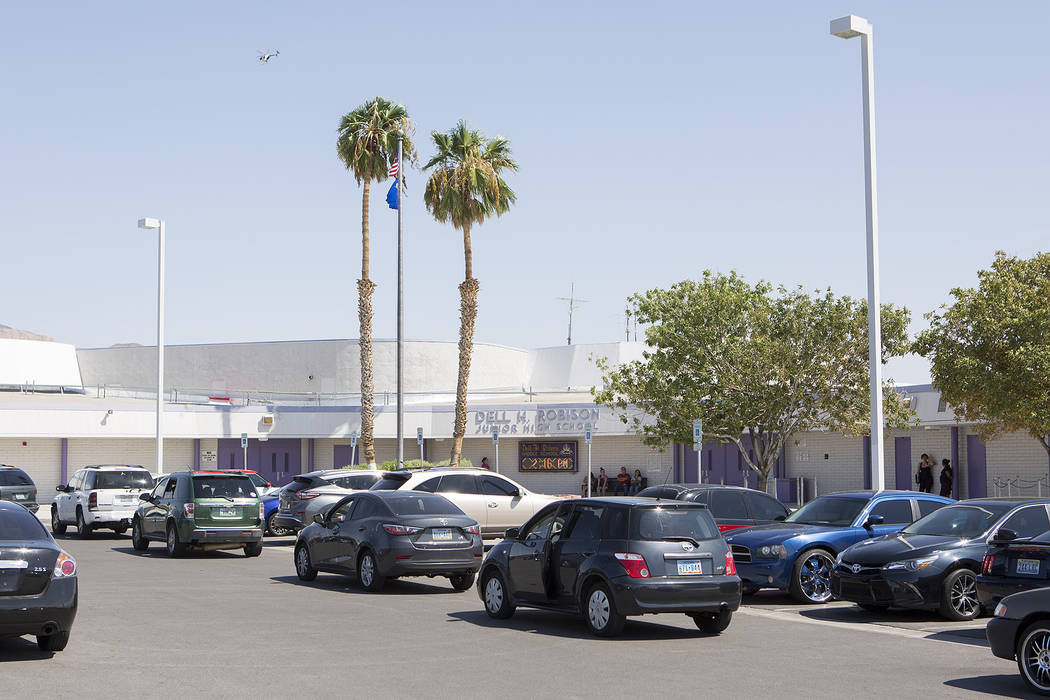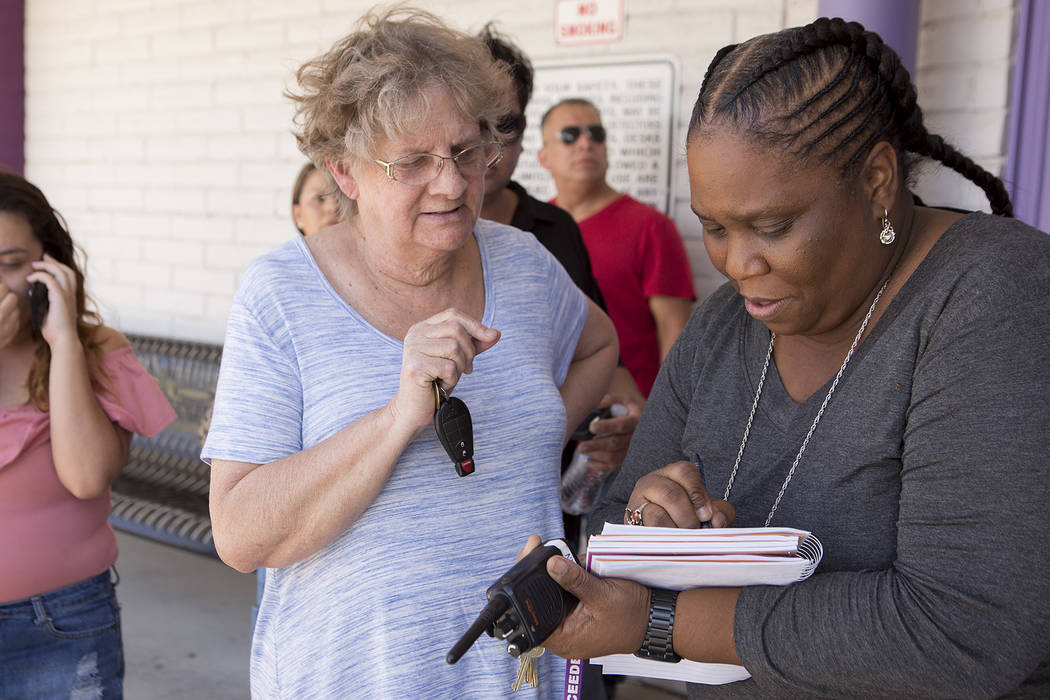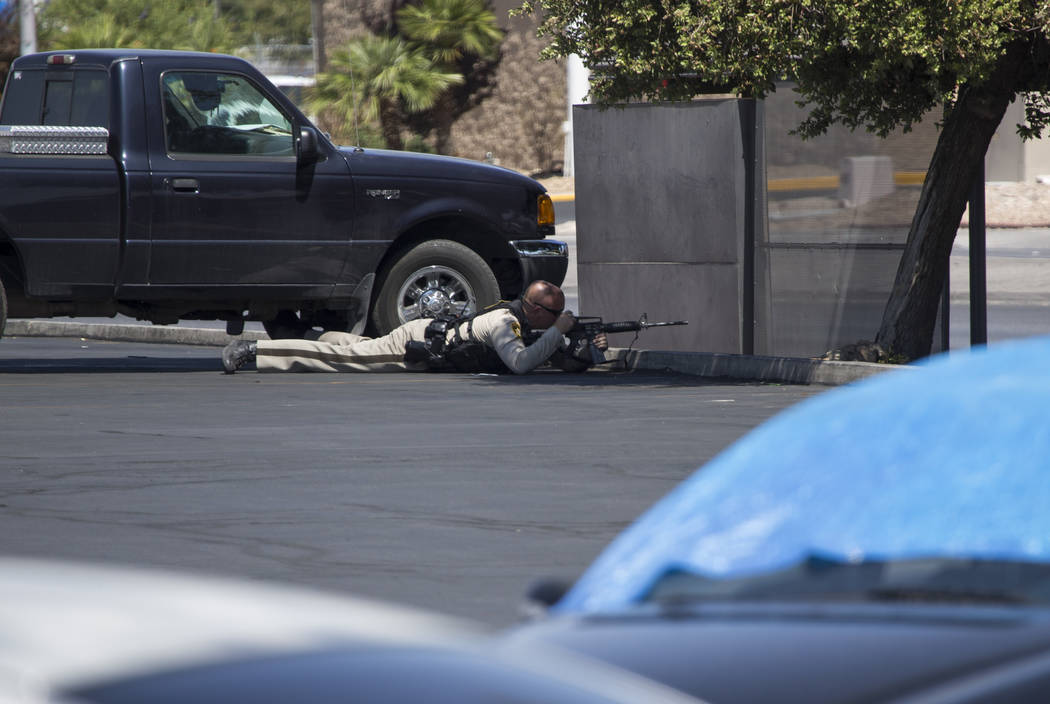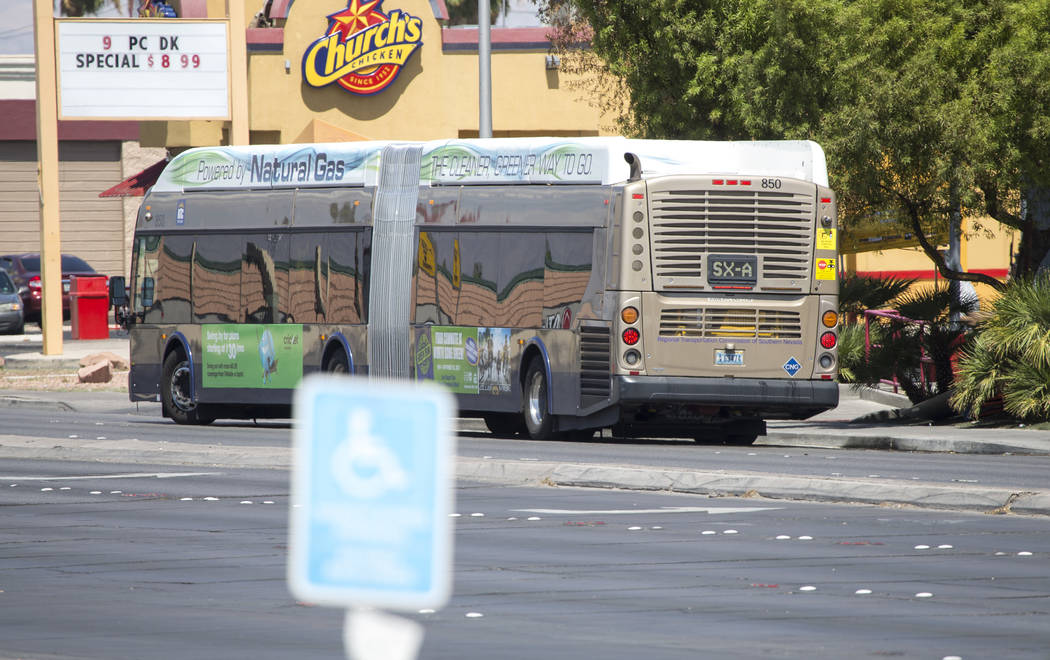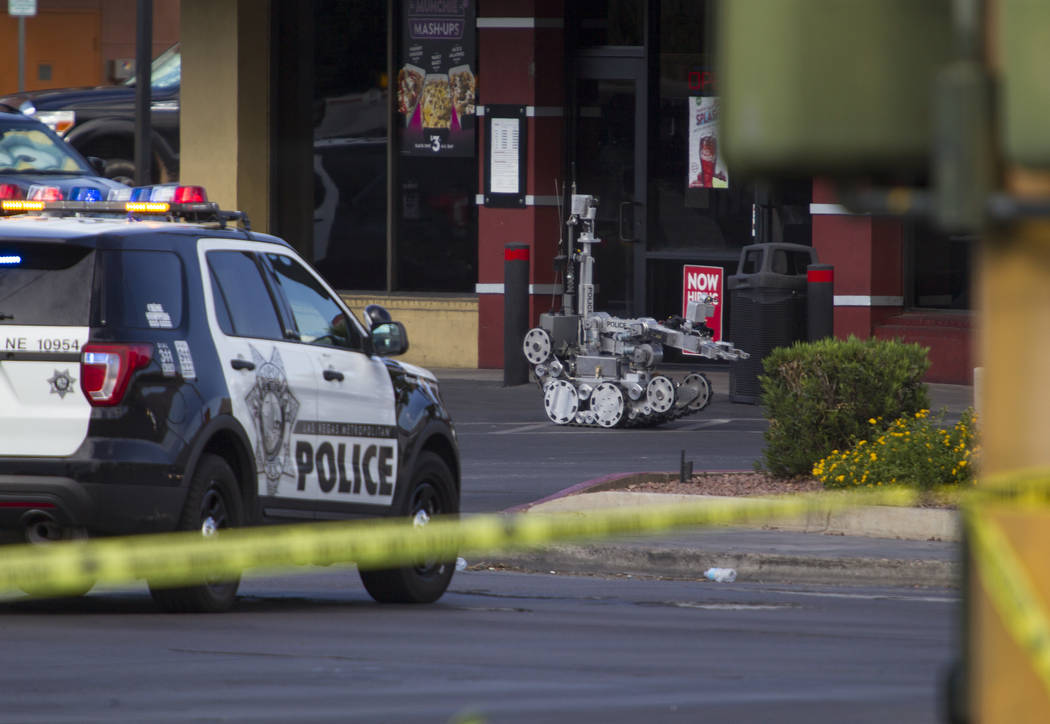 A man fired a gun on a bus in the northeast valley Wednesday afternoon, Las Vegas police said, prompting an hourslong standoff.
Nearby schools were temporarily locked down and police closed area roads as they worked the incident. The suspected shooter was eventually taken into custody and identified by Metropolitan Police Department as 58-year-old Brett Sporich.
Las Vegas police spokesman Aden Ocampo-Gomez said no one was injured. He said Sporich was taken into custody without incident and was being taken to the Clark County Detention Center. He will face a charge of firing into an occupied structure, Ocampo-Gomez said.
Before arriving at the bus stop near Nellis Boulevard and Bonanza Road and boarding the bus, the gunman had visited a business and had apparently been unsatisfied with the service, Ocampo-Gomez said.
The gunman reportedly waved his gun around at the bus stop without pointing it at anyone, Ocampo-Gomez said. Police received a call of the man waving his gun, prompting Metro's response.
He said it was unclear whether the gunman, who was in a wheelchair, holstered his weapon when he boarded the bus. The driver apparently wasn't threatened and so drove on.
Police responded about 12:30 p.m. to a Regional Transportation Commission bus stop in front of a McDonald's restaurant at 836 N. Nellis Blvd.
One male passenger, who declined to give his name, said the man pulled out his gun when he saw police nearby and announced several times, "I'm not going back to jail." Ocampo-Gomez said police could not confirm what was said.
Police stopped the bus and began evacuating riders, Ocampo-Gomez said, and the gunman fired "a couple of shots."
Police were investigating the type of weapon and to whom it was registered.
Nellis was temporarily shut down near Bonanza Road, police said, and surrounding businesses were evacuated.
Metro tweeted about 3:45 p.m. that the shooter was in custody. All of the closed roads reopened.
Ocampo-Gomez said police could not see inside the bus.
Real-time camera feeds won't be provided to law enforcement officials until the end of the year, said Carl Scarbrough, the director of technical equipment and transit amenities for the Regional Transportation Commission.
Three Clark County School District schools were temporarily placed on "hard lockdown" as the situation unfolded, preventing students and staff from moving around the building, Clark County School District spokesman David Roddy said. Schools went into the lockdown about 1:30 p.m.
Eldorado High School, Robison Middle School and Stanford Elementary School were all placed on lockdown at police's behest, Roddy said. Officials from two charter schools, Equipo Academy and Mater Academy, confirmed they were on lockdown, per police orders. Kids First Neighborhood Childcare also confirmed it was on lockdown.
The Clark County schools were later moved into a soft lockdown, the district said. This meant students and faculty could move around on campus but couldn't leave.
Lisa, a parent at Stanford Elementary School, 5350 E. Harris Ave., said she was behind the bus as the man opened fire. Lisa, who declined to provide her surname, said she has two children at the school and mistook the noise for a car crash.
"No, I didn't hear shots," she recalled thinking.
She later discovered she had heard the gunshots when she checked local news media.
"I'm OK with that," she said. "I'd rather be driving away from it than being stuck in it."
Robison Middle School, at 825 Marion Drive, was on lockdown until just after 3:30 p.m., when the school canceled its "controlled release" of students and allowed them to exit freely. Family members waited more than two hours in some cases for children's names to be called so release waivers could be signed.
Some relatives weren't pleased with the school's response to the shooting less than a mile away.
Amanda Bridges, 33, said she wasn't scared to learn of the lockdown — she looked up news reports on the situation as soon as her 13-year-old daughter, McKenna Mozzoni, sent her a text. But she wanted to leave the school parking lot after about an hour and a half of waiting.
"It's absolutely ridiculous," Bridges said. "They need to figure it out and have a more organized situation."
A parent named Scott sat in a sedan outside of Eldorado High School, 1139 N. Linn Lane, one of many waiting for the lockdown to end and children to be released from school. Scott also declined to provide his last name.
"They got all these people waiting to get their kids out," he said. "I think if they just got the kids out, they'd all be home safe by now."
Moments later, he got a call telling him parents could go inside and retrieve their children.
Julissa Servin waited for her son under the shade of a tree outside the building's Sundevil Theater exit.
She felt satisfied with the school district's response to the nearby shooting and subsequent police response. She said she was confident the school district had the students' best interests in mind.
"I don't see any mass hysteria," she said.
Down the street from Eldorado High School, parents of Stanford Elementary School students formed lines at the front entrance and back gate. Parents walked into the school and returned holding their children's hands.
A mother of four walked with her children alongside the school fence and stopped to hug and comfort her crying daughter. The other three children joined their mother and embraced their upset sister, as fellow parents and children passed them and headed home.
Contact Blake Apgar at bapgar@reviewjournal.com or 702-387-5298. Follow @blakeapgar on Twitter. Contact Mike Shoro at mshoro@reviewjournal.com or 702-387-5290. Follow @mike_shoro on Twitter. Review-Journal writers Jessie Bekker, Meghin Delaney and Art Marroquin contributed to this report.