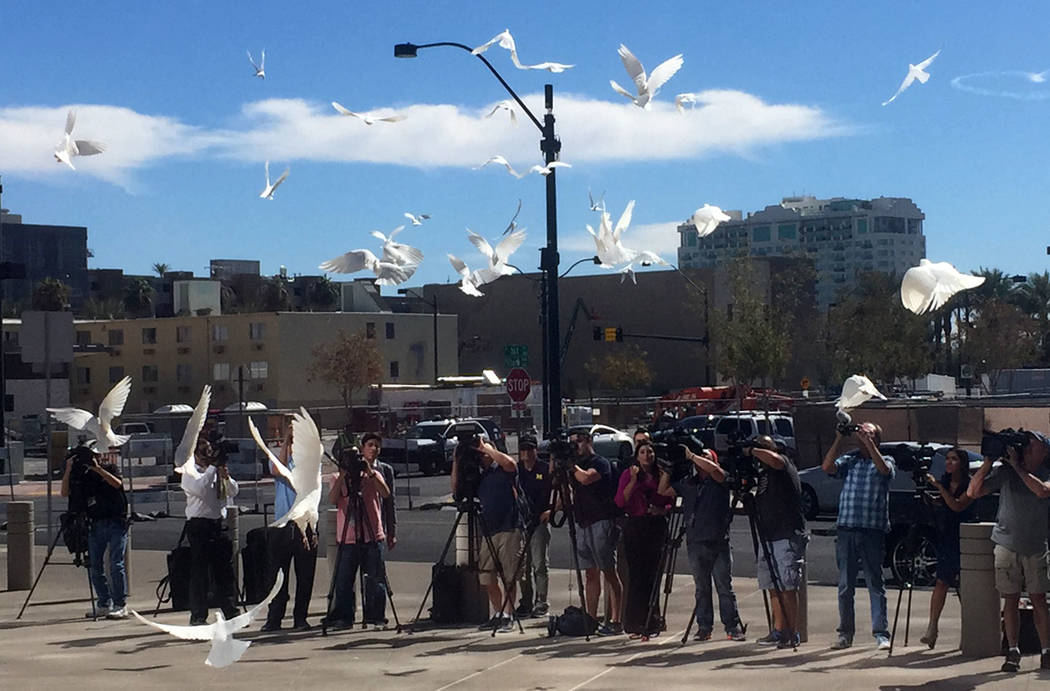 Vice President Mike Pence grieved with Las Vegas on Saturday, conveying a message of solidarity and solace to a city in mourning.
"Today we are all Vegas strong," Pence said, speaking in Las Vegas six days after the mass shooting at the Las Vegas Route 91 Harvest Music festival that claimed 58 lives and injured nearly 500 more.
Pence on Saturday recounted tales of heroism from Sunday night's mass shooting — concertgoers and first responders who helped others find safety despite being injured themselves. Pence was at Las Vegas City Hall, the end point of a Prayer Unity Walk on Saturday morning.
"In the wake of tragedy, we put on love," Pence said.
Pence's speech in Las Vegas follows President Donald Trump's visit Wednesday, when he met with first responders and spoke with injured people at University Medical Center.
Americans woke Monday morning to learn Las Vegas was the site of the worst mass shooting in recent American history, "a tragedy of unimaginable proportions," Pence said.
A gunman on the 32nd floor of the Mandalay Bay sprayed bullets into the crowd of 22,000 people during Jason Aldean's set at the three-day festival.
Las Vegas "came face to face with pure evil," and "we're united in our resolve to end such evil in our time," Pence said.
Pence's wife, Karen, gave the closing prayer, before Pence shook hands with police officers and spoke with crowd members, many of whom had been part of the walk.
"We will remember their selflessness and courage whenever we remember that dark hour," Pence said. "Heroes give us hope."
Beyond the neon lights
Sen. Dean Heller, R-Nev., said the shooting's aftermath has reshaped the way the rest of the world sees Las Vegas, from a city of entertainment to a community that will be there for one another when it's needed most.
"Beyond the neon lights and the attraction of Las Vegas, beats the heart of a true home, a true family," Heller said.
"On Oct. 1, a madman targeted our city. A madman brought evil and violence to our city. A madman tried to change our lives," Heller said, adding the shooter ultimately failed "because today we stand closer, stronger and more united."
Sen. Catherine Cortez-Masto said Las Vegas is still a small city in some ways — many people knew someone attending the Route 91 festival. Cortez-Masto said her niece was there.
"I'm angry, I'm sad," Cortez-Masto said. "But most of all I'm so proud of our city."
Participants in Saturday's unity walk trekked for miles to City Hall, from all directions. Those who walked carried posters depicting the city skyline and the words "Vegas Strong." Many wore shirts with the same message.
'Love in the streets'
The walk had been planned for Oct. 7 for months, and organizer the Rev. Kevin Chapman saw that as a sign. The plans grew this week, into a way for people to heal and grieve after Sunday's mass shooting.
"God knew," Chapman said.
Sara Szelap, who's lived in Las Vegas for 17 years, woke up devastated Monday morning. She drove down Charleston Boulevard to give blood and saw a line of people snaking down the street.
"In the wake of disaster, there's so much love in the streets," Szelap said.
Outside City Hall Saturday, 58 doves were released from their cages, each one representing a person who was killed Sunday night.
Warren Williams, 67, wore an orange shirt decorated with peace signs and carried a sign that said "Only Peace Proves Humanity's Genius." On the center of the Army veteran's shirt was a giant heart with a peace sign in the middle.
He played a song loud on the boombox, a soundtrack he made the day before. With music in the background, a voice listed the names and cities of each of the 58 victims.
"Prayer is medicine after the fact," he said. "How are we gonna prevent it?"
Las Vegas will continue to be a safe place to live and visit, emphasized Las Vegas Mayor Carolyn Goodman.
Goodman called the shooter "a horrific, senseless animal," and said she "will never mention that name."
"We will not be defined by hate. Violence. We will not be defined by anger," Goodman said. "And we will not be defined by fear."
Contact Jamie Munks at jmunks@reviewjournal.com or 702-383-0354. Follow @JamieMunksRJ on Twitter. Review-Journal writer Briana Erickson contributed to this report.