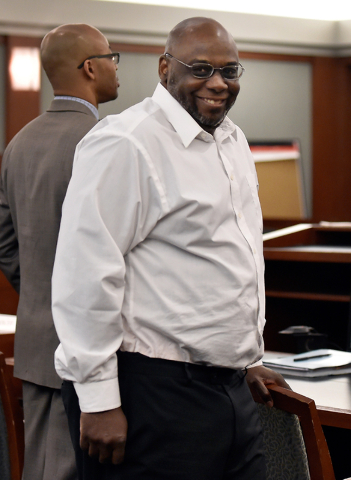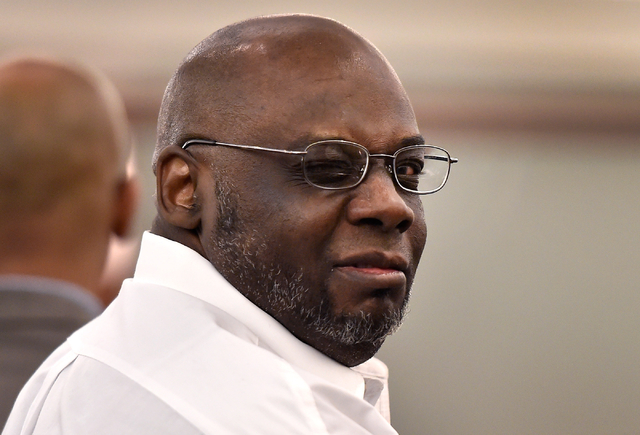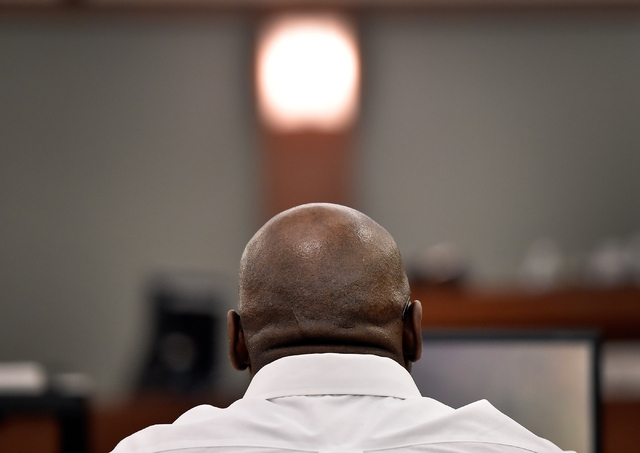 Moments after jurors convicted a 47-year-old man of first-degree murder in his third trial on Tuesday, a judge indicated that the case would have to be presented to yet another jury.
Billy Ray James, 47, was found guilty of killing his 60-year-old godfather, Willie Henderson.
But after the verdict was read, a prosecutor and defense lawyers met with jurors and discussed the case outside District Judge Valerie Adair's courtroom, and the jurors indicated that they had reviewed evidence that they were not supposed to have seen.
The lawyers rushed to Adair's chambers, and she set a hearing for 10 a.m. Wednesday, when she is expected to declare a mistrial, according to defense lawyer Jonathan MacArthur.
The jury of eight women and four men had also convicted James of possession of a firearm by an ex-felon, but acquitted him on one count of burglary that stemmed from the Jan. 22, 2010, North Las Vegas killing.
In November, a different jury was deadlocked 11 to 1 in favor of acquittal.
James was first convicted of first-degree murder in 2012, but that verdict was remanded after the Nevada Supreme Court determined that detectives questioned James after he asked for a lawyer and invoked his right to remain silent.
"This case demonstrates that the issue of the defendant's guilt is a close call," MacArthur said Tuesday. "There are certainly factors on both sides that would justify, in reasonable minds, either a possible conviction or an acquittal. And the results from the first trial, where the defendant was convicted, and the second trial, where a jury returned 11-1 not guilty, demonstrates how minor differences in the evidence presented have a major impact on the outcome."
James has consistently argued self-defense. At trial on Monday, he told jurors that Henderson pointed a gun at him during a quarrel. He testified that he tried to wrest the gun away, and it went off when the men fell into a recliner inside Henderson's home.
Prosecutors have argued the death was premeditated murder.
Henderson's ex-wife and other witnesses testified that he did not own the .25 caliber pistol that delivered the fatal shot.
Prosecutors said crime scene photos show no signs of a struggle, but security camera video shows James kicking in the home's back door and later leaving without seeking help for his godfather.
Henderson, who was legally blind and walked with a cane, was shot in the back of the head.
The Supreme Court said it remanded the case because James, in a motion to suppress damning statements from three interrogations over 36 hours, argued that his statements were involuntary and that detectives minimized the significance of Miranda warnings. The court noted that James was barefoot when taken into custody, had taken anti-psychotic medication, wasn't coherent and told police what he thought they wanted to hear so they would leave him alone.
Contact David Ferrara at dferrara@reviewjournal.com or 702-380-1039. Find @randompoker on Twitter.