New crosses for 58 Las Vegas shooting victims displayed at sign
Updated September 28, 2018 - 9:45 pm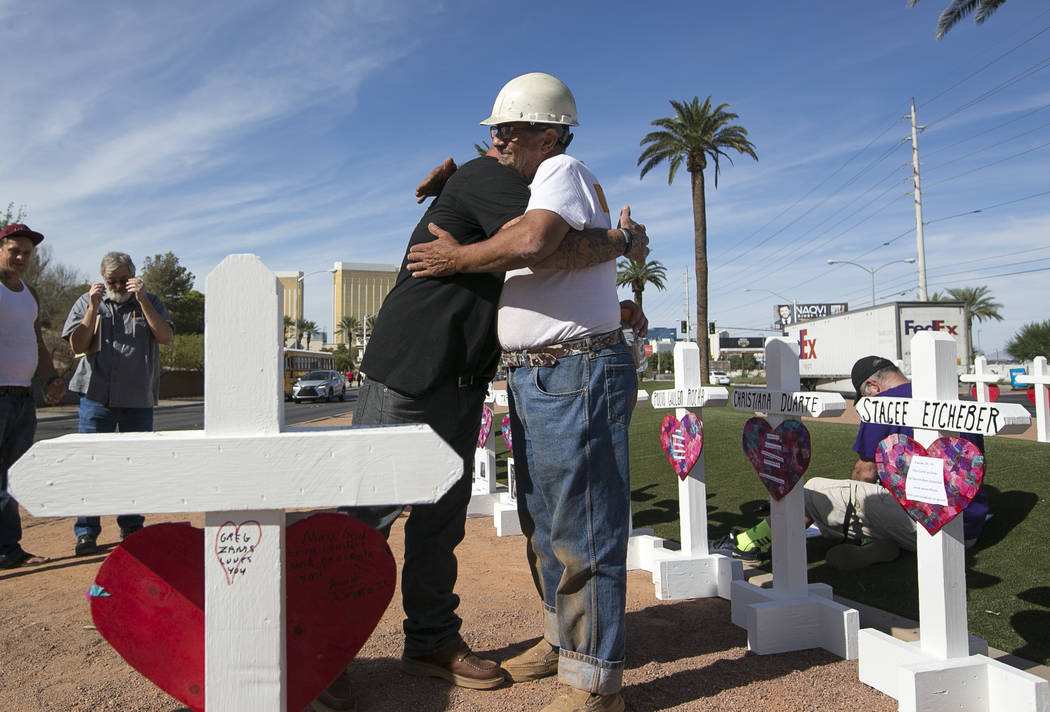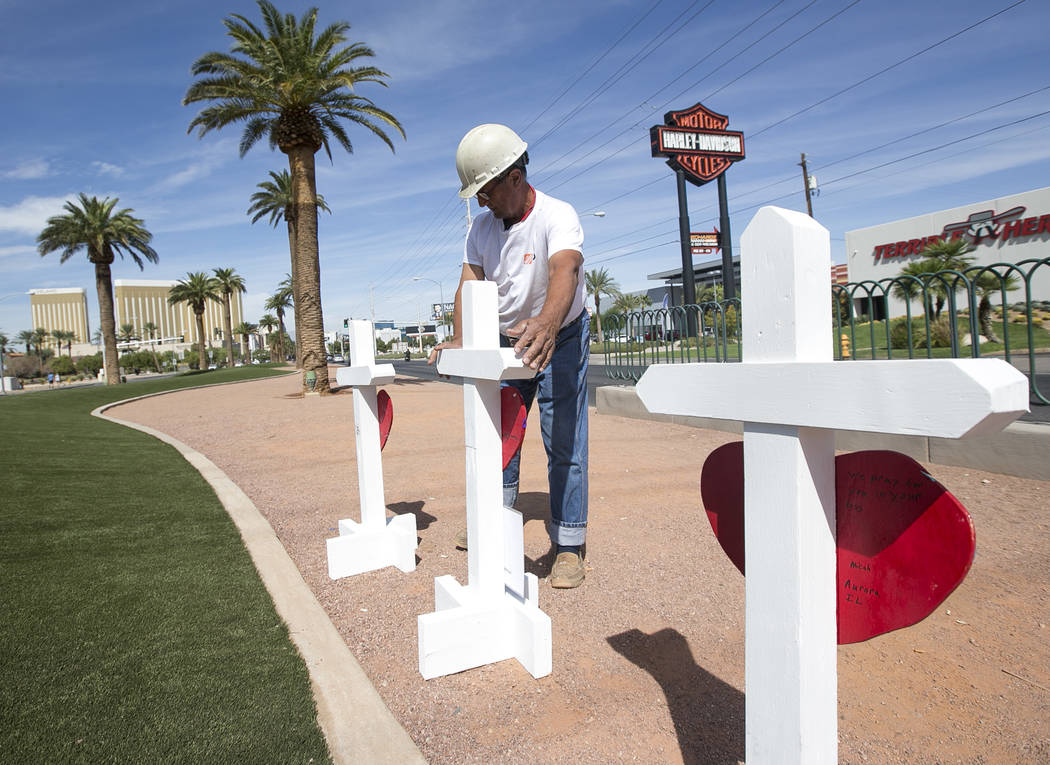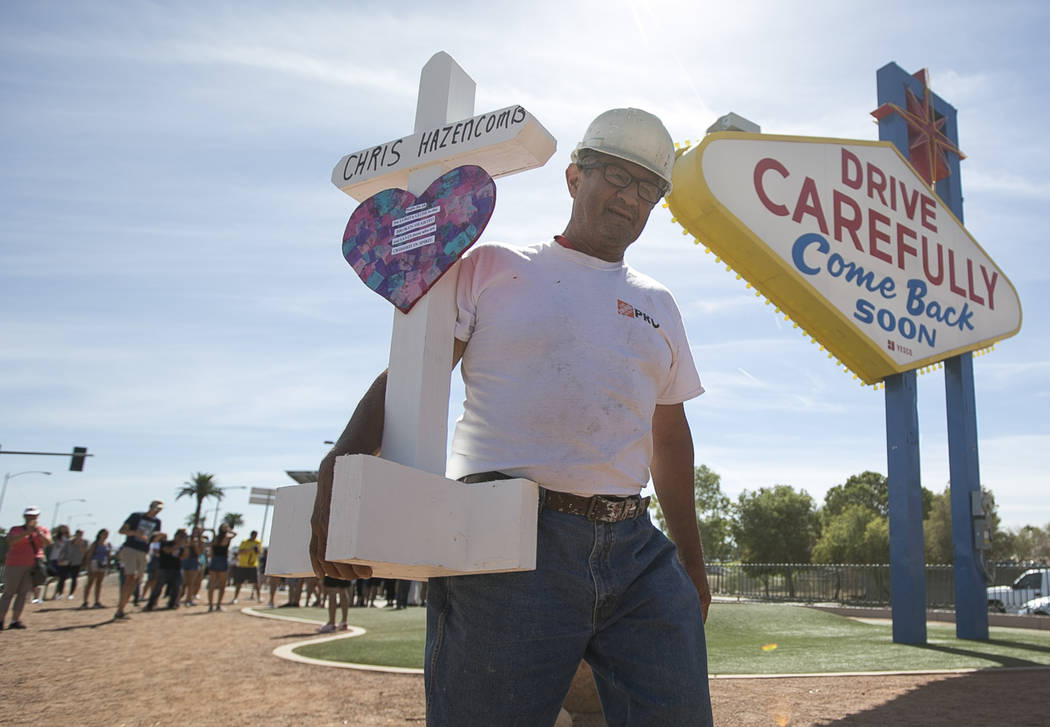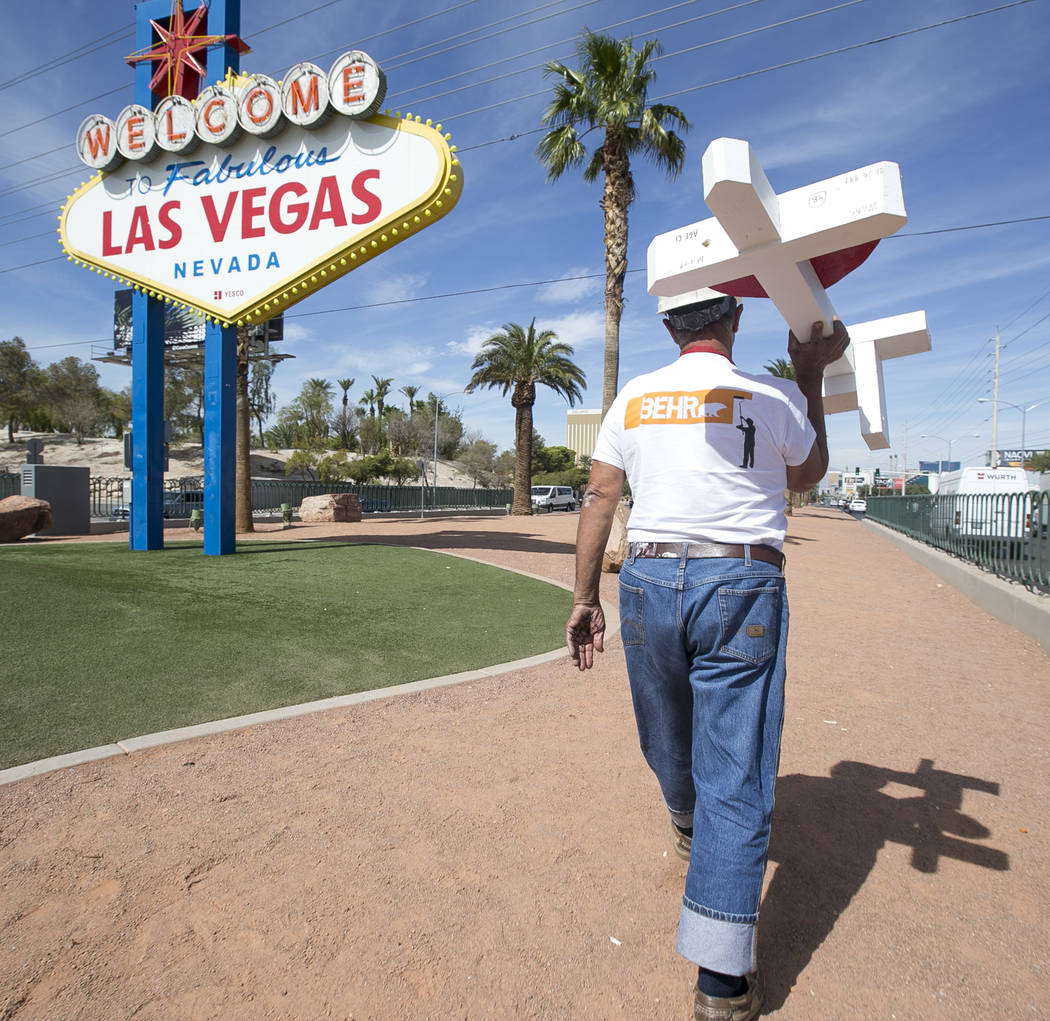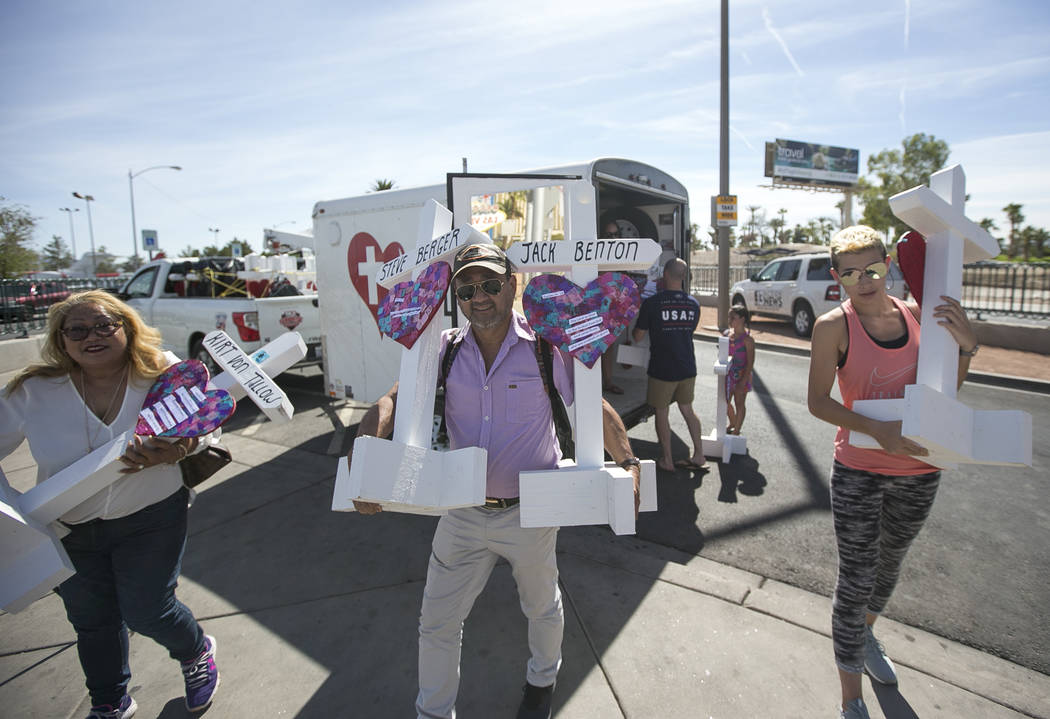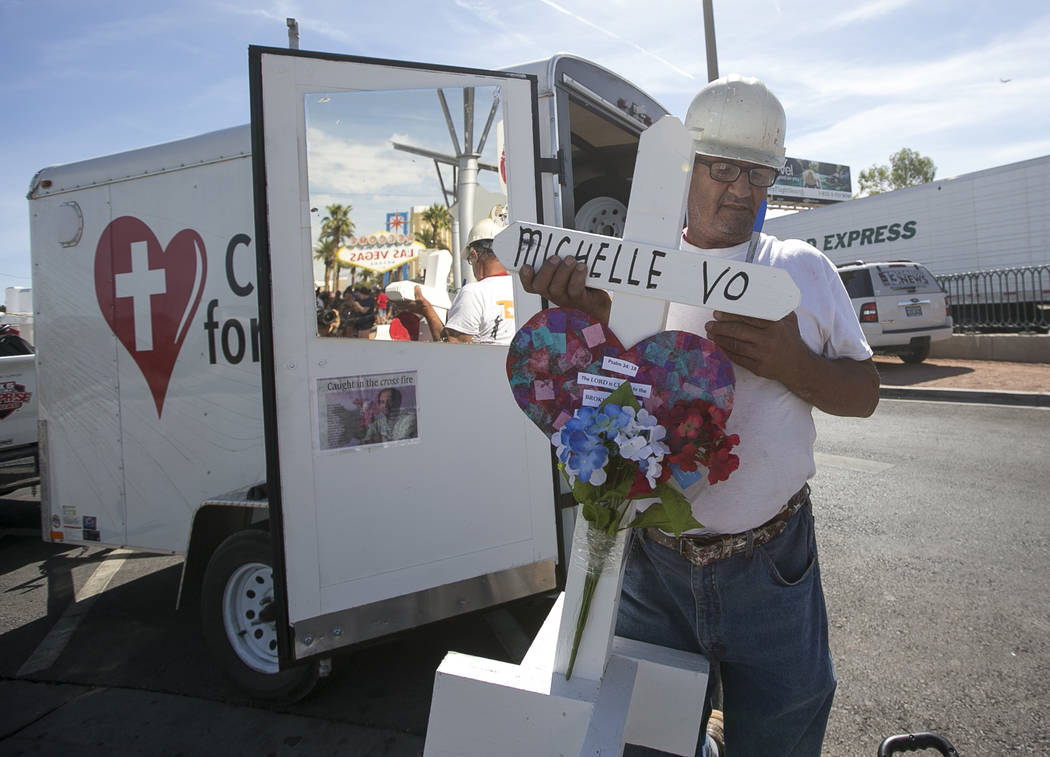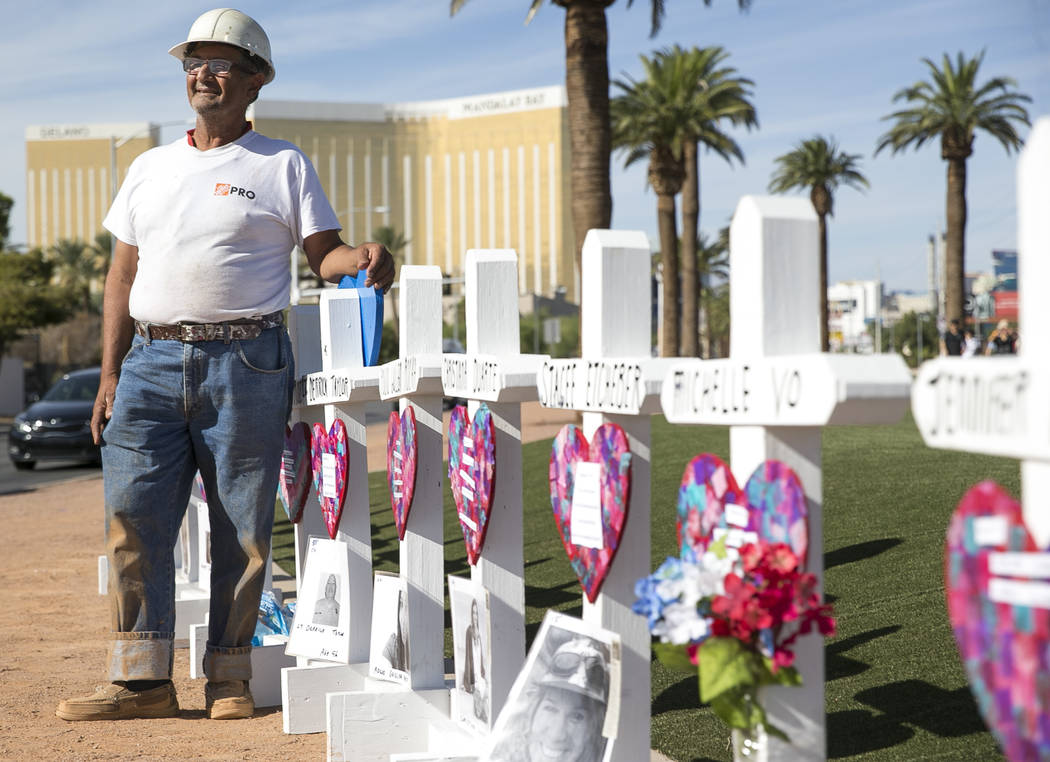 He drove for hours to get here, trailer in tow.
His haul was handmade: 58 wooden crosses painted white, one for each of the 58 concertgoers killed on the final night of the Route 91 Harvest festival.
On Friday, he arrived in Las Vegas, where one by one he displayed the newest set of "Crosses For Losses" at the Welcome to Fabulous Las Vegas sign. Just like he did last year.
"I've been talking to the families," Greg Zanis said Friday, sweating in the hot afternoon sun. "They've gone through birthdays without their loved one. They've gone through every holiday without their loved one. And the one they fear the most is the anniversary."
In the wake of the Oct. 1 attack, the first set of crosses Zanis displayed quickly became the centerpiece of a shrine at the popular landmark. Next to his creations, people left notes, candles, stuffed animals and other charms — a sign that someone had been there and someone cared.
About a month later, though, the crosses were removed and safely stored. They are now on display at the Clark County Government Center.
"The way Vegas treated me last year was the biggest honor of my life," the Aurora, Illinois, resident said, adding that in the more than 20 years he's been responding to scenes of mass violence with crosses, his creations had never been saved and displayed like that.
But this year, he said, the crosses are for the family members, like Craig Watson.
Watson lost his great-niece, Bailey Schweitzer, 20, in the attack. He stopped at the Las Vegas sign to honor her when he realized Zanis was setting up the crosses.
"I was hoping there would be something here," Watson, 70, said. "I didn't expect to see this."
As Zanis was about to staple a photo of Schweitzer to her cross, Watson walked up and thanked him for his work. The two hugged.
But the touching moment was followed up by a brief, tense discussion when Clark County spokesman Dan Kulin asked Zanis to move the crosses.
Kulin was at the Las Vegas sign to help install temporary warnings reminding people not to leave burning candles on the turf. The warnings were being placed in preparation for the upcoming anniversary.
When he spotted Zanis, though, Kulin told him his display was unsafe.
In explanation, Kulin pointed to the nearby barrier wall, which partially surrounds the famous landmark but does not extend to the spot where Zanis had placed the crosses. The lack of a barrier there means visiting pedestrians would not be protected from nearby cars.
Kulin also said that when the crosses were set up last year, large crowds gathered, which meant jaywalkers often jogged across the roadway, spilling out from the shrine.
"I will be talking to him again about our concerns," Kulin said Friday
Kulin said later Friday that the crosses will be allowed to stay.
Zanis said the conversation left him feeling angry and disappointed.
"They want me to move them, move them like Vegas didn't happen," Zanis said.
He relaxed when Michael Warino soon approached him and thanked him for his work, too.
Warino, 41, lost his sister, Heather Alvarado, 35, in the attack, he told Zanis. They were close, "like twins."
"These shouldn't be here," Warino said. "These should be the people standing here."
But the reminder that his sister lived, he said, felt good. And when Warino asked Zanis when would be a good time to collect his sister's cross, Zanis said he could take it home now if he'd like.
Overwhelmed, Warino carried it back to his ride.
"This is why I'm doing this," Zanis said. "For them."
Contact Rachel Crosby at rcrosby@reviewjournal.com or 702-477-3801. Follow @rachelacrosby.
Collect your cross
Families who would like to collect their relative's cross can contact Greg Zanis at greg@zaniscrossesforlosses.org. Zanis will be at the Welcome to Fabulous Las Vegas sign on Tuesday afternoon if relatives would like to visit the makeshift memorial and pick them up.