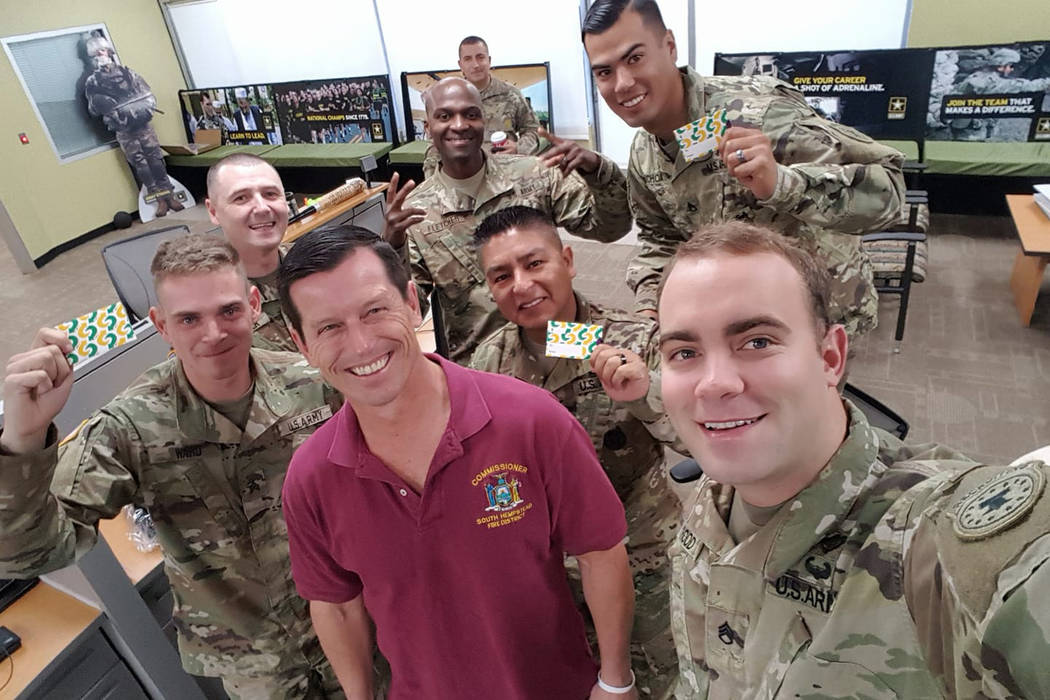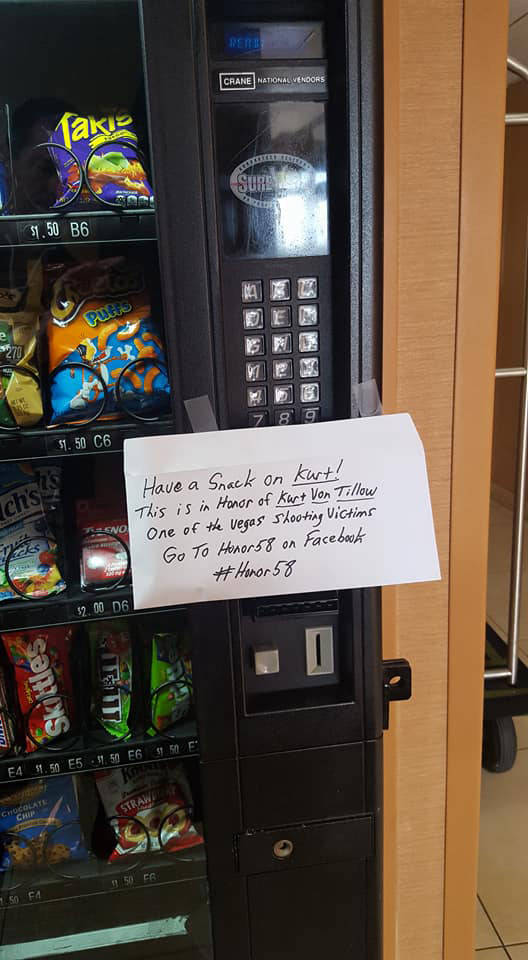 Tommy Maher is spending Thanksgiving on the road.
The Long Island, New York resident has been traveling to the home states of the 58 victims of the Las Vegas shooting — performing an act of kindness in remembrance of each one along the way. Driving a white van that says "Pay it forward" on both sides, Maher has even dipped into Canada.
The volunteer firefighter lost a friend in the 9/11 attacks, and after the Las Vegas shooting, he wanted to do something beyond a GoFundMe page.
"I said, 'You know what, the atmosphere right now in this country is just a little crappy,'" Maher said while traveling this week in Wyoming on his way to Iowa to remember another victim. "So I wanted to try to maybe bring a little light to the darkness and get out there, and hopefully we could inspire each other one act of kindness at a time."
Maher's road trip is an extreme version of a movement that blossomed after the shooting, in which individuals perform one act of kindness for each of the 58 killed and even some of the injured.
Some are survivors who dedicate each act to one victim, sharing a piece of paper that lets the lucky recipient know that the kindness is in remembrance of a life. Others are like Maher, people who did not attend the Route 91 Harvest festival but still want to make an impact.
At least two Facebook groups have formed to share the kindness — Honor58, where Maher posts his cross-country updates, and #58randomactsofkindness.
The acts are small, thoughtful gestures, such as giving gift cards or paying for the food of the next person in line. At a stop in Pennsylvania, Maher left change on laundry machines at a laundromat in honor of Bill Wolfe, Jr.
The kindness has even reached the Azusa Police Department in California, where Lt. Mike Bertelsen walked into his usual Starbucks last week. An anonymous survivor left a gift card with the baristas, telling them to give the card to a nice person.
The act was in remembrance of Jordyn Rivera, a La Verne, California, resident.
"He had no idea who she was," said officer Mike Bires, who made a video to remember Rivera and the kind act. "She wanted to remain anonymous."
Shayna Kneler, a California resident who was at the concert, has completed about four acts so far. She wrote a check to sponsor one child in her daughter's softball league — one in which Robert Patterson, the husband of victim Lisa Patterson, has been active.
"There's so much bad stuff happening in the world and I feel like we just go on to the next tragedy," Kneler said. "You just don't want these people to be forgotten."
Las Vegas resident Shawna Bartlett, who was at the festival, gave a pair of cowboy boots to Kayla Mills, a survivor who lost hers that night.
Mills said she was shot in the back with a bullet that exited through her hip. In the midst of the chaos, she remembers looking down and seeing her legs covered in blood — drenching the cowboy boots she was wearing.
Mills, too, plans to pass along the kindness.
"Among all the survivors, I think it's just really important to us that we spread kindness throughout the world," she said. "Because there's so many horrible things out there, that if you just do one nice thing, it'll make somebody's day."
Contact Amelia Pak-Harvey at apak-harvey@reviewjournal.com or 702-383-4630. Follow @AmeliaPakHarvey on Twitter.