Nicky is not the first Las Vegas Metro K-9 to be killed in the line of duty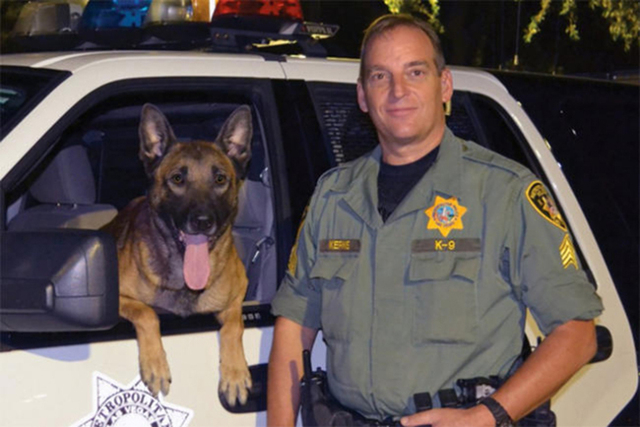 Nicky, the police dog killed in the line of duty Thursday just weeks after returning to active duty following a machete attack, will likely receive a funeral next week, Las Vegas police said.
Nicky is not the first Metro K-9 to be killed in the line of duty.
In 2002, Metro K-9 Rudi was the first dog in the police department to die in service. Like Nicky, Rudi was a Belgian Malinois. Rudi, who was 2-1/2, was seriously injured in a car crash while on patrol and had to be euthanized. At the time, his handler was Metro police officer John Jenkins.
Buddy, a German shepherd also handled by Jenkins, was the second Metro K-9 to die in service. In 2003, the 18- to-19-month-old dog was fatally shot when a carjacker stole Jenkins' sport utility vehicle with the muzzled dog in the front seat. The carjacker ended up killing himself.
Buddy is considered to have been killed on duty, but he had yet to undergo 16 weeks of Metro police K-9 training.
Marco is the third known Metro dog killed on duty. A patrol dog like Rudi, Buddy and Nicky, he met his fate in a different way. He was shot by his handler after the 2-year-old Belgian Malinois became confused and bit another officer during a foot chase in 2012.
Nicky, believed to be the fourth Metro dog killed on duty, had returned to work March 8 after being wounded with a machete while trying to apprehend a suspect involved in a police standoff Feb. 11.
The man with the machete, Tolavius Timmons, was charged with resisting an officer with a firearm, torturing, injuring or attempting to kill a police animal and torturing or maiming an animal to terrorize or threaten it.
Nicky was rushed to Las Vegas Veterinary Specialty Center, where the 8-year-old dog underwent two hours of surgery. He received numerous stitches along his face and head and spent the following few weeks recovering with his partner, Sgt. Eric Kerns.
Less than a month after returning to active duty, Nicky was fatally struck by a bullet during a police shootout with James Craig Simpson, 31. According to the police arrest report, Simpson had set his gun down on the street, but picked it back up when Nicky was sent after him. Simpson then shot the dog, the report said.
Simpson was then shot by four officers, including Kerns. Simpson is in custody and charged with two counts of murder, one charge of killing the animal of another, and one charge of mistreating a police animal, court documents show.
Nicky's funeral will likely take place sometime next week at the Craig Road Pet Cemetery, said a cemetery worker who identified herself only as Lisa.
Contact Christian Bertolaccini at cbertolaccini@reviewjournal.com and 702-383-0381. Find him on Twitter: @bertolaccinic