Officers' accounts detail heroic acts during Las Vegas shooting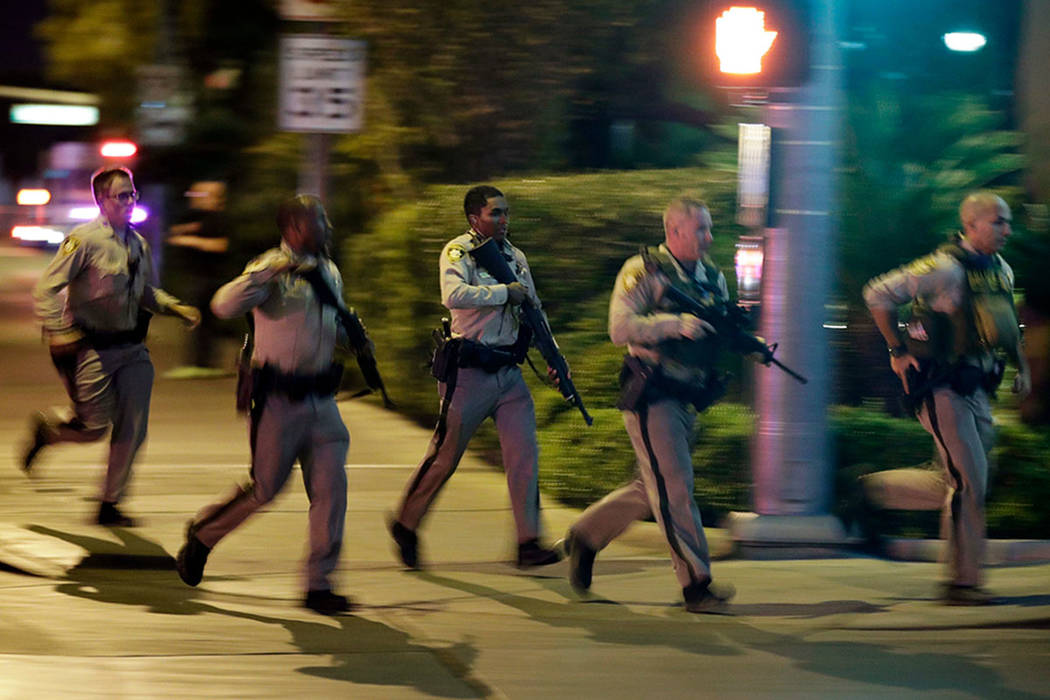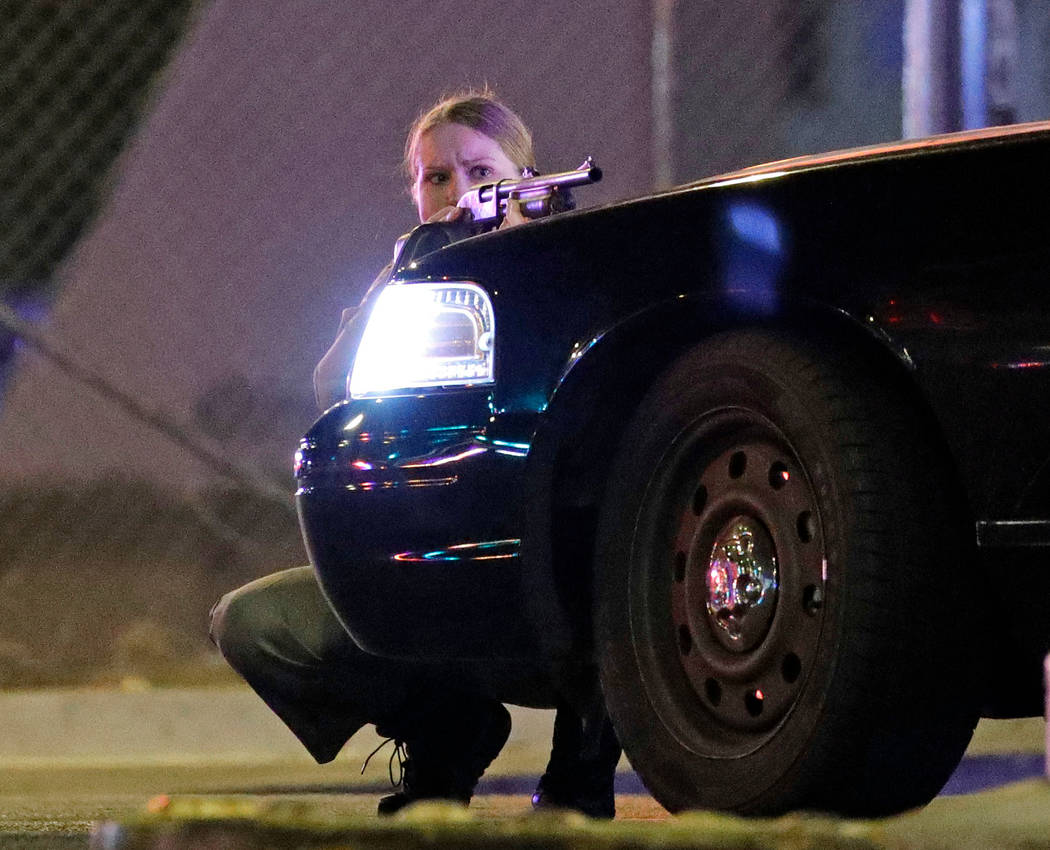 Officer Jenn Smith was off-duty at the Route 91 Harvest festival with another police officer, her brother and his girlfriend. The group was taking in Jason Aldean's set when Smith heard what she thought was a malfunction with the sound system.
Concertgoers around her were confused, and a small group started running, but she stood still. She realized it was gunfire during the second volley.
"The sounds of the rounds just continually firing is something I'll never forget. That's when the chaos began," Smith wrote in her officer's report, one of 500 reports the Metropolitan Police Department released Wednesday under court order.
The first-person accounts detail for the first time the heroic acts many Metro officers, like Smith, performed while responding to the Oct. 1 mass shooting that left 58 dead and hundreds more injured.
After the shooting began, Smith said she and the other officer prioritized getting her brother and his girlfriend to safety first. It was dark, and Smith was struggling to see. Some people were screaming and running. Others stood frozen.
"I remember yelling at these people that weren't moving that this was gunfire and that they needed to move and move now because they were sitting ducks," Smith wrote.
As she ran, Smith saw an older woman lying on the ground. The woman was the first victim she came across, and that's when the reality hit her.
"People were running around her, almost trampling her," Smith wrote. She struggled to help her up. "The fear in her voice made me realize that I needed to be level-headed and be a crutch for the people around me that were in shock and needed assistance getting to safety."
Smith was separated from her group when she encountered a man with a head wound and another with an arm injury.
"I sprawled myself over both victims and did my best to hold pressure on their injuries until we met with an ambulance," Smith wrote.
Later, she rode to University Medical Center's trauma center in an ambulance. On the way, a man in the back was afraid he was going to die, so she tried to keep him calm.
The hospital was "pure chaos," Smith wrote. There was blood, equipment and clothing everywhere.
"It seemed like every second a new person was coming in," she wrote.
She moved from gurney to gurney, rendering aid. Soon she had to change into clean scrubs — her tank top, shorts and body were bloody.
Smith continued to help victims until 3:30 a.m.
"At this point, I was physically and mentally exhausted," she wrote.
'Kill the lights'
Before the gunfire started, officer Meghan Kraut's job at the festival was to be seen by concertgoers in case they needed police help.
Now, guns drawn, Kraut realized she and her partner needed darkness.
"Kill the lights so we can get closer," she yelled to officer Andrew Krnjeu.
The officers unplugged lights and tipped over anything illuminating or silhouetting them so the shooter or shooters couldn't see anyone on the festival grounds.
After learning the shooting was coming from Mandalay Bay, Kraut and Krnjeu took cover behind a red bus with about 100 other people.
There they blocked bystanders from venturing into potential danger, reminding them to stay low and stay calm. They waited together until 3 a.m., when they were certain the scene had been secured.
'It was surreal'
Officer Garyn McAnally was off-duty and unarmed at the festival when the gunfire started.
As the crowds around him began to flee, McAnally stayed to help the wounded, his officer report shows.
He and another off-duty officer lifted a man with a leg wound into a wheelchair. Then he emptied a wheeled garbage can and used it to move another man whose right foot had been shot so badly it was nearly severed from his leg.
Soon after, McAnally loaded another woman onto a makeshift stretcher, made from a metal barrier. He brought her into a bar at the venue for shelter.
"It was surreal," he described. "There were people lying on the ground injured and bleeding."
Despite the horrific scene, McAnally stayed to help until almost 6 a.m.
A desperate search
After using his own shirt and a belt to put pressure on someone's gunshot wound, Detective Nicholas Gulli Jr. joined about 10 other concertgoers to push open a fence that blocked their freedom.
As everyone else escaped, Gulli stopped. He couldn't see his girlfriend.
"I ran back into the event," he wrote in his report.
Fifteen yards into the Route 91 concert grounds, Gulli's girlfriend lay unconscious atop two other women who'd been knocked out. Blood covered her legs and lower abdomen.
Gulli and an off-duty firefighter carried her two blocks to an ambulance. She was treated and released from Sunrise Hospital and Medical Center at about 6 a.m.
Putting his truck to work
At the Shrine of the Most Holy Redeemer at Reno Avenue and Giles Street, just northeast of the concert venue, four people lay on the ground, shot.
Sgt. Chris Kennedy couldn't get medical attention to the church.
"We had no way of foreseeing the magnitude of the incident," he wrote in his report. "Based on the initial radio traffic, I assumed that there were several people shot but could have never envisioned hundreds of injured."
Kennedy decided to load the worst of the injured into his Chevrolet Silverado work truck.
In the days after the shooting, Kennedy found the people he drove to University Medical Center on Facebook.
"They expressed tremendous gratitude," he said. "They are both going to recover physically."
Off-duty, but not for long
Officer Melodie DePierro valeted her car at Mandalay Bay on the final night of Route 91 and then headed into the festival with her best friend and her best friend's husband.
The officer, off-duty at the time, wouldn't see her car again for two days.
During the second volley of gunfire, she saw a woman fall to the ground, shot in the head. Just after that, her male friend was shot.
DePierro got him and her best friend to safety before the group was separated. Later she helped secure Sunrise Hospital — where her male friend was treated — until about 1:30 a.m.
Her supervisor then told her she had to come into work at 6 a.m. to help relieve others.
After living through the mass shooting, "I reported to work as instructed."
Assisting survivors
From behind the cover of a traffic light pole, Detective Jon Carpenter recognized the sound of the bullets that flew overhead.
As other officers pulled up to the scene and hopped out of their cars, he yelled at them to take cover.
Rounds littered their vehicles, one striking officer Brady Cook in the shoulder. He was taken to a hospital.
Carpenter stayed behind, assisting other survivors — two of whom were too afraid to crawl out from under his patrol car, where they were hiding.
"I convinced them to move to the back seat of my vehicle where they stayed huddled for several hours," Carpenter wrote.
Lost child
Officer Christopher Cunningham was off-duty at the festival with another officer and a group of friends.
Like so many others, they thought the gunfire was fireworks at first.
"We covered and directed people in our group to the ground," he wrote. "After the rounds stopped I helped direct people to the nearest exit."
In the chaos, a friend of his found a child, alone. Cunningham got the child to safety and posted a photo of him to social media to try to find his family.
Later Cunningham brought the child to Sunrise Hospital, where the boy was reunited with his grandfather.
Collecting accounts
After the shooting ended, officer Beth Carroll arrived at UNLV, where she was tasked with getting witness statements from the many people who had escaped the concert venue and had been evacuated via buses to the Thomas & Mack Center.
"With more and more people coming in bus loads, approximately 1200-1400 people, I realized that there was a need for an Incident Commander to facilitate the needs of the evacuees, as well as the investigators," Carroll wrote.
Without hesitation, she stepped into that role. She gathered food, water and other supplies "so that the evacuees could be a little more comfortable."
Some of them were still bloody. Many were in shock.
Carroll also arranged for several phone chargers to be passed out to survivors, so they could contact their worried and lost loved ones.
Contact Jamie Munks at jmunks@reviewjournal.com or 702-383-0354. Follow @Journo_Jamie_ on Twitter. Contact Wade Tyler Millward at wmillward@reviewjournal.com or 702-383-4602. Follow @wademillward on Twitter. Contact Rachel Crosby at rcrosby@reviewjournal.comor 702-387-5290. Follow @rachelacrosby on Twitter. Review-Jorunal staff writer Michael Scott Davidson contributed to this report.
Related
Las Vegas police officer describes how 'world crashed down' on Oct. 1
Woman's good deed after Las Vegas shooting nearly went bad
Reports says Las Vegas gunman's girlfriend often stayed at Cosmopolitan