Shooting survivors visit Las Vegas Village on 1-year anniversary
October 1, 2018 - 1:21 pm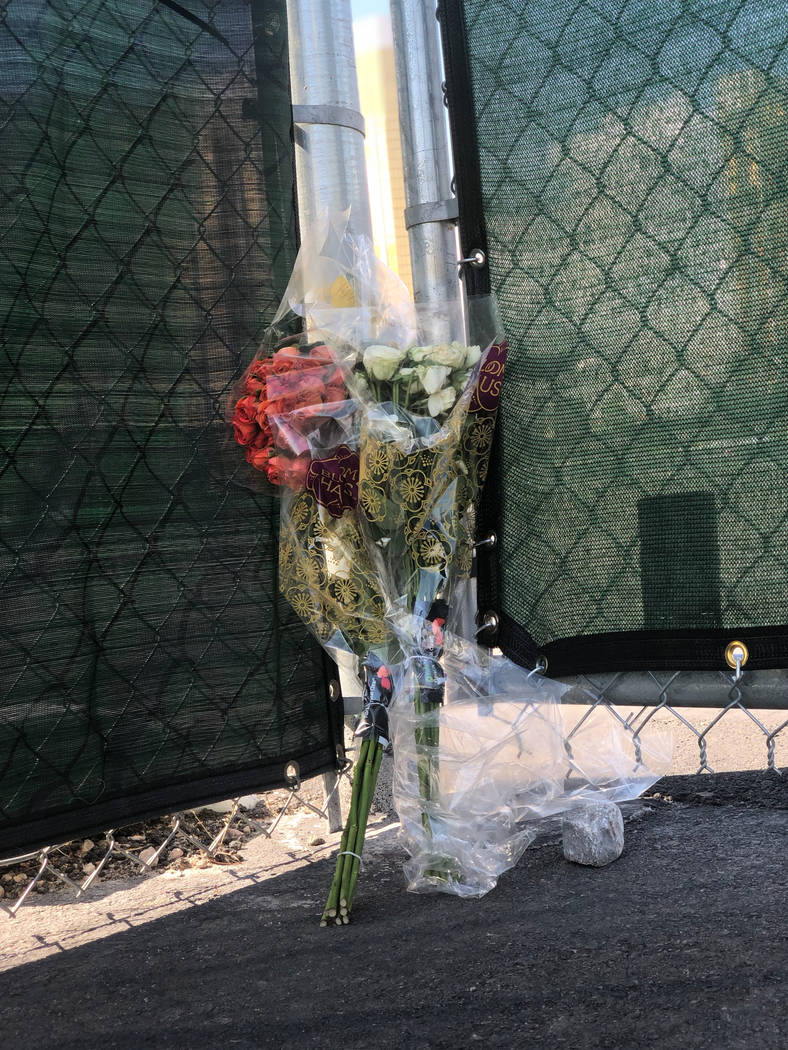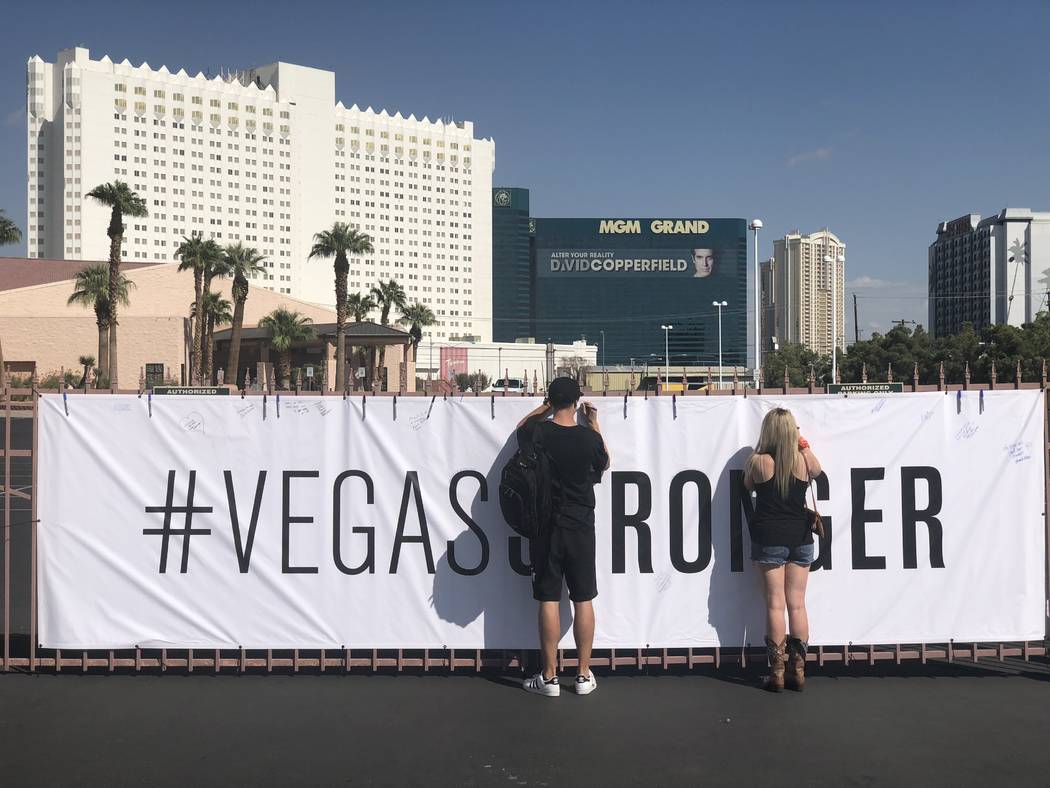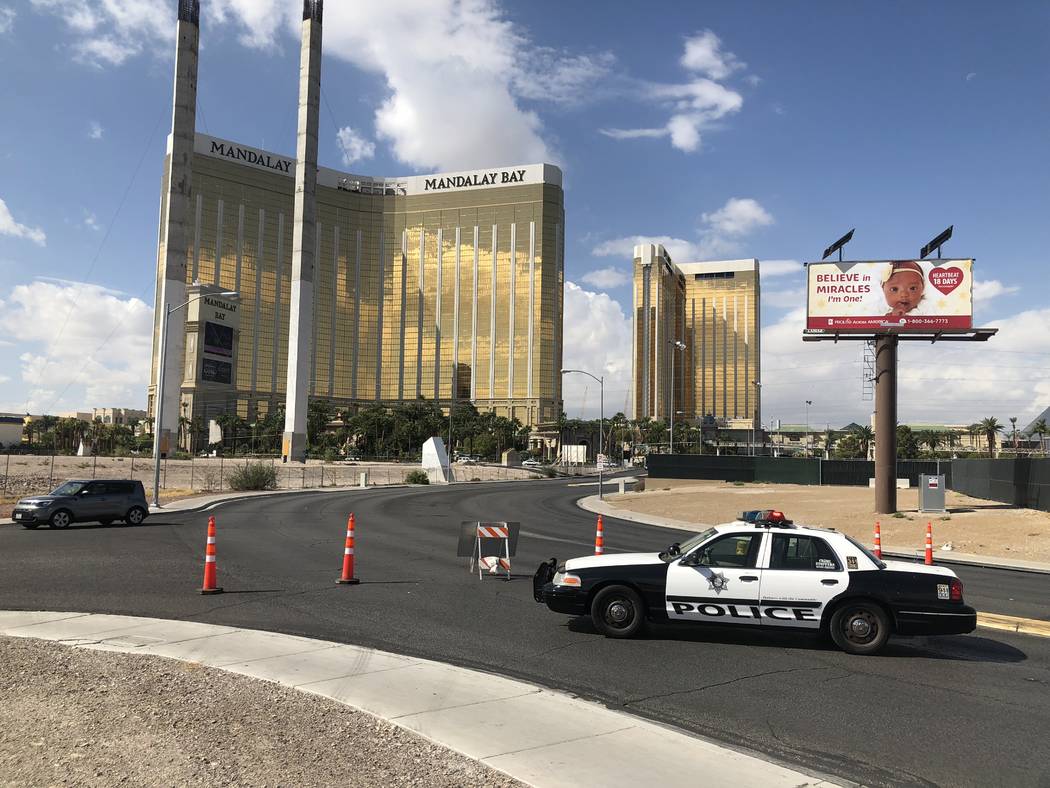 One year after the Oct. 1 shooting at the Las Vegas Village festival grounds, entrance and exit gates are closed to the public.
Several police cars blocked Giles Road Monday morning behind the festival grounds.
Some passersby stopped to peek over the grounds fences, and to leave flowers.
Local shooting survivors Jackie and Robert Baren stood outside the East entrance/exit gate of the festival grounds remembering their escape from the gunfire.
"We both looked up and we didn't see any fireworks," Robert said. "We knew we had to run."
They said they felt the need to be at the site of the tragedy on the anniversary.
"We went to the Healing Garden this morning to pay our respects and then we just felt like we needed to be here," Jackie said, adding that she would have liked the festival grounds to become the site of the memorial instead of the garden in downtown.
Chris Lisle, visiting from Nashville, Tennessee, was not at the shooting but said he designed Jason Aldean's show, as a concert production designer.
"I wasn't physically here, but all my friends were," Lisle said. "It hurt. It hurt bad. It still hurts, a lot."
Lisle left 58 roses along the South gate of the festival grounds in memory of the 58 who were murdered.
At 8:30 p.m., four sisters approached the fence and posed for photos in front of a quilt one of them had made.
"It's part of the healing process for me," Carol Tomlinson explained. "I'm a quilter. It's what I do."
The group explained that they had attended the festival with another sister, who wasn't able to join them due to health reasons, but was represented on the quilt.
"We are five sisters strong," explained her sister Patsy, showing off a tattoo all five of them got to commemorate the tragedy.
"We needed to come back to make sure that we're OK with what we left here. Not just us, but the 58 that we lost."
On Monday night, hundreds joined hands around the concert site to form a human chain.
Both ends of the human chain around Route 91 site connected shortly after 10 pm pic.twitter.com/0LSJFzEDW8

— Al Mancini (@AlManciniVegas) October 2, 2018
Their goal was to be in place by 9:30 p.m.. But as 10 p.m. approached, the crowd hadn't even fully covered the east side of the perimeter and there was no sign of reinforcements. Organizers didn't give up, however, prodding the crowd to spread out, quickly. And around 10:15, two sides of the chain came together on the south side.
As word spread they'd accomplished their goal, most of the audience stood silently, holding hands. Some looked up to Mandalay Bay. Others hugged.
Eventually, they drifted off in separate directions.
Contact Todd Prince at 702-383-0386 or tprince@reviewjournal.com. Follow @toddprincetv on Twitter.
Al Mancini contributed to this report. Contact Al Mancini at amancini @reviewjournal.com. Follow @AlManciniVegas on Twitter.#1October anniversary