Woman wounded in mass shooting makes healing return to Las Vegas
January 5, 2018 - 5:17 pm
Updated January 5, 2018 - 7:49 pm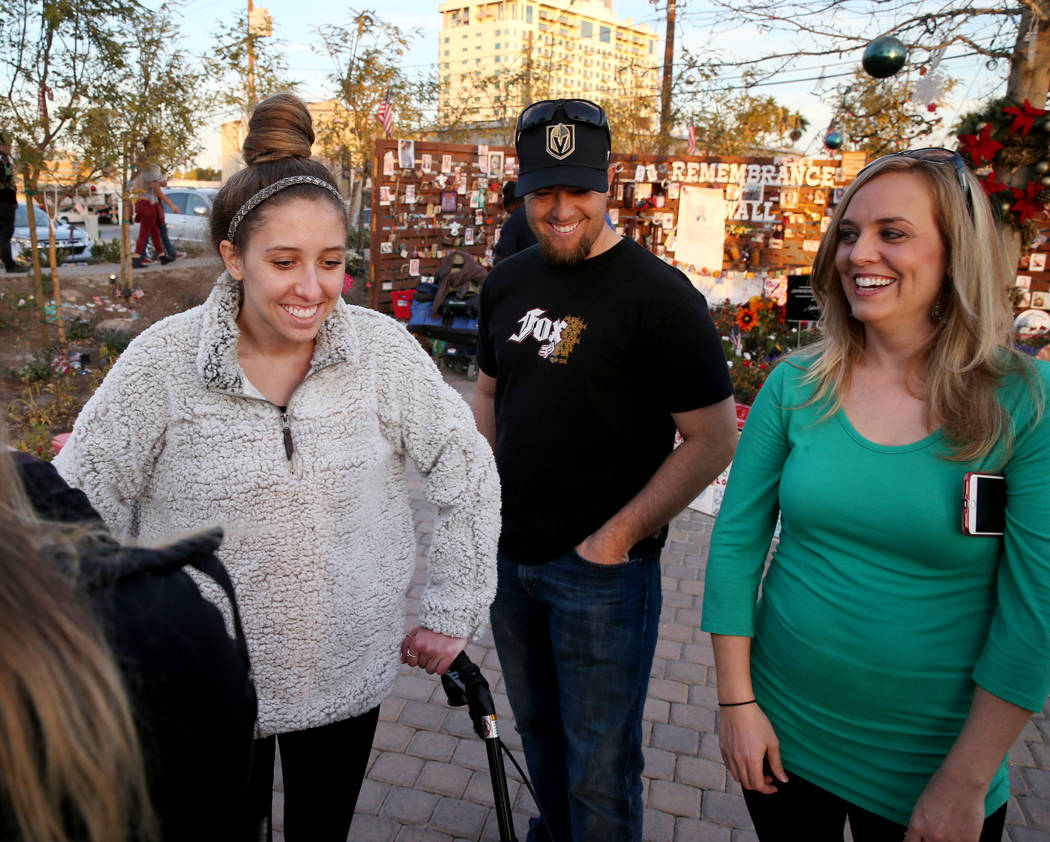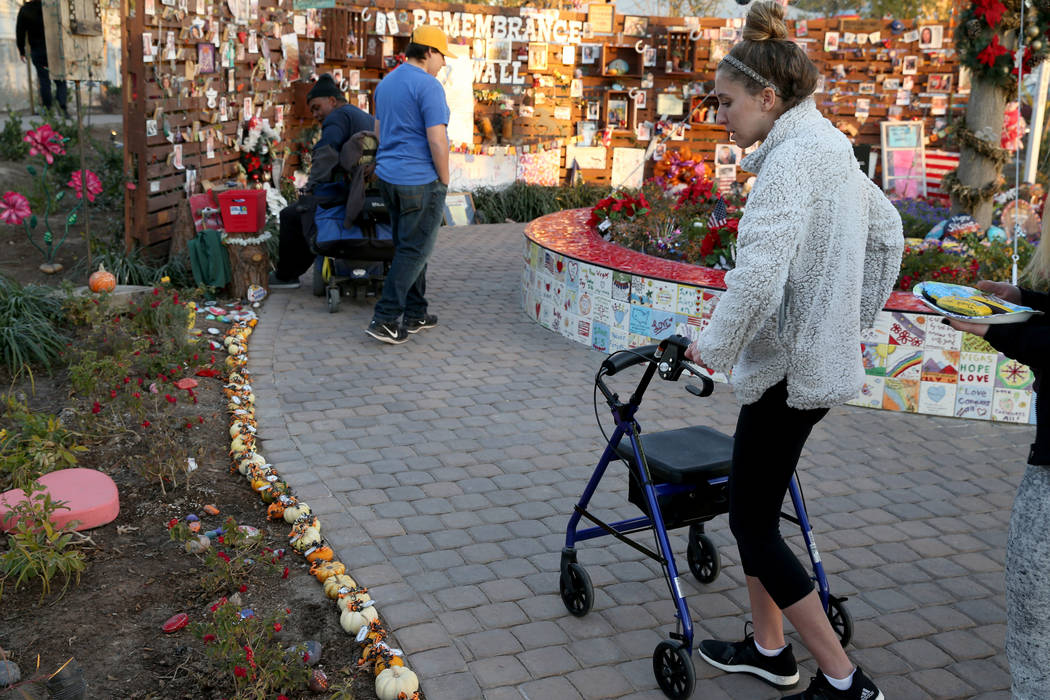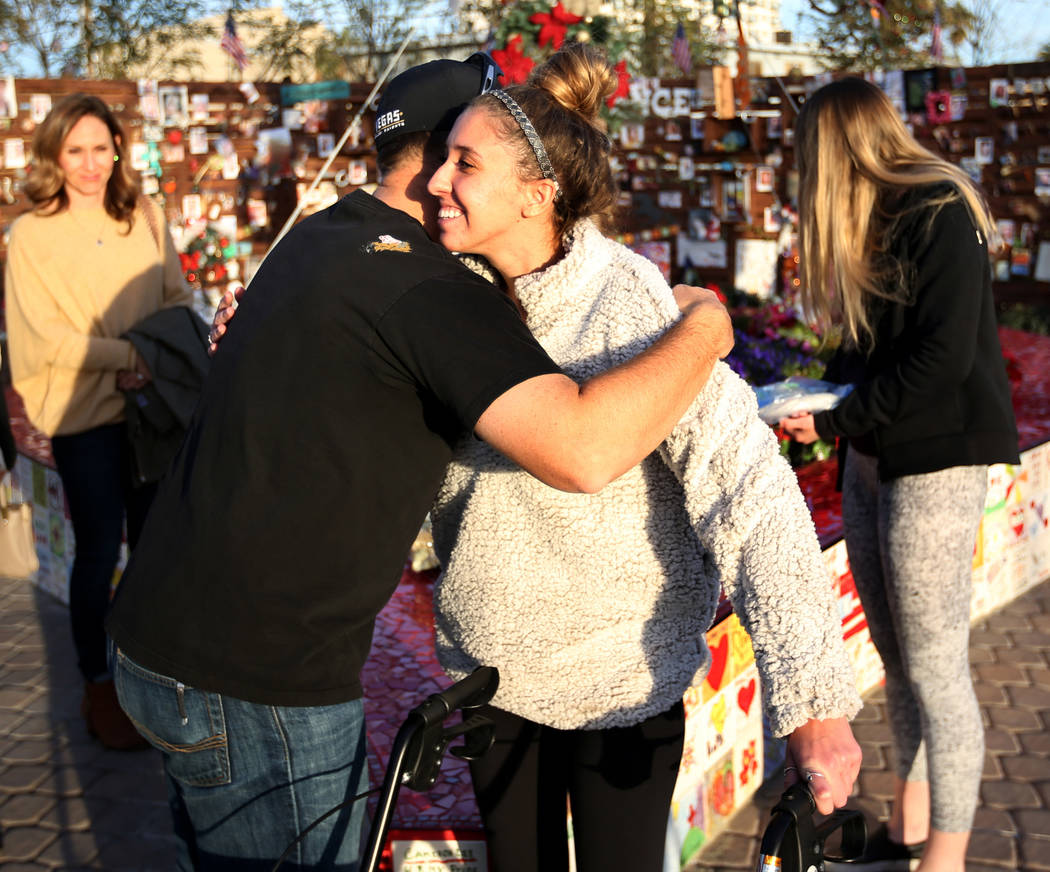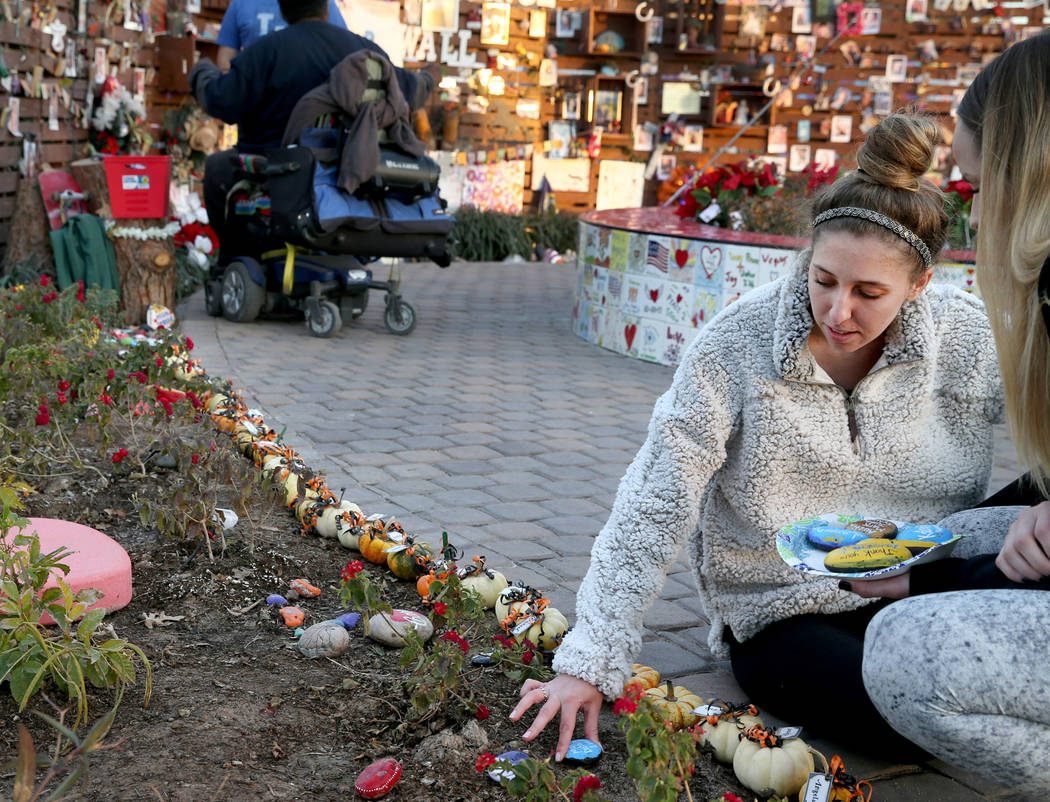 Katrina Hannah thinks Austin Stout helped save her life by carrying her to safety after she was shot at the Route 91 Harvest festival Oct. 1 in Las Vegas. Stout says as far as he's concerned, Hannah took that bullet for him.
The two former strangers, thrown together by an unthinkable tragedy, met Thursday afternoon at the Las Vegas Community Healing Garden, their second meeting since the shooting.
It was Hannah's first time back in the city where she spent 19 days after the shooting recovering from a gunshot wound to the back. Family and friends accompanied her to provide support.
"It makes everything more real I guess," Hannah, 23, said of her return to the site of the the deadliest random mass shooting in modern U.S. history, which left 59 people dead, including the gunman, and 546 wounded.
Hannah, who came to town to celebrate her best friend's bachelorette party, lives in La Verne, California, about 30 miles east of Los Angeles. While working on her recovery, she is pursuing a master's degree in business at the University of La Verne.
She still uses a walker to help her get around. But she has made remarkable progress in just over three months since she was shot in the back during the first volley of fire that erupted during the Jason Aldean concert on the festival grounds.
Hannah, who was attending the concert with her mom and some friends, collapsed on the ground next to Stout. He has no memory of seeing her before the shooting started but started to pack her wound with the help of four friends, searching her body for additional bullet holes.
Then he picked her up and carried her to safety before handing her over to a U.S. Marine, who transported her to Sunrise Hospital and Medical Center.
She has undergone surgery and months of physical therapy and still might need additional surgeries to mend a vocal cord injured when doctors intubated her Oct. 1 and to straighten her neck. And she will spend the rest of her life with pieces of shrapnel in her back.
Veterans Day reunion
Stout, of Las Vegas, said he is comforted to see Hannah's progress.
The two reunited for the first time since the shooting on Veterans Day after a month of scouring Facebook survivor pages in search of one another.
"I call (my wife) the Facebook queen," Stout, 33, joked. "She was on all the sites where people were trying to reunite with their people."
Two other friends who were with Stout at the festival joined the search too. One day one of them clicked on a page and saw Hannah's photo and story.
"When she saw her (Hannah's) picture, she knew it was her," Stout said.
With his wife, Tara, Stout traveled to La Verne on Nov. 11 and joined Hannah and her loved ones for a barbecue.
"It's good knowing she's going to be able to pull through this with all this support," Stout said.
Piecing life together
Hannah is optimistic she soon will be able to shed her walker.
She's doing physical therapy five days a week as she works to regain full function of her legs. Hannah might not be able to snowboard again, an activity she once enjoyed, but she is looking forward to driving, traveling and being able to go to work and out with friends without having to struggle.
"Just having my normal life I guess, mainly," she said when asked what she was most looking forward to.
That brought tears to the eyes of her mom, Loreto Hannah.
"We want her life back together," she said. "She was one of those kids that every weekend, she had something going on, and she can't do any of the stuff she loved to do."
On Thursday, Katrina Hannah slowly left her walker and kneeled on the concrete sidewalk at the Las Vegas Community Healing Garden. She leaned toward the sidewalk's edge and placed a baby-blue painted rock with her name written in white in the adjacent soil.
The mundane movement is a sign of progress for Hannah, who is hoping she can build enough strength to join her grandma on a cruise in March through the Panama Canal.
"You just hold onto your faith and pray a lot and hope for the best," her mom said. "She's alive. She's alive and walking. So it's all good."
Contact Jessie Bekker at jbekker@reviewjournal.com or 702-380-4563. Follow @jessiebekks on Twitter.